LOVE & REVOLUTION, Open Studio, short film Jacqui North, poetry Candy Royalle (RIP) & Sara Saleh, photographs Nicola Bailey.
About this Event
FREE Open Studio gathering, Sydney Fringe, Art in Isolation.
Gather for free screenings of 'Love & Revolution' a short film and a photographic exhibition on Thursday 26 & Friday 27 November 2020.
Open studio, Covid-safe. Arrive anytime between 3-7 pm, bring friends or fly solo, all welcome. No need to bring or get a ticket, this is just for sharing information. Max 9 people at a time.
'Love & Revolution' is an urgent timely call for global, peaceful, democratic change led by women of colour. Grass roots women activists and poets fight Trump-fuelled far-right supremacy in USA, Australia and Palestine with love and activism. The hybrid documentary poem was directed by award-winning queer filmmaker Jacqui North, and led by slam poet/singer/activist/butch queen Candy Royalle (RIP) and human rights activist/ poet Sara Saleh. Featuring a mural making in Newtown by @MsSaffaa, based on a portrait of Candy by Nicola Bailey.
The 6 minute tribute to sisterhood will be presented as a looped screening. Dedicated to Candy, featuring poets Emma Rose, Lorin Elizabeth, Gabrielle Journey Jones, Mel Ree and Nicola Bailey. Filmed by Jamie James, music by @Tonalist Candy Royalle's Brother, edited by Ludwig El Haddad & Maria Barbagallo, with advisors Rachel Evans, Nicola Bailey, Stella Topaz, created on Gadigal Land of the Eora Nation, supported by Information + Cultural Exchange, Lesbian Inc.
Accompanying the screening Nicola Bailey will be exhibiting a special selection of photographs created with Candy Royalle.
Nicola's work speaks about her love for people, connectedness and community. She is the recipient of awards from The Walkley Foundation for Journalism, the Head On Photo festival, runner up emerging Photographer of the Year Capture magazine and an award for outstanding achievement from the Sydney Institute of Photography.
Candy Royalle's books and albums will be available for purchase. Candy was an award winning performance artist, writer, storyteller, activist, educator and vulnerability advocate who fused cinematic storytelling, poetry and unique vocal rhythms with confronting, political and heart thumping content seeking to break open closed hearts.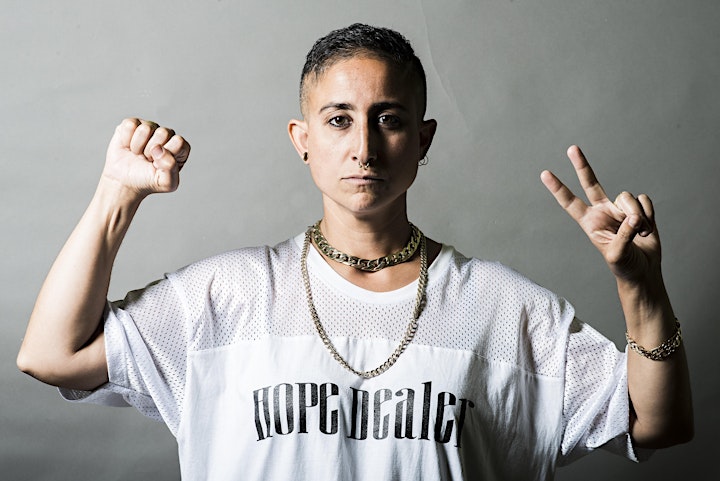 Portrait of Candy Royalle 'Peace and Resistance': Nicola Bailey