Light-artwork projections onto the facade of 47 George Street, Tallawoladah
About this event
Palestinian and queer women lead the call to end apartheid, colonialism and far-right violence in 'Love & Revolution.'
The poetic light-artwork will be projected free each night onto the facade of 47 George Street, Tallowoladah (The Rocks) 5.30pm-11pm, from Wednesday 19 - Sunday 23 May.
Friday 21 May 6.30pm-8.30pm join us for a special free event. Candy Royalle's brother Tonalist and Seb Blach will perform behind the DJ decks, with the light-art projections 'Love & Revolution,' live at 47 George St, 6.30pm to 8.30pm.
Poetry and street art and activism unite with 2021's most-awarded poet Arab-Australian human rights lawyer Sara Saleh, queer priestess of poetry Candy Royalle (RIP) , soundtrack by Tonalist, filming by Jamie James and video of mural creation by street artist @Ms Saffaa in collaboration with Nicola Bailey and community.
This is a political poetic collaborative work. Senator Lidia Thorpe tweeted about current events ' Palestinians know what the trauma of dispossession, state violence and occupation is like. So do the First Nations people of this country. If we really are anti-war, anti-occupation, and anti-apartheid, then we have to condemn this violence.'
The light-artwork is presented as part of a 3 location, 3 light-artwork festival.
Curated Stories in Light will set Warrane (Sydney Cove) ablaze from May 19 to 23.
While we wait for Vivid to return TimeOut says 'it rewards the curious, transforming the city's lesser-known nooks and crannies with First Nations, Black and Brown, queer and activist stories.'
Sydney/Sydney Eye Hospital hosts John Janson-Moore's work 'Contact Trace'. Hundreds of photographs captured during last year's lock-downs, written large on the hospital's historic southern archway on Macquarie Street. It creates a mesmerising portal, with soundscape by Andrée Greenwell and narration by Uncle Jack Charles.
At Angel Place artist Leanne Tobin, a Dharug woman, reclaims the old colonial sandstone walls of Angel Place to trace First Nations stories on their surfaces for 'Bungaree'.
At 47 George St, Palestinian and queer women lead the call to end apartheid, colonialism and far-right violence in 'Love & Revolution.'
Presented by producer Jacqui North in collaboration with illuminart Australia, supported by City of Sydney, with thanks to The Rocks, City Recital Hall, Sydney/Sydney Eye Hospital.
#RediscoverSydney #ILoveSydney #streetart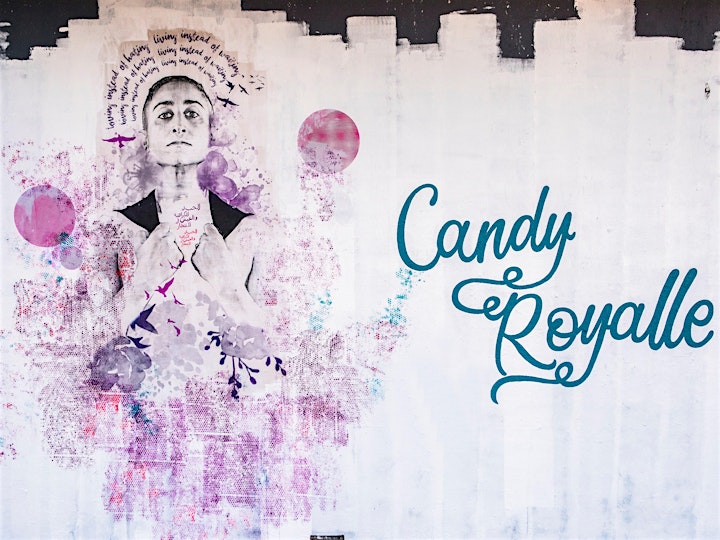 Candy Royalle's mural,
Created by @MsSaffaa based on a photograph by Nicola Bailey.
Photograph of mural also by Nicola Bailey.
Mural by MsSaffaa first pasted up with community at The Hub, Newtown, 2018 and documented in 'Love & Revolution.' A paste-up of the mural can be seen in person at The Red Rattler, Marrickville.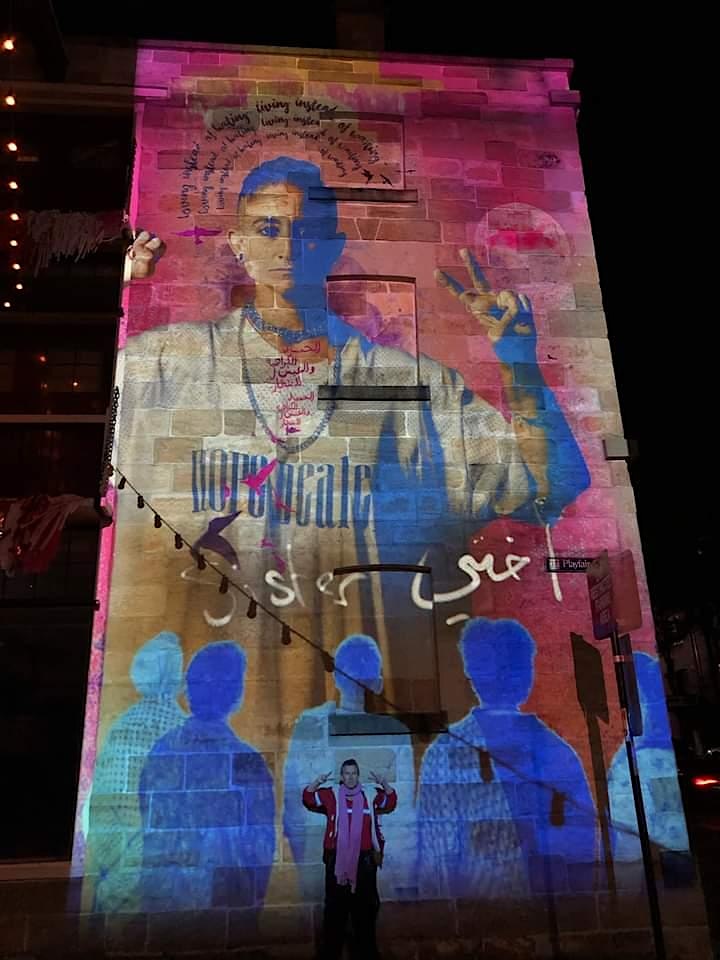 Organiser of LOVE & REVOLUTION, showcased in 'Curated Stories in Light'