About this Event
Lucky Door Prize 🎁
Light refreshments & afternoon tea provided ☕️ 🍰
Lots of Fun 🎉
20% OFF PILLOWS 🛏 come find your perfect pillow !
10% of all orders placed on the day will be donated to Walk for Autism
Entry by donation appreciated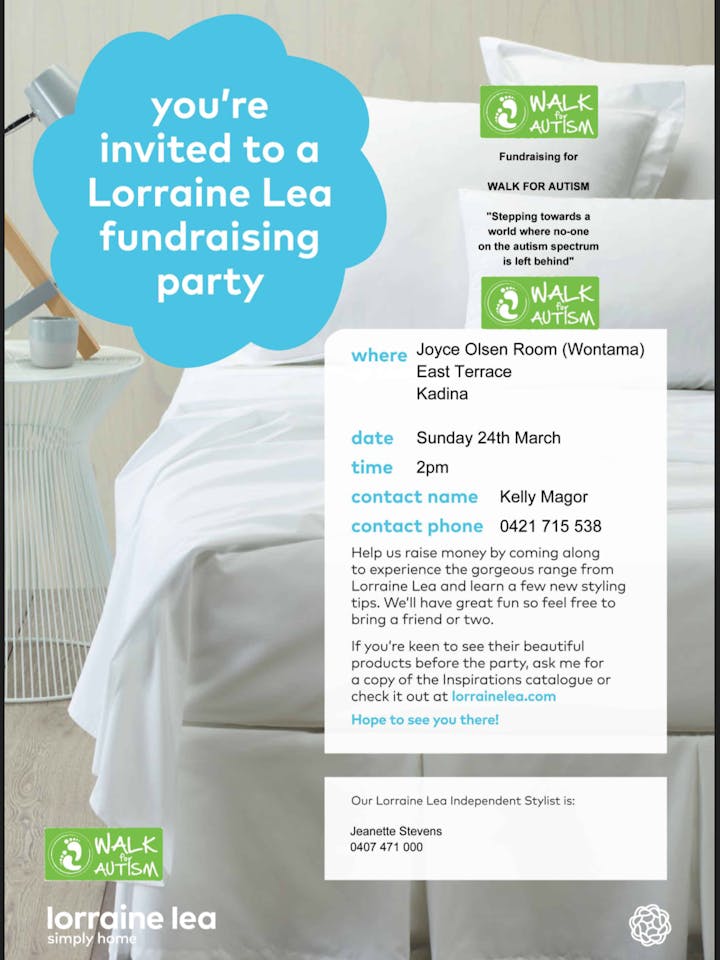 Kelly is participating in the Walk for Autism. This Lorraine Lea Fundraiser is being held to assist Kelly in her fundraising goal.
I have such pride in joining this fundraiser and challenge to bring more awareness and acceptance to all who are touched by the Autism Spectrum.
It is a cause very close to my heart, my son Tyson received his diagnosis in early 2018 with ASD level 3. Level 3 is the lowest functioning or severest of the levels. It has been a long Journey for us, Tyson started in 2014 being diagnosed with Global development delay, his first school year was one of the hardest years we've experienced, but we overcame and continued to try to find support and new ideas to improve with. Tyson has a team of therapists that help him find strategies and teach him social norms in everyday life, many things we take for granted.
As a mum I support him in whatever dream or aspiration he has, life may be different for Tyson to the every day child but it is simply UNIQUE and together we plan to find and fulfill his dreams and accomplish every goal he sets in life. Because to us Autism is not a Disorder nor is it a disease, it is simply a unique way of seeing the world and learning to live in it.
Fundraisers like this help to bring awareness to the world about the reality of Autism and with it acceptance and understanding. It helps to fund schools and support that is better equipped to provide people on the spectrum with what they need.
I am proud to do my part in helping in whatever way I can. I ask all my family and friends to please donate what you can spare, or better yet join me and my team in the Walk for Autism
Kelly Magor