Description
LORNA JANE ACTIVE WEARHOUSE
IT'S TIME TO GET ACTIVE TOWNSVILLE!
Lorna Jane is on a mission to empower every woman to lead their best life through Active Living. Join us for up to 60% OFF Activewear, Active Classes, Nourishing Treats, Giveaway & More...
ACTIVE CLASSES WITH ZOE
WHAT: Jungle Body Konga Class. All fitness levels.
COST: $10 to book in for a class (Entry into the Warehouse Sale is FREE)
WHEN:
FRI 14TH OCT: 12:00PM
SAT 15TH OCT: 8:30AM
SUN 16TH OCT: 10:30AM
WHERE:
Lorna Jane's Active Wearhouse
Quayside Terminal, Lennon Drive, South Townsville
*Come straight to security at the door on arrival to skip the lines and get access to the class and sale straight away. Bring your email booking confirmation and ID .
CLASS INFORMATION:
Jungle Body Konga Class.
KONGA is a wild mash-up of Boxing, Kickboxing, Cardio, Afro, Pop, Rock, Pilates, Disco & everything in between. Konga is so addictive because it is the perfect concoction of easy-to-do moves, insane music & routines that are specifically designed to shape, sculpt & redefine your physique. You will go from striking your imaginary opponent, to sexy hip shaking to Beyonce, to a wild Ab Crunching routine. It's the one class that really does have it all! Click her to see it in Jungle Body Konga Class action!
ABOUT YOUR TRAINER - ZOE SPILLANE
Fitness with Zoe is about having fun, feeling fearless and finding self-happiness. It is a place where any one of any fitness level can come and workout and not feel like they are being judged. At every class we laugh, sweat, smile and walk away feeling really good about ourselves. I feel there is so much pressure for women to look a certain way to be deemed healthy, but health is more than just a number on a set of scales. In my eyes health and fitness is about feeling confident in your own skin, exercising for good health and looking after yourself mentally and emotionally. I believe workouts should never feel like a chore, it should be something you look forward to and that is why we utilise a range of Jungle Body® workouts. The workouts are simplistic, high intensity and deliver great results but still have a strong emphasis on FUN!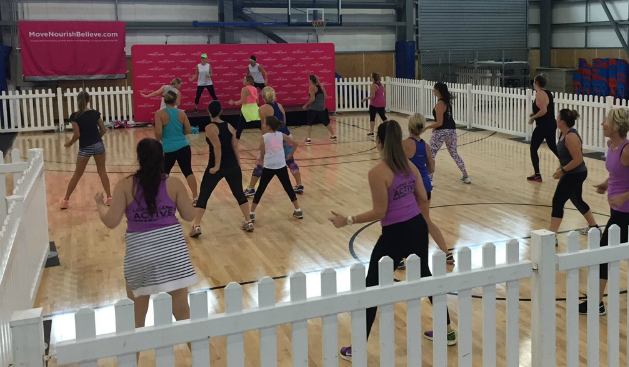 WHAT TO BRING:
Bring a Towel and Water.

Recommended to bring a mat.

Bring smiles & Good Vibes! :)
FAQs
I'm trying to book but it the event is listed as exhausted. Is that because it has already booked out?
If you were unable to select the date for this event, this does mean that this event is now unfortunately full.
I can no longer attend, how do I cancel my event registration?
Please follow the prompts in your confirmation email you received from EventBrite to change or cancel your event subscription.
Do I need to print out my ticket and bring it with me?
Yes it is recommended to bring your booking confirmation or ID so we can mark your name off our list on entry.
Are guys able to participate ?
Of course! We encourage everyone to live their healthiest and most active life possible.