Event Information
Location
Fradgley Hall Community Centre
Park Avenue
Burleigh Heads, QLD 4200
Australia
Description
Join us for a Candlelight Kirtan like no other as we observe the auspicious appearance of Sri Nityananda who is celebrated as the Lord's incarnation of mercy. Together, Sri Nityananda and Sri Chaitanya blessed the world with the chanting of the Holy Names of the Lord upon their appearance in India some 500 years ago.
IT IS SAID LORD CHAITANYA IS LIKE THE SUN AND LORD NITYANANDA IS LIKE THE MOON and although the sun and the moon are not usually present in the sky at the same time, by Their special mercy, Sri Chaitanya and Sr Nityananda appeared together to dissipate the darkness of material life.
"The appearance of Śrī Kṛiṣhṇa Chaitanya and Prabhu Nityānanda has surcharged the world with happiness. As the sun and moon drive away darkness by their appearance and reveal the nature of everything, these two brothers dissipate the darkness of ignorance covering the living beings and enlighten them with knowledge of the Absolute Truth." ~ Krishnadas Kaviraj
Come and experience the transcendental happiness of kirtan on this beautiful, auspicious occasion.
Friday 7 February 6:30 - 8:00 pm
The Mantra Room at Fradgley Hall, Burleigh Heads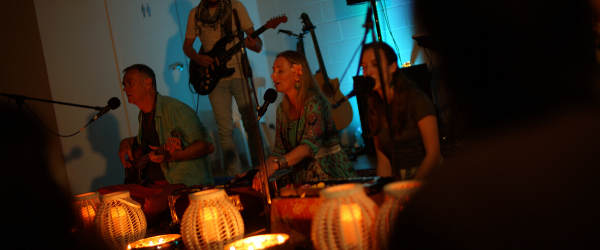 Date and time
Location
Fradgley Hall Community Centre
Park Avenue
Burleigh Heads, QLD 4200
Australia