South Burnett Loopy Weekend: Ride a loop Wondai to Proston return. 125 km route with tougher and easier options.
About this Event
SOUTH BURNETT LOOPY WEEKEND
19-20 JUNE 2021
Arcadia Travel / Outbike
https://arcadiatravel.com.au/outbike/
"PROMOTING PROSTON'S PROPOSAL!"
RIDE INFORMATION
Revised 22 March 2021 (event postponed from 27-28 March)
Following our popular first Loopy Weekend to Cooyar, we're pleased to announce the next one, a loop Wondai to Proston, including nearly 30km of the South Burnett Rail Trail.
For weekend rides in the South Burnett, we will be planning so that participants can choose to travel out on Friday (either driving or on our bus from Nambour Station), stay the night and get off to an earlier ride start on Saturday (from 7am). This will enable more ride choices.
If driving out Saturday morning, riders can check-in and start up to 12 noon.
WONDAI-PROSTON / CHOICES OF ROUTES
We'll be on the ancestral lands of the Wakka Wakka people. They stretched from around Nanango to Mount Perry, taking in most of the South Burnett Region.
Start and end at the cyclist-friendly town of Wondai on the SBRT. The ride combines sealed sections of the South Burnett Rail Trail and a journey west to Proston, a one-pub town and one-time railhead that has its own rail trail on its 2020's wish-list.
Participation is $50 per rider.
Proston showgrounds camping is $5 each and includes facilities.
Other costs and options – meals, travel to/from Wondai, camping equipment can be hired, bikes can be hired.
There are 40 places.
Bookings via Eventbrite.
GETTING TO WONDAI - DRIVE OR TAKE OUR BUS
Drive out to Wondai on Friday afternoon or early Saturday morning (from Brisbane approx. 250km, 3+ hours).
Or get a ride on our bus from Nambour Station Friday afternoon at 3:15pm (train arrives approx. 3pm), cost $90 rider+bike return. See 'add-ons' to book. Other pickups on request between Noosa and Maroochydore. Expected depart from Wondai by 3pm for return to Nambour arriving approx. 5:30pm.
Our bus service will also be available to walkers and other riders who just want to do the SBRT independently.
Wondai has 2 pubs, 3 motels and free camping in town. Hotel Cecil is cheapest, with lots of rooms. Wondai Hotel is more the boutique option.
If you want to stay longer at Wondai, note that Wondai State Forest on the eastern side of town has a lot of MTB trails.
OUR SERVICE / THE RIDE
The $50 participation fee includes information and maps for the suggested routes and we'll carry your overnight gear and camping stuff.
We're also OK to pick-up riders who are tired or having bike issues.
Riders can 'check-in' and start Saturday morning anytime between 7am and 12noon. Our bus will be at Coronation Park by the rail trail in the centre of Wondai.
We have maps for the Suggested Routes and for easier and tougher variations. Links are provided here and we'll have printouts on the weekend that can be imaged.
It's your ride – there are no guides, no ride signage and no marshalls to tell you where to go. Load the maps on your device, ask questions at the start. Good to ride with some other people. If in doubt anywhere, wait for another rider - or message the bus.
The suggested ride routes cover 56km on Saturday and 70km on Sunday. It includes nearly 30km of the South Burnett Rail Trail (sealed).
Our bus will follow along the suggested route (except on rail trail sections) and keep to the rear of the last riders.
PROSTON'S RAIL TRAIL
Despite enthusiasm from Proston townsfolk, their own Rail Trail proposal stalled earlier this year with 'the usual' issues – following on from a $48,000 feasibility study which recommended developing the trail firstly for 13km between Hivesville and Proston. Altogether, the length of the rail corridor is 45km from Murgon.
Together with the 90km SBRT (and BVRT), a Proston Rail Trail would further boost the South Burnett as a cycling region.
https://southburnett.com.au/news2/2020/01/19/council-receives-rail-trail-report/
Nonetheless, the Burnett region could map more back road trails for cyclists linking the existing rail trails to villages like Hivesville and Proston. If some farmers could offer dinner-bed-breakfast stays, how good would that be? The NSW Central West Cycling Trail is a great example of what's possible. https://cwc.mudgeebushwalking.org.au/
Let's show the South Burnett Council, farmers and towns that cyclists can help revive regions!
SOME HISTORY
The Proston branch line split off the Kingaroy Line near Murgon. The railway opened in 1923 and closed in the 1990s. It too had a branch line, from Barlil 20km north to Windera (1925-61). The routes of both lines can be identified on Google Maps.
Both Hivesville and Proston (founded 1910) lost their original pubs to fire, in 1935 and 1966 respectively. The rebuilds reflect the periods.
Hivesville is the older of the towns and was bustling in the 1920s: https://en.wikipedia.org/wiki/Hivesville,_Queensland
Proston's late 1930s St Peter's Anglican Church is heritage listed: https://en.wikipedia.org/wiki/Shepherd_Memorial_Church_of_St_Peter,_Proston
The populations are less than 200 for Hivesville and less than 400 for Proston.
PROSTON OVERNIGHT
The Royal Spurs Hotel can handle an influx of 40 riders ordering dinner from their menu – and Sunday café-style breakfasts from 7am. We're discussing with the pub having good vegetarian and 'rider' options.
Di from the Royal Spurs Hotel advises they have 4 pub rooms with share bathrooms. All have a double plus single bed. Tel 41689069
The showgrounds are 600m from the pub and charge $5 per camper including bathroom facilities. Outbike will have tents and mats for hire at $10 single / $15 twin. These costs can be paid in cash on the event via Outbike. For campers preferring a continental breakfast (instead of the pub's cafe), Outbike will have supplies for up to about 15 people ($10 each).
Complimentary tea/coffee/milo will be available at the campsite in the evening and morning.
For self-contained RVs there is a freecamp 100m from the pub.
There seems to be no other accommodation in the area except:
11km away, back in Hivesville where the pub has 8 rooms (3 doubles and 5 twins). Tel 41689876.
20km further out is Lake Boondooma but their cabins and villas are booked that weekend.
RIDE DETAILS
Saturday's Suggested Ride: Wondai-Murgon-Hivesville-Proston / 56km
See map below.
Check-in with the bus at Coronation Park on the rail trail in Wondai's town centre.
Ride the sealed South Burnett Rail Trail 14km through forest to Murgon, a major town. The first 10km is gently downhill to the river crossing.
Ride west from Murgon on the Wide Bay Highway 2+km, just out of town and turn right into Silverleaf Road. Follow for 20km when it becomes the Hivesville-Windera Road and it's 9km more into Hivesville (pub, servo/shop and bathrooms). It's all sealed and faily flat apart from a 90m climb over the last 4km.
Hivesville to Proston is 11km, on the sealed road for 4km, then branching to the left to take Middle Road for 7km of gravel into Proston.
The tougher option adds just 6km. It does 27km before re-joining the suggested route. From Murgon's awesome art-deco Town Hall, ride north on Boat Mountain Road (180m climb over 9km). Turn left to go west along Levers Road, it continues becoming Smith, then Pringles Hill Road (7.8km). Continue onto Gayndah Road (4.5km) and turn left into Bicks Road (5.7km), joining Silverleaf Road. Then as above to Hivesville (11km). It is all bitumen, mostly single lane. At Tablelands Hall, you can turn left and ride 500m out to Boat Mountain Lookout.
Sunday's Suggested Ride: Proston-Hivesville-Wooroolin-Wondai / 69km
See map below.
The Golden Spurs Hotel can handle a mob for gourmet breakfast off the menu.
Retrace 11km back to Hivesville.
Ride SE from Hivesville on the main Wondai-Proston Road (4.4km).
Turn right for a gravel detour on the Mount McEuen Road (15km), gradually rising 100m over 5km followed by a longer and more generous descent. Return to the sealed road where the Mondure-Cushnie Road runs south from the Wondai-Proston Road. An easier option is to just stay on the Wondai-Proston Road (9km).
Turn right to go south along Mondure-Cushnie Road, much of it climbing steadily, and follow into Fairdale, Schloss and Teschs Roads (for 12km).
Turn east into Olsens Road (1.7km).
Turn south into Harms Road, and over the junction into Denmark Road, slightly descending (6.6km).
Follow the bend to the east into West Wooroolin Road and a gradual climb into town (5.5km).
At Wooroolin (café, Grand Hotel, bathrooms) join the SBRT for an easy downhill gradient, northward via Tingoora back to Wondai (14km).
Note that between Hivesville and Wooroolin is over 45km with no services, no water, no food – be ready to be self-sufficient for this distance.
A tougher option adds some gravel climbs and lookouts around the Greenview neighbourhood. Map will be available. Another choice to stretch it out to 90km is to extend south to join the SBRT at Charlesworth.
Easier options. Avoiding the Mount Mc Euen Road saves 6km. Staying on Olsens Road to Tingoora and joining the SBRT there cuts off another 11km. Altogether this is 51km and still includes 7km of the SBRT.
Credit - Jason from the South Burnett MTB Club has given much input on the route.
BIKES
We suggest MTB, hybrid and gravel bikes with tyres of 35mm or more.
If on a road bike, try and ride on tyres of 32mm or more.
E-bikes are welcome. Access to power batteries at the pub or at the showgrounds.
If hiring, our bikes are REID 26" MTBs, we have 2 x M and 2 x L available, $50 per bike for the weekend includes helmet and lock. Contact us to discuss. https://arcadiatravel.com.au/noosa-bike-hire/
Maps - Outbike
Main Image - by Outbike, a snap of passing cycle tourers, on the SBRT between Wooroolin and Tingoora.
Images below - from Jason, South Burnett MTB Club https://www.southburnettmtb.com/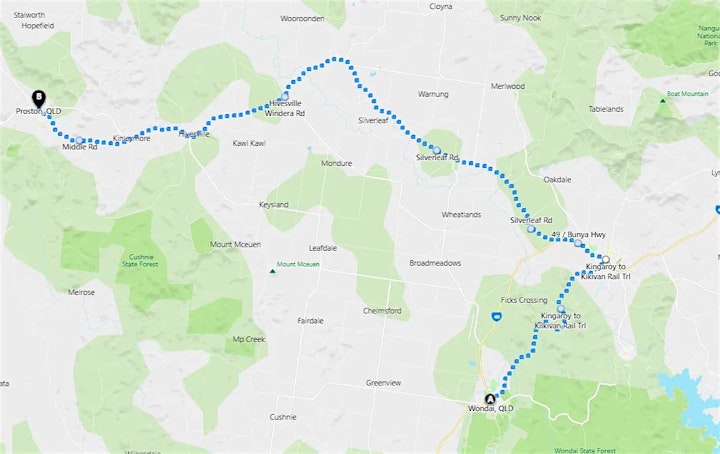 WONDAI TO PROSTON SUGGESTED ROUTE 56KM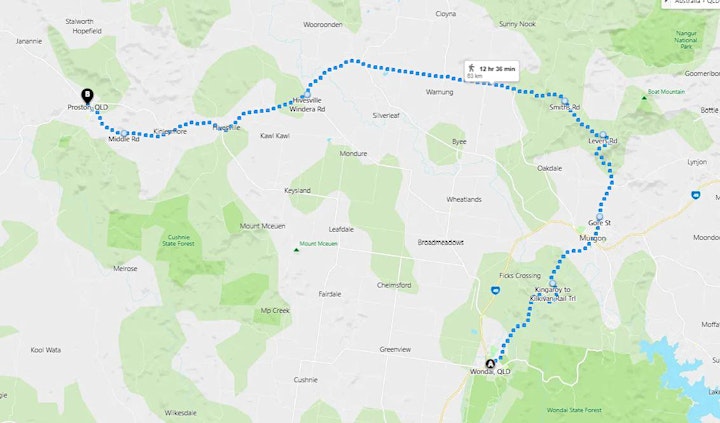 WONDAI TO PROSTON TOUGHER ROUTE 63KM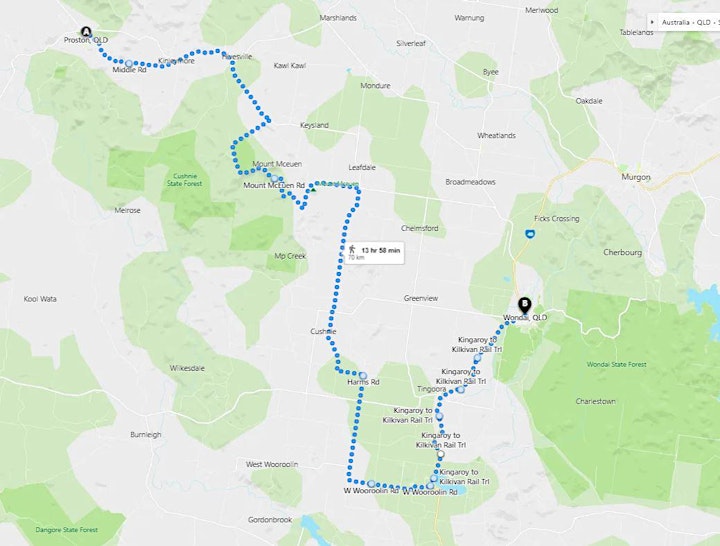 PROSTON TO WONDAI SUGGESTED ROUTE 69KM