Dare to REthink, REpair and REgenerate your waste into a valuable resource? Well Looped Festival is just the place to do it!
About this Event
Sydney's first Circular Economy Festival will connect you with the change-makers behind businesses shaking up the traditional linear economy of:
TAKE → MAKE → WASTE
And turning it into the circular economy of…
MAKE → USE → RETURN
It will shine some light on the practical tools and services available to us all to transition to a less wasteful and more meaningful lifestyle!
To see the change-makers involved in Looped click here
Audience recommendation: 14 years +
WHAT'S IN IT FOR YOU?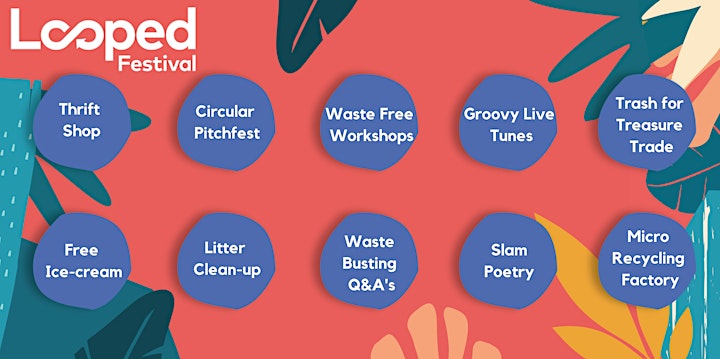 PROGRAM
Looped is divided into 3 sessions. Your ticket will give you admittance to ONE of the following sessions. For more information on the program click here.
Session 1: 10am- 12pm (Please arrive at 9:45am)
Session 2: 12pm- 2pm (Please arrive at 11:45am)
Session 3: 2pm- 4pm (Please arrive at 1:45pm)
Each session is a curated experience from start to finish so please ensure you arrive at least 15 minutes before the session start time otherwise you will miss out!
TICKET INFO
Tickets are priced at $10 and all $$ raised will contribute to our Spring into Scavenge 2021 program training up passionate Australians to become local leaders on waste reduction!
Tickets are limited due to Covid-19, so get in quick!
For more info on Looped Festival and our refund policy checkout the website page.
COVID-19 POLICY
Ticket holders agree that they have not been overseas in the last 14 days.
Ticket holders agree that they have not been in contact with anyone who has tested positive for Covid-19 or travelled overseas in the last 14 days.
Ticket holders if feeling unwell within 24 hours of the event agree to stay home and not attend Looped Festival.
For more information on how we're ensuring Looped is Covid-19 safe, check out our Covid-19 Policy.
We'd like to thank Matt Thistlethwaite MP for Kingsford Smith for his support of Looped Festival 2020. We'd also like to thank Randwick Council's support through their Community Connect program.