ENROL NOW AND COMPLETE BY 29th OCTOBER 2021. ACWE (RTO# 40857) WILL FACILITATE VIRTUAL LIVE TRAINING SESSIONS WHICH ARE FREE ACROSS NSW.
About this event
ARE YOU READY TO RAPIDLY IMPROVE YOUR LEADERSHIP AND MANAGEMENT SKILLS READY FOR YOUR NEXT CAREER MOVE?
ENROL NOW AND COMPLETE YOUR 3 UNITS FACILITATED BY ACWE (RTO# 40857) IN A SERIES OF LEADERSHIP WEBINARS FREE ACROSS NSW.
Lock down Skill UP is an initiative from the New South Wales Department of Education and Training providing FREE LEADERSHIP TRAINING in partnership with Australasian Centre for Work Education (RTO 40857) a multiple award-winning LEADERSHIP training company.
Lock Down Skill up provides you with the perfect opportunity to develop your leadership and management skills ready for your next career move. This means you or a team member may qualify to enrol in our Leadership and Management Skills Set program and receive a nationally recognised Statement of Attainment on your successful completion.
Who we are:
Australasian Centre for Work Education (RTO 40857) are recognised leaders who 'Bring Learning to Life'. We are experts in transforming course theory into relevant practical skills. We have applied this to upskill your emerging and existing leaders with their skills to inspire, influence, and involve all stakeholders to increase team morale and YOUR business's productivity.
This results in creating confident leaders to drive transformational and innovative workplace growth and change across your business.
The course duration and delivery:
This course is delivered via our online platform
Every Monday and Tuesday at 4:00 pm - 5:30 pm for 3 hours per week plus 5-10 hours of personal study per week till October 29th 2021.
Learner IT requirements: Students must have access to a computer or laptop, word processing software, and the internet.
Course units:
BSBLDR402 LEAD EFFECTIVE WORKPLACE RELATIONSHIPS
• Have you ever experienced a time when your working relationships were not ideal?
• Are you a manager or leader who would like to be more effective?
BSBLDR403 LEAD TEAM EFFECTIVENESS
• If managing change with your team from the impact of Covid – working from home and finding the level of motivation and enthusiasm has taken a dive?
BSBLDR511 DEVELOP AND USE EMOTIONAL INTELLIGENCE
• You will have heard of IQ … What about EQ?
• How does knowing about emotional intelligence have you step into being a more powerful leader?
• Do you sometimes feel your team respects the position you hold yet not necessarily you in that position?
Are you eligible?
This course is available to all students under the Smart and Skilled Initiative of NSW State Training.
To be eligible, you need to:
1. Be aged 15 or older.
2. Be an Australian citizen, permanent resident or humanitarian visa holder.
3. Live or work in NSW.
4. Have left school and have no previous qualifications at Certificate IV or higher.
Given the technical nature of this course, we recommend students have language, literacy, and numeracy skills at a minimum of Year 10 level or equivalent to Certificate II level. You will be required to undertake a pre-training assessment prior to enrolment to ensure you have adequate skills to undertake the course.
You will require the Language Literacy, Numeracy, and Digital skills to:
1. Conduct internet research.
2. Engage in online learning, including video conferencing sessions.
3. Create word-processed documents.
4. Read and comprehend a range of written documents and numerical texts.
5. If you are unsure whether you meet the listed entry requirements, please contact us to find out how we can support you.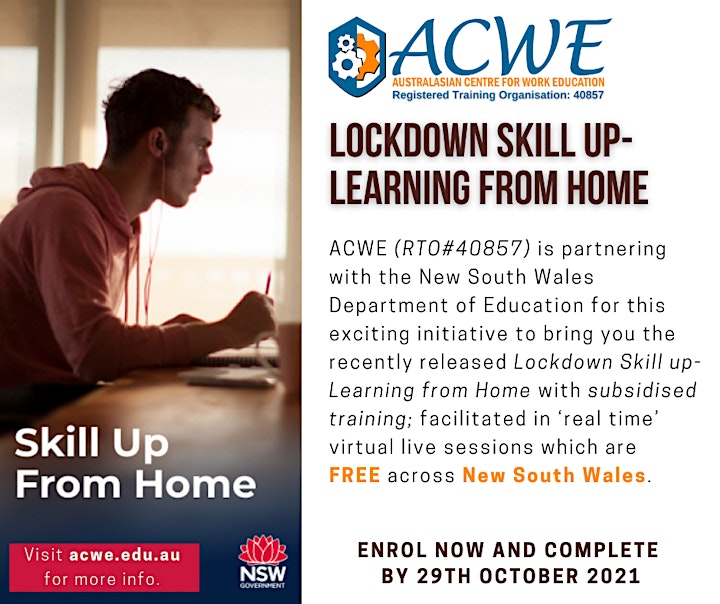 Organizer of Lockdown SKILL UP - Learning from HOME