Living With Dementia Program by Dementia Australia. Suitable for: People living with dementia and their family carers and family members.
About this event
This program provides an overview of dementia and how to proceed after a diagnosis. It covers coping with change, relationships and communication, planning for the future and staying healthy.
You will gain knowledge in:
dementia and related issues such as planning for the future
strategies for living positively with dementia including support
the management, reduction and/or prevention of behavioral and psychological symptoms of dementia.
Suitable for: People living with dementia and their family carers and family members. This program is not suitable for professionals employed in the health or aged care sectors.
Only NSW residents can apply.
This program will run across, 7 consecutive weeks every Wednesdays, 2 hours per session.
Week 1 - Wednesday, 03 November 2021, 10am - 12pm
Week 2 - Wednesday, 10 November 2021, 10am - 12pm
Week 3 - Wednesday, 17 November 2021, 10am - 12pm
Week 4 - Wednesday, 24 November 2021, 10am - 12pm
Week 5 - Wednesday, 01 December 2021, 10am - 12pm
Week 6 - Wednesday, 08 December 2021, 10am - 12pm
Week 7 - Wednesday, 15 December 2021, 10am - 12pm
Dementia Australia's facilitators have specialist dementia knowledge, skills and experience. This program is delivered interactively, you will be encouraged to share your experiences alongside other participants giving you an opportunity to develop new support networks.
If you register to attend this program you will be contacted by Dementia Australia staff to ensure that the program will meet your needs and that you meet the eligibility requirements.
Please note, we are currently undergoing some minor updates to our events. You may notice some changes to the event name and visual display, but the overall content will remain the same.
FAQs
Only NSW residents can apply.
Can I attend without registering?
No, you will need to register to attend this session, if the registration has closed, please email NSW.Referrals@dementia.org.au to register (subject to availability and eligibility).
How many people can register this session?
2 people, the person living with dementia and his/her family carer.
How will I know the program is suitable?
The program is for the person living with Dementia along with a family carer or family member, however, people with dementia can attend alone if they wish. Once you are registered, our facilitators will contact you to discuss whether the program will be suitable for you.
What precautions are taking place due to COVID19?
DO NOT attend the session if you are feeling unwell.
Use the provided hand sanitiser as you enter and exit the classroom.
You may bring a pen if you wish to take notes.
Do not share pens or paperwork
Cough/Sneeze into your elbow.
Avoid close contact to others.
Please visit COVID screening station on Norton Road for a temperature check before entering Dementia Australia building. This is a requirement of NSW Health for every person accessing this site which applies to all walk-in and drive thru. Also please scan the QR code as you are entering our building.
What are my transport/parking options for getting to and from the event?
If you are planning to drive, there are limited parking available on our premises on Norton Road . Alternatively, there is street parking on Cox's road and nearby area .
If you are planning to take a public transport, the closest Metro Station would be Macquarie Park Station. From there, you can catch a bus No. 506 Lane Cove Rd, Stand A.
If you are coming from City, you can catch a bus No. 288 from Wynyard Station, Clarence Street, Stand R .
How can I contact the organiser with any questions? Please email your question to NSW.Referrals@dementia.org.au
Do I have to bring my printed ticket to the event?
It is ideal if you can bring your ticket. However, if you have completed your registration, we will have your details and forgetting your ticket won't be a problem.
How can I find out about other events being run by Dementia Australia?
Visit the Dementia Australia website and view the Events Calendar.
What is available to professionals?
To explore Dementia Australia's range of professional development please visit the Centre for Dementia Learning.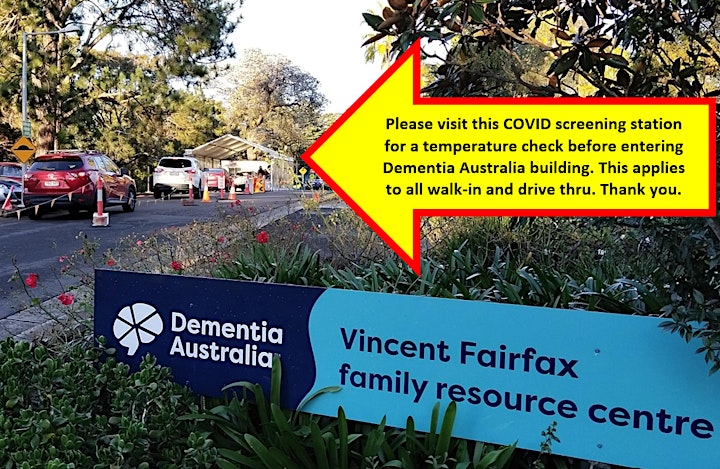 Organiser of Living With Dementia Program - North Ryde - NSW
Dementia Australia is the source of trusted information, education and services for the estimated half a million Australians living with dementia, and the almost 1.6 million people involved in their care. We advocate for positive change and support vital research.
We are here to support people impacted by dementia, and to enable them to live as well as possible. No matter how you are impacted by dementia or who you are, we are here for you.
Founded by carers more than 35 years ago, today we are the national peak body for people living with dementia, their families and carers.
We involve people impacted by dementia and their experiences in our activities and decision-making, to make sure we are representative of the diverse range of dementia experiences. We amplify the voices of people impacted by dementia through advocating and sharing stories to help inform and inspire others.
For more information on the services we offer and advice on dementia please contact the National Dementia Helpline on 1800 100 500 Monday to Friday, 8am-8pm (except public holidays).