Location
Seminar room 218, Level 2, Fisher Library - The University of Sydney Library
Eastern Avenue
Camperdown, NSW 2006
Australia
Description
Just like any normal library, books will be available to borrow, engage with and learn from. Except the Books, in this instance, will be real people with a unique personal experience or perspective that they will generously share with Readers.
Find out more about the Books in this Living Library.
To secure your place, please Select a date and Register (button on the right hand side) for an available session.


-----------------------------------------------------------------------------
Book: Omid
Title: Out of bounds, or just a few minor epics
Summary: From a background of political turmoil, persecution and exile emerges a unique storyteller with a nuanced perspective.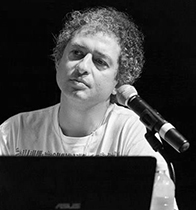 A revolution, an ousted monarch, a persecuted religious group forced underground and into exile, a hostage crisis, forever navigating borders, visas, passports, citizenship, displacement.
Layered conversations between generations, cultures, religions, politics, and stories – conversations that are the content of lived experiences and lived endurance. Wrestling with and responding to racialisation, economic barriers, and the intersections of marginalisation and exile. Through the author's vision, this book tells of multiple interdependent tales that culminate in transcultural, transnational, poetic and intellectual awakenings.
Finding connections between a series of disjointed stories about disrupted identities, people who will never be in the right place again. Out of place, or out of bounds, for the rest of their lives. However, the people in these stories are often on time for pivotal moments throughout their lives.
Originally from Iran, Omid comes from a long line of storytellers. He arrived in Australia aged seven, after moving through several continents.
------------------------------------------------------------------------------------
Available sessions for Omid:
• Monday 27 March 2017
• Tuesday 4 April 2017
• Wednesday 12 April 2017