Description
Do You Want to Discover the Importance & Value in Knowing More Clearly About Yourself & People around you?
Do you also want to know how to have the positive outcomes that accrue to being able and willing to "work together" towards creating an amazing life that you are truly deserved?
If your Answer is YES,
Then you Must...
Come to join us at this Living a Love-Life Workshop run by Business Superwoman Club!
SUNDAY, 15th of OCTOBER 2017
Time: 11am - 2pm
Location: Hampton Park
Registration starts at 10:45am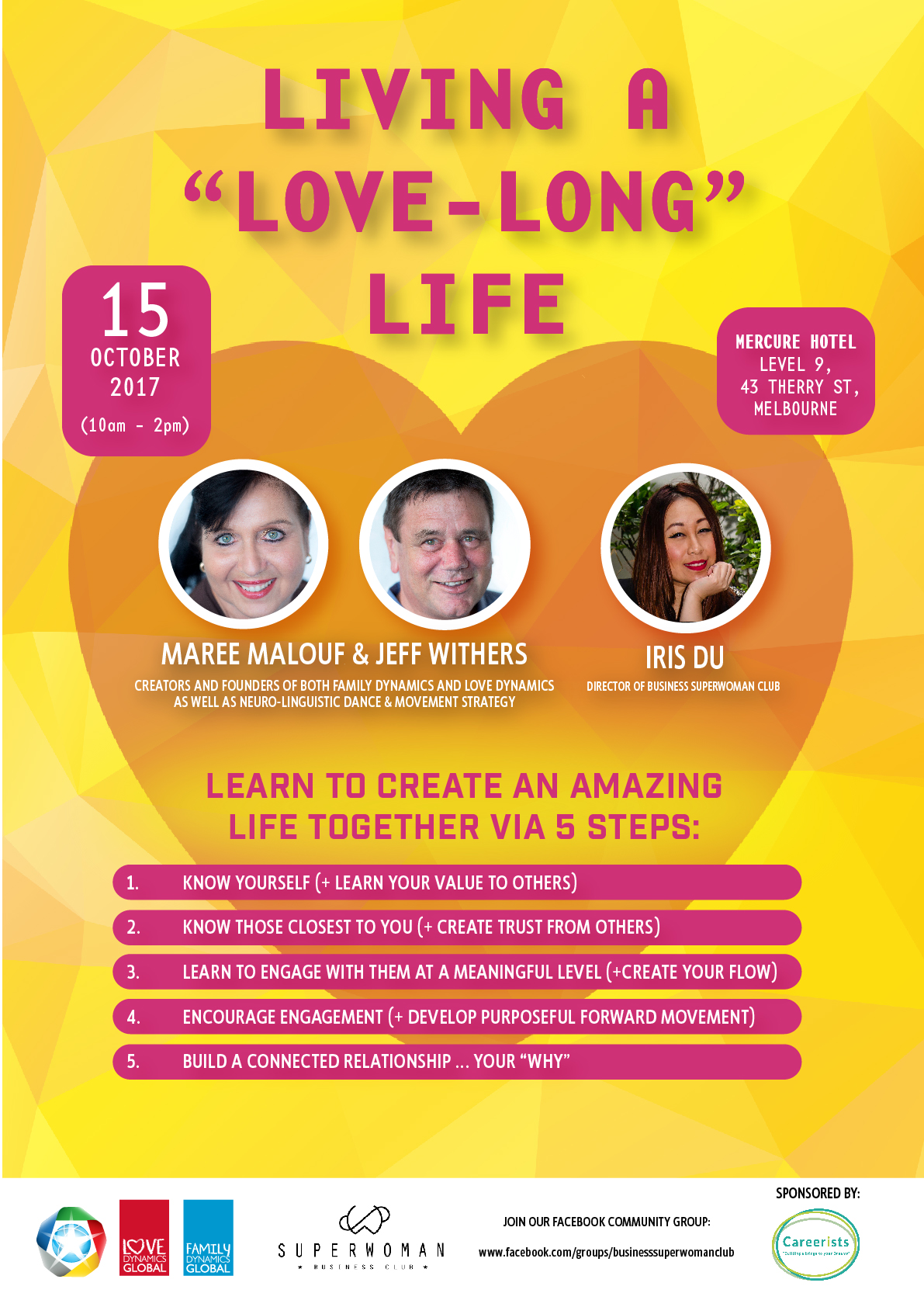 In this Workshop Jeff and Maree will show you these 5 steps of...
Know yourself (+ learn your value to others)

Know those closest to you (+ create trust from others)

Learn to engage with them at a meaningful level (+create your flow)

Encourage engagement (+ develop purposeful forward movement)

Build a connected relationship … your "Why"
PLUS
You will also have the opportunity of accessing your own profile reports and accompanying personal consultations around the new Love Dynamics Model, giving you an even clearer insight into your own relationships.
Learn how you can add Love Dynamic Profile and Family Dynamic Profile to your toolbox and increase your SALES.
The Workshop will look at the concept of "love" and relationships, and the all-important concept of "flow" and how it impacts on our everyday lives. Topics to be covered include a look at the key concepts of value, trust, and flow, along with a complete discussion of the Talent Dynamics Square alongside a consideration of the connection between the i-Ching and modern science.
Jeff and Maree are the Creators and Founders of both Family Dynamics and Love Dynamics as well as Neuro-Linguistic Dance & Movement Strategy, a "coming together" of all they have learned and experienced over time. They are focused on bringing these collectively to individuals, couples and families worldwide as the basis of their simple but powerful philosophy … strong and reliable foundations are the building blocks of human connection.
LEARN MORE --> CLICK HERE
We sincerely hope you'll join us and let us help you to live a LOVE- LONG LIFE as you deserve to have.


Meanwhile Join our Facebook group & LEARN MORE: http://www.facebook.com/groups/businesssuperwomanclub/
Come and connect with other SUPERWOMEN and get some tips and knowledge while having fun. It's a great platform to INSPIRE, support and connect with all amazing positive likeminded superwomen.
**NOTE: By Registering, you give permission to Careerists- Business Superwoman Club to take photos and videos during this event. Careerists- Business Superwoman club will only use these photos and videos in a positive light for marketing and educational purposes. Disclaimer form will be provided on the day.