Description
Technology, data, adoption and linking genetics to the prediction of consumer outcomes will be the focus of MLA's Livestock Breeding and Genetics Forum.
The forum will showcase leading speakers in the scientific community and value chain, including producers who are implementing genetics to improve the productivity and profitability of their own operations.
Organised by MLA, the free, one-day forum is part of an important stakeholder engagement initiative of the National Livestock Genetics Consortium (NLGC) and is open for all industry participants to attend.
The forum is also designed to provide participants with an update of the latest genetics research and development investments and most importantly, seek collaboration around livestock genetics adoption and gather feedback on future investment priorities via an interactive workshop.
Disruptive technology:

Tom Bull, LambPro
Prof Ben Hayes, University of Queensland
Dr Rob Banks, Agricultural Genetics and Breeding Unit
Accessible Data platform:
Andrew Skinner, Integrity Systems Company
Dr Rod Polkinghorne, Polkinghornes Pty Ltd
Andrew Cooke, Rezare Systems Ltd.
Linking genetics to the end product and consumer:
Jason Strong, Senior Industry Executive
Tom Maguire, Teys Australia
Dr Alex Ball, Herefords Australia
Culture change and adoption:
Assoc Prof Ruth Nettle, University of Melbourne
David Packer, Meat and Livestock Australia
Dr Sam Bucculo, Design Thinker in Residence (MLA)
---
Speakers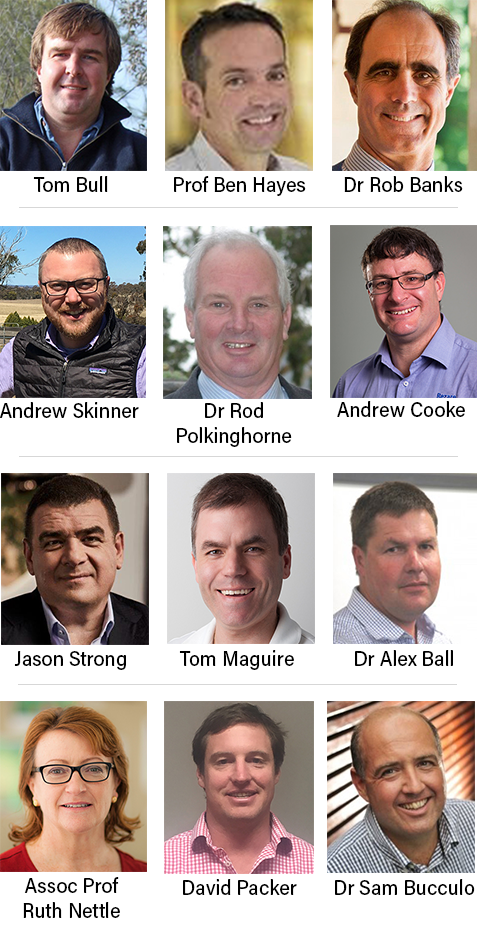 ---
Tom Bull
Tom Bull owns and manages LAMBPRO a family business at Holbrook. The core business is terminal and maternal seedstock. The business invests a significant amount in research annually. The business commenced in 1991 with 5 stud ewes and now joins 4900 ewes annually.
Professor Ben Hayes
Prof Hayes has extensive research experience in genetic improvement of livestock, crop, pasture and aquaculture species, with a focus on integration of genomic information into breeding programs. He was a co-inventor of genomic selection, and played a leading role in developing and implementing this technology in the Australian dairy industry. He also led research programs to develop genomic breeding values for new traits such as feed efficiency and heat tolerance. Currently Prof Hayes is working on enhancing genomic selection in beef cattle and a number of the cropping industries.
Dr Rob Banks
Rob Banks completed his PhD in Animal Breeding at UNE. Over his career, Rob coordinated the growth of LAMBPLAN into Sheep Genetics and managed the genetics RDA portfolio and Southern Australia RDE at MLA, where he played a major role in initiating the information nucleus (BIN) portfolio.
Since 2013 he has been Director of the Animal Genetics and Breeding Unit in Armidale. He is well-known for his capacity for strategic thinking combined with great effectiveness as a change agent in the industries he has worked in.
Andrew Skinner
Over the last 18 years, Andrew has travelled the globe designing, developing and deploying digital tools and services into challenging physical environments for some of the world's biggest brands. More recently his focus has been on building tools, business models and techniques to help organisations derive value from information and analytics. Andrew is currently the Manager of Information Architecture and Solution Design for the Integrity Systems Company.
Dr Rod Polkinghorne
Rod has been actively involved in the beef industry in feedlot, breeding, meat fabrication, retail business and research activities. His interest in genetics and value based trading reflects a lifetime of livestock and meat recording aligned to commercial outcomes.
Andrew Cooke
Andrew Cooke is Managing Director of Rezare Systems, a company that specialises in software development for pastoral livestock farming, and develops tools for nutrient management, feed planning, and traceability using web and mobile technologies.
Andrew and his colleagues started Rezare Systems in 2004 after sixteen years working in livestock genetics and farm systems at AgResearch. His background is in science and technology, and he previously was involved in the detailed design and programming of a number of agricultural tools.
Jason Strong

Jason Strong's career has been focused on improving the Australian Beef Industry to produce the best beef in the world. His experience includes managing the establishment of MSA grading services, owning high end butcher shops, commercial and seedstock cattle production, commercialising DNA technologies, promoting Australian beef in international markets and most recently Managing Director of AACo.

Tom Maguire
Tom holds the position of General Manager- Corporate Services with Teys Australia. Teys is firmly committed to Feeding People, Enriching Lives.
Dr Alex Ball
Dr Alex Ball has a B.Rur Sci (1) and a PhD from UNE. He has extensive knowledge of both the sheep meat, wool and beef industries and has lead national programs in genetics, growth and development, fertility, eating quality and carcass compliance. Recently he has worked as a CEO in a beef breed society and now consults to a range of sheep and beef clients across Australia.
Associate Professor Ruth Nettle
Following an earlier career in agricultural extension, Ruth leads the Rural Innovation Research Group (RIRG) in the Faculty of Veterinary and Agricultural Sciences at the University of Melbourne. The group conducts research related to adoption and adaptation in farming systems, and this is used by agricultural industries in the design, implementation and evaluation of research, development and extension programs.
Ruth currently leads research into Australia's agricultural extension system, the changing needs of farmers and the role of public, private and farming organisations in extension.
David Packer
David is the National Adoption Manager for genetics at MLA. David has spent 11 years in the livestock animal health sector in both R&D and commercial roles, and was most recently responsible for the adoption and marketing of cattle and sheep portfolios. He also has been involved with beef meat science and eating quality research for the past four years.
Dr Sam Bucolo
Dr Sam Bucolo recently joined MLA's as their Design Thinker in Residence. Design Led Thinking is a practical innovation method which ensures customers problems and a pathway to adoption, are considered concurrently and equally to any research or scientific investigation. Sam's role is to lead the adoption and implementation of this approach across MLA and the sector. Prior to joining MLA, Sam has held senior roles in Academia and Industry, where he has used 'design' to drive sector strategy and transformation.