I invite you to discover a hidden power that lies within you
About this event
Kundalini is also known as the 'goddess power' or the 'serpent power' located at the base of the spine. It is said to look like a coiled serpent, once awakened is like the key or the gateway to the high spiritual realm. The earliest mentioned of the practice was from a historical sacred Vedic collections dating back 1,000 - 500 B.C. When you tap into this energy it is said that you can gain profound insights, enhancing your understanding about yourself and others. Uncoiling the serpent awakens your Higher Self and access direct contact with the Divine. It is also said that it will expand the mind, enhance and develop your psychic awareness and strengthen intuition. Engaging the kundalini energises, cleanses and aligns the body centres or also known as 'chakras' allowing you to manage everyday stress levels as a result you are able to face the day with much greater ease and flow.
Join me and take your life into the next level by:
- Boosts life force energy
- Aligns to your core purpose
- Receive profound insights and deep knowing
- Releases deep emotional blockages, karmic and ancestral pains
- Experience deeper connection with self, the lightness and the darkness of being
- Reconnects to your inner truth, collapse timelines
- Shows us what needs to be healed
- Increase psychic abilities
WHEN:
Thursday 12 August 2021 from 8:00 pm - 10:30 pm
WHERE:
Online via Zoom
What will you receive during the session?
* 21 min Tibetan singing bowls
* Chakra balancing
* 60 min Kundalini activations
* Aura cleansing
What happens after the session?
There will be sharing circle after the meditation
What is required on the day:
* No experience is required
* Yoga mat
* Eye mask if it helps to keep eyes shut during the meditation
* Blanket for extra warmth if required
* Please wear comfortable clothes and shoes
* Come in with a curious mind and an open heart
* Have a light dinner or snack before we start, empty stomach is ideal
Price:
Bookings are essential to secure your spot
$49
What have others gained from the kundalini sessions with Joy:
Joy has such a warm, calm and knowing energy about her. It's very easy to relax and receive in her presence. I recently experienced a one on one Kundalini Activation with Joy. It was truly out of this world. I saw colours, geometric shapes, it was an out of body experience. I've been feeling an ongoing sense of bliss ever since. Thank you Joy, for holding space for my energy. I experienced true healing and expansion in our session. It was beautiful. - Shannon Clark
Joy has amazing style and grace with how she creates the space for her KAP, everything from the evocative sound tracks she sources to the essential oil aromas, to her careful attentive touch is all brought with pure love. I highly recommended the experience, I felt welcomed before I even entered her place - and the night ended with a nourishing meal and community feeling share - I truly felt a fullness that is still landing with me long afterwards . - Briony Pilkington
Thanks Joy for the experience last night. This was my first kundalini meditation in my life life and I felt so amazing afterwards. Joy when you started your playlist it was easy for me to relax and listen to it. Your voice and your place made me at ease so easily fell into the music and I trusted the process. I normally can't deal with any loud music at work I get affected by it and my heart will beat fast but last night I surrendered! So in my meditation I was a bird flying with all the lights around me and when I heard the water I was a fish swimming in the ocean that felt like I'm home back in nature. When you started touching me and I felt your healing hands so warm and so gentle. Lastly, I usually have difficulty in sleeping but last night I slept like a baby. Today when I woke up I felt refreshed and ready to start a new day. Overall I am excited because I can see that I am moving towards a brand new chapter of my life. I highly recommend you to all my friends and clients that will benefit and love the kundalini meditation.- Maxime Lee
About the facilitator:
Joy Chau is the creator of Joy Collection. She is a Health and Wellness Stylist, a Kundalini trainer and an intuitive energy, dance & sound healer. Joy's purpose is to help people express their authentic selves, find their truth and rediscover themselves through self love and acceptance so they can reach their highest potential. She has a vision to make people's lives clearer and brighter by helping them open up to through sound healing, music that alters brain wave patterns and a gentle touch/energy work that assist to release trapped energies so they can feel good inside and out.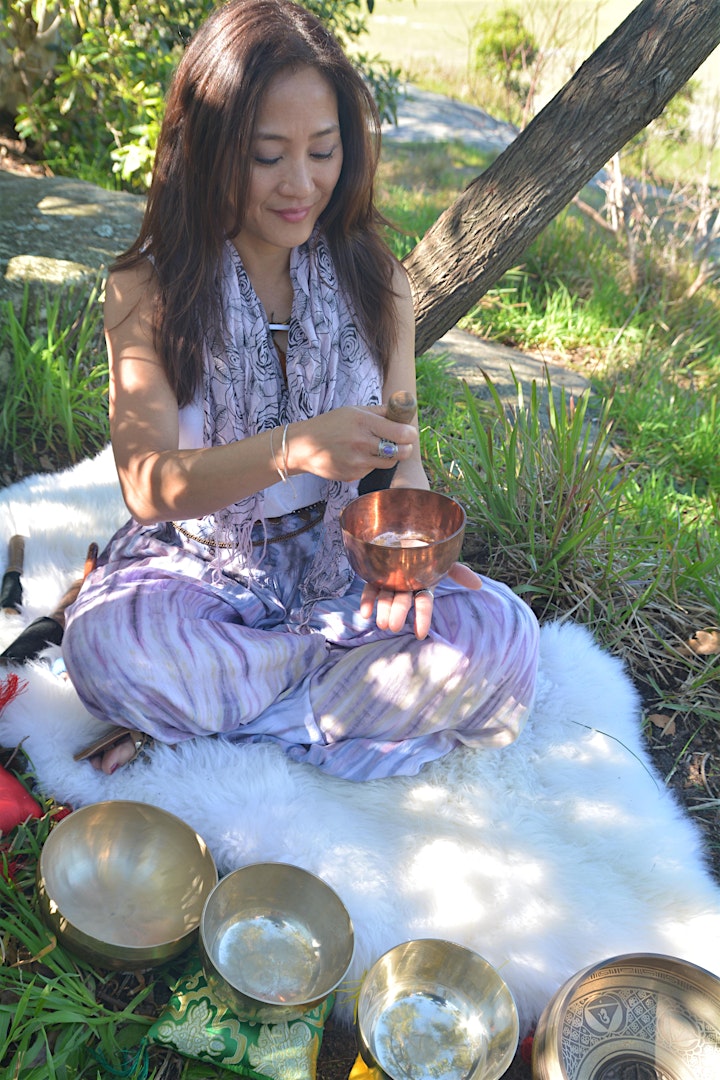 Join me to take your consciousness to the next level!
Date and time
Location
Refund policy
Organizer of Live via Zoom Kundalini Awakening with Joy
Joy facilitates Live Kundalini Awakening Activations coupled with Tibetan Bowl Sound Healing and Crystal Healing. Here we discuss the intorduction to the seven chakra systems aand you are encourage to chant the chakra mantras for cleanisig. This allows the vibration of each mantra penetrate to the appropriate chakra system, allowing for the energy to move while you surrender to the set of music and instruments that are chosen.