LIVE STREAM: Writing To Save The Planet with Jessica White and Amanda Nieha...
Event Information
Refund Policy
Refunds up to 7 days before event
Eventbrite's fee is nonrefundable.
Description
WRITING TO SAVE THE PLANET
with Jessica White
THIS EVENT IS FOR ADMISSION TO THE LIVE STREAM ONLY.
To attend the physical event, buy your tickets here.
To make your live stream experience as smooth as possible, please take the time to read the instructions below on how to connect to the live stream, as well the FAQs.
Learn how you can save the planet with climate fiction.
The last five years have seen a boom in cli-fi, or climate fiction, mirroring our anxieties about the sixth mass extinction and a world in which extreme weather events are increasing in frequency. Through cli-fi, we can imagine the trajectories of human and other-than-human populations, devise positive futures, or compel our readers to think about our circumstances in radically different ways.
Author and researcher, Dr Jessica White, will be joined by biologist and an award-winning author, Dr Amanda Niehaus to discuss climate and eco-focused literature, drawing upon Amanda's latest cli-fi novel, The Breeding Season.
Learning Outcomes:
Through group discussions, you will develop your knowledge about the following:
A range of genres within cli-fi, including solarpunk, near-future novels and intergalactic stories.

How to use time and structure to reveal the slow pace of climate change.

How to create believable characters in unbelievable situations.

How to positively represent vulnerable populations in a changing world, such as people with disabilities.

How to include and represent the other-than-human world in ethical ways.
Format:
This is a craft workshop for all writers. More information on program formats and level definitions can be found here.
About Jessica:
Jessica is the author of A Curious Intimacy and Entitlement. Her short stories, essays and poems have appeared widely in Australian and international literary journals and she has won awards, funding and residencies. Her memoir about deafness, Hearing Maud, was published in July 2019. Her current project, 'From the Miniature to the Momentous: Georgiana Molloy, Life Writing and Environment in 1830s Western Australia' is an ecobiography that depicts the life of Western Australia botanist Georgiana Molloy (1805-1843), as well as the human and non-human lives with which she interacted.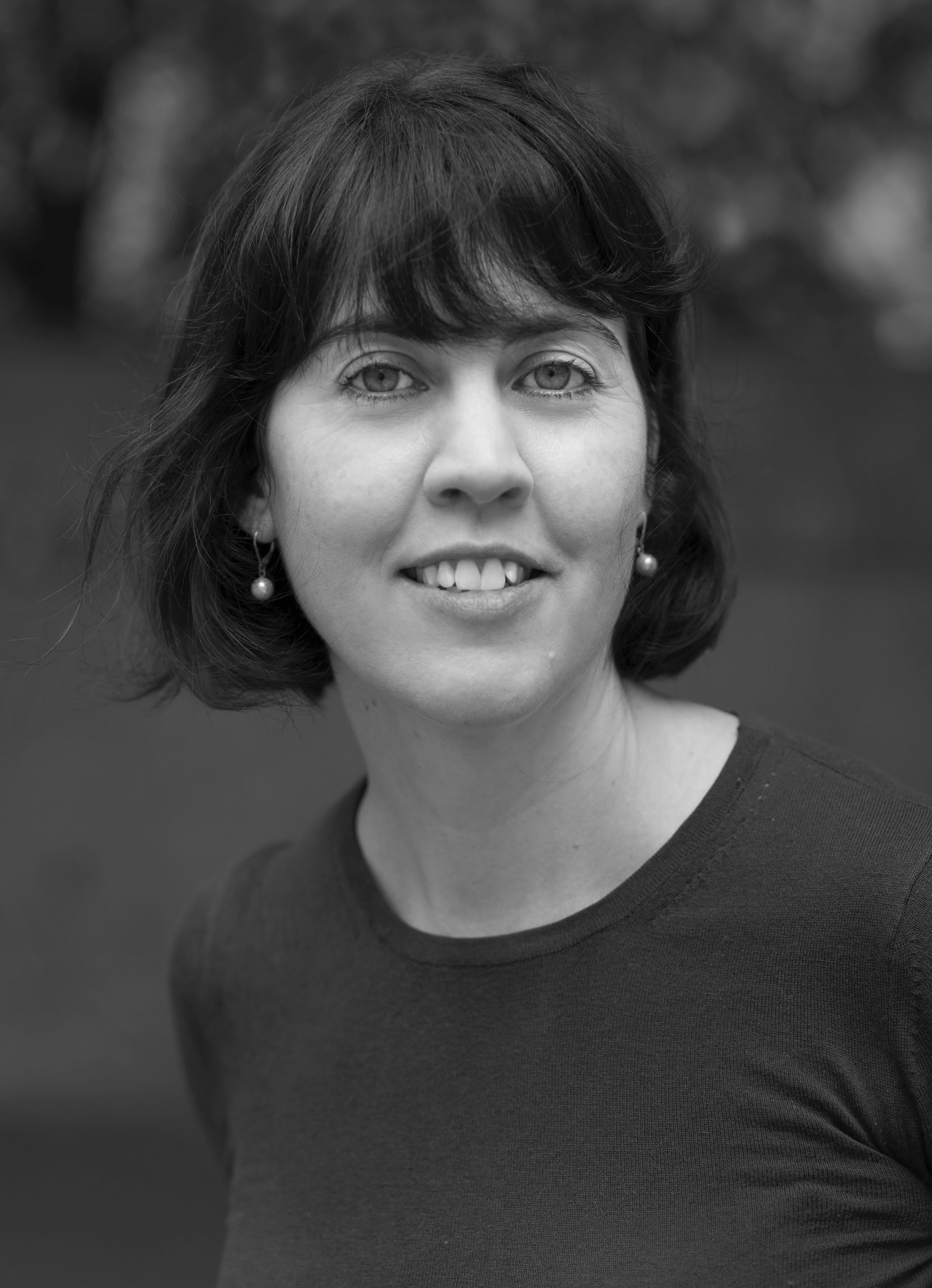 About Amanda:
Amanda is a biologist and writer living in Brisbane. Her essays and stories have appeared in Overland, Griffith Review, Creative Nonfiction, and Best Australian Essays, among others; won the 2017 Overland-Victoria University Short Story Prize; and were twice nominated for the Pushcart Prize (USA). Her debut novel, The Breeding Season, is a story about science and art, sex and death, and female agency. It's in bookstores now.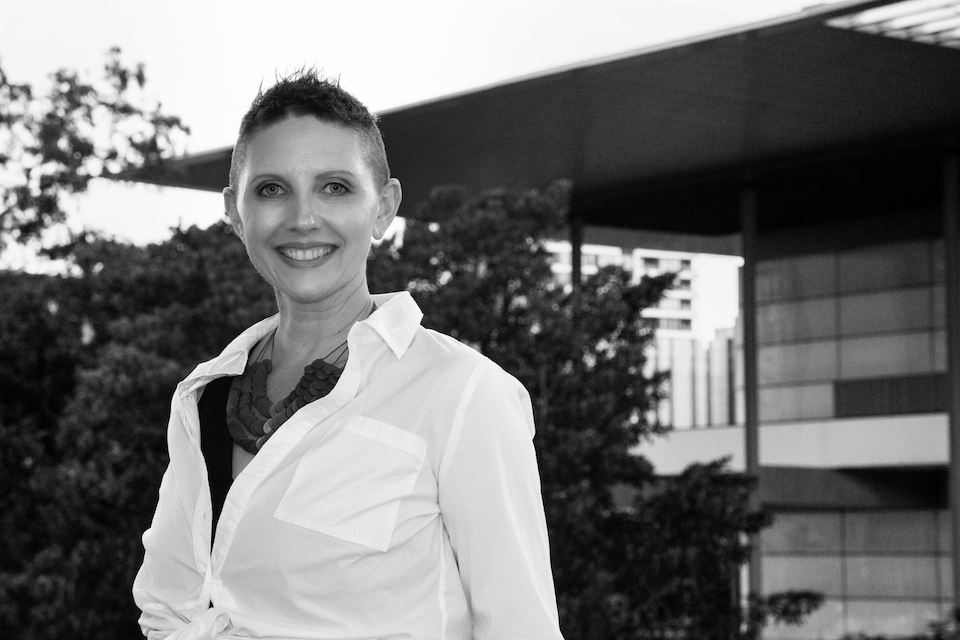 How to Connect to the Live Stream:
When you buy a ticket, you will receive two emails. One will be your receipt from Eventbrite. The other will be an email from Queensland Writers Centre on behalf of Crowdcast, our live stream provider. The latter email will thank you for registering for the course and provide you with a link to the video. A representation of this email is below; the 'Visit Event' button will take you to the live stream's landing page.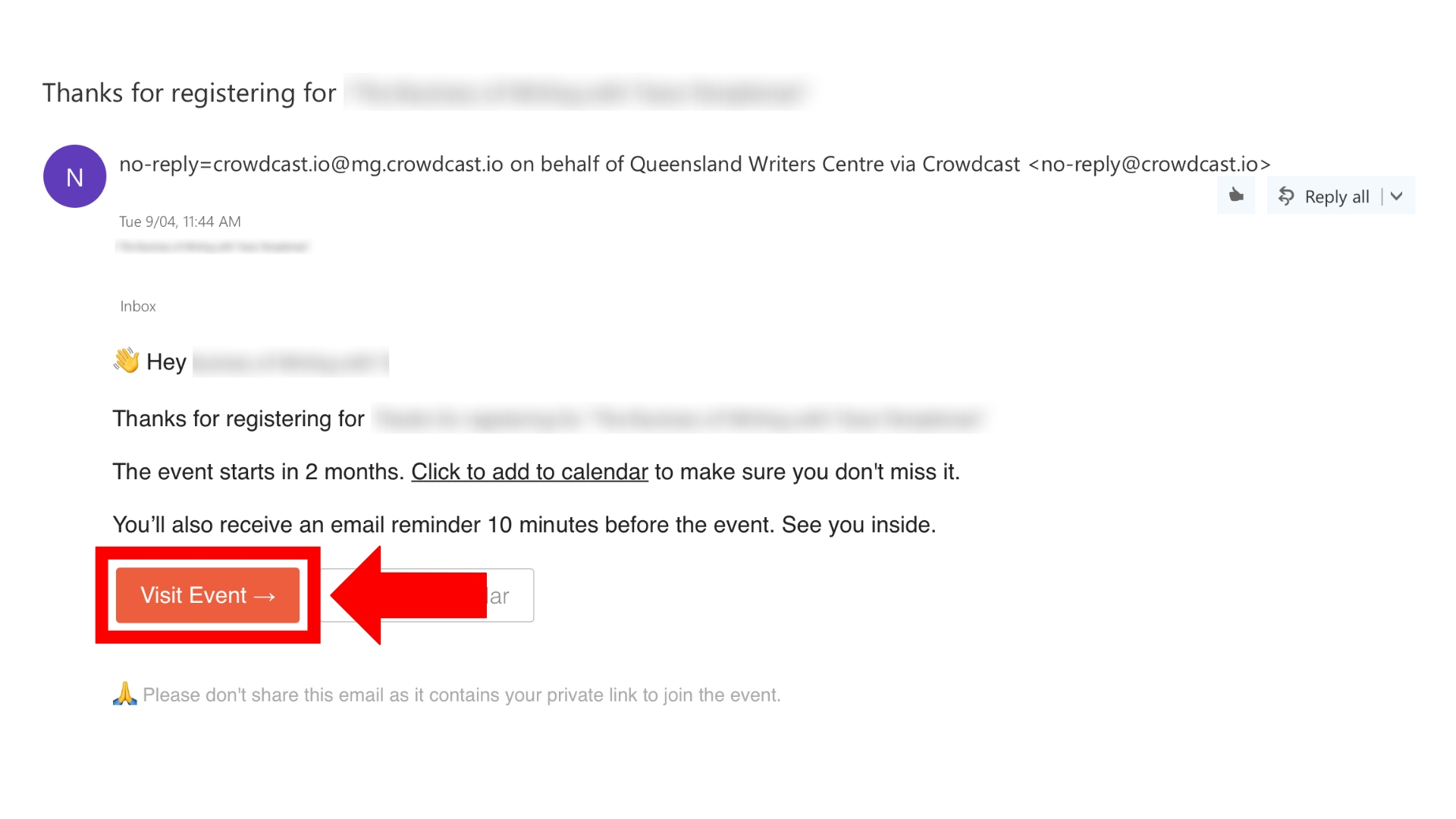 It is only through this link in which you may access the live stream, so it is important that you check that you have received it. In case you misplace this email, you will receive another email with the live stream link 10 minutes before the course is scheduled to start. If you don't receive the initial email when you buy the ticket, contact us on 07 3842 9922 or at admin@qldwriters.org.au.
FAQs
Are there ID or minimum age requirements to enter the event?
Unless otherwise stated, Queensland Writers Centre workshops and events are suitable for participants aged 16 years and over. If you are under 18 years of age, please check with us for suitability before purchasing a ticket.
Will I be limited in any way if I choose to view the live streamed event over attending the event in person?
Queensland Writers Centre always recommends attending our workshops in person; however, we do understand that this might not be possible for our members who live all throughout Queensland. With this in mind, we seek to deliver the event to our at-home viewers as seamlessly as we are able. During your live stream session, you can still perform the exercises and activities given by the instructor and you can also participate in group discussions with other online viewers via the online chat feature.

Can I ask the instructor questions as a live stream viewer?
We will have a live stream facilitator monitoring the chat section, so if there is a recurring question being asked, that employee will ask the instructor on the viewers' behalf. Naturally, the instructor will also provide time to answer such questions; however, depending on the number of live stream viewers, for the tutor to answer everyone's question within the time allocated can be a challenge, so please understand.
What should prepare for the event?
We suggest having either a pen and paper or electronic note-taking device as you watch the live stream.
How do I access the event?
Once you have purchased a ticket on Eventbrite, you will receive two emails: one from Eventbrite confirming your purchase and another from the live stream provider, Crowdcast, with your unique link to the live stream. If you do not receive two emails, please check your spam folder or else please contact QWC.
What am I allowed to say in the group chat?

The group chat is a fantastic way to interact and collaborate with other online participants, the QWC live stream facilitator, and the presenter. We expect members to be courteous and respectful in the group chat. The same behaviour you would conduct yourself in person at a QWC event is expected online. The QWC live stream facilitator will ban any participants who don't abide by these rules so other participants can enjoy the event. If you are banned you will not be refunded the admission.
How do I improve the video quality of my live stream?
Every live stream is broadcasted in high definition. To watch the live stream in the best quality, select the gear icon in the bottom left of the video and select the highest possible resolution (in most cases this is 720p).
What internet browser should I use?

Our live stream provider, Crowdcast, recommends using Google Chrome to watch the live stream. However, the live stream does support Firefox, Opera, Edge, and Safari.
Can I watch the live stream on my mobile device?
On Android, Crowdcast can be used with Chrome for Android or Firefox for Android.
On iOS, you can use the Crowdcast app or view in your favourite Mobile browser!
If using the app, you can access the event by clicking the link sent to your email on your device and this will open the event in the app.
How can I contact the organiser with any questions?
You can contact us by phone on 07 3842 9922 or email us at admin@qldwriters.org.au
What's the refund policy?
If Queensland Writers Centre cancels an event, we will try to reschedule it for a later date. If we cannot reschedule the event, or if you are unable to attend on the amended date, your payment will be refunded in full.
Except in special circumstances, if you cancel a booking for, or are unable to attend an event, workshop, seminar, or course, Queensland Writers Centre cannot provide a refund. You can contact us to discuss your situation on 07 3842 9922 or email us at admin@qldwriters.org.au
Terms and Conditions
All information is correct at the time of publication. We reserve the right to make changes to the advertised program information (including course content and tutors), but if this occurs, we will try to provide as much notice as possible.
We expect that all participants will behave respectfully and professionally towards their tutor and fellow students. We reserve the right to remove anyone who behaves in an aggressive or disruptive manner. If a participant is asked to leave the class on this basis, we will not offer a refund.
We cannot accept responsibility for any loss, damage or expense sustained by students as a result of an event or circumstance whether arising from natural cause, human agency or beyond our control otherwise.
Date and Time
Refund Policy
Refunds up to 7 days before event
Eventbrite's fee is nonrefundable.