LIVE STREAM WEBINAR. STEP NSW SEMINAR - Wednesday 20th May 2020

Wednesday, 20 May 2020 from 5:30 pm to 6:30 pm (AEST)
Event Details
STEP NSW Branch invites you to an address by Margaret Pringle, Barrister at Chalfont Chambers, Sydney, who will be presenting on "Varying the Forfeiture Rule; the recent decision in Re Settree Estates: Robinson v Settree [2018] NSWSC 1413".
The forfeiture rule is a long-held, if inconsistently expressed, rule of common law which prevented the killer of a deceased person from inheriting any part of the estate of their victim. Following the decision of the NSW Court of Appeal in Troja v Troja (1994) 33 NSWLR 269, a domestic violence case in which the battered spouse eventually killed her abusive husband and was found guilty of murder, the NSW Parliament introduced legislation to regularise the forfeiture rule and provide a discretionary exception to the rule.
The Forfeiture Act 1995 (NSW) commenced on 1 April 1996. The Act initially provided a statutory discretion to the NSW Supreme Court to modify the effect of the forfeiture rule, "if it is satisfied that justice requires the effect of the rule to be modified". The Act was later amended by extending the power of the Court to invoke the forfeiture rule in the case of a killer who has been found not guilty of murder by reason of mental illness. In the case of Re Settree Estates; Robinson v Settree [2018] NSWSC 1413, the Court was satisfied justice required that the rule be invoked in respect of a mentally ill killer who would otherwise be entitled to one half of the nett estates of his parents. This paper explores that decision.
PLEASE NOTE:
The live-stream link will be circulated to ticket holders on the day of this event.  There is no option to attend this event in person.
For further enquires please contact Sonia Spiteri stepnswaustralia@step.org 
DATE:         20th May 2020
TIME:          5:30 pm - 6:30 pm
COST:         $60 STEP Members, $90 Non-Members

NSW EVENT SPONSOR 


Equity Trustees was established in 1888 for the purpose of providing independent and impartial trustee and executor services to help families throughout Australia protect their wealth. As one of Australia's largest and oldest listed independent trustees, we offer a diverse range of services to individuals, families and corporate clients including asset management, financial advice, estate planning, and philanthropic services.
Visit us online for more information or call 1300 133 472.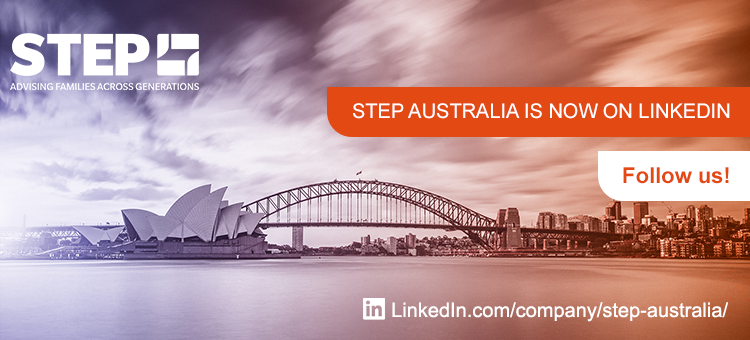 STEP Australia Website - Technical Resource Library

View the latest STEP Seminar Papers, STEP Australia Policy Submissions and the STEP Australia Newsletters by logging into the member's Technical Resource Library on the STEP Australia Website.

If you require any assistance logging into your members account please email Dior Locke, STEP Australia Regional Coordinator via dior.locke@step.org

Contact Sonia Spiteri, our STEP NSW Branch Secretary, to register your interest for sponsorship opportunities with the STEP NSW Branch. 

STEP NSW Event Page  |  STEP Australia Linkedin Page  |  STEP Worldwide Website 
When & Where

ONLINE EVENT


Australia

Wednesday, 20 May 2020 from 5:30 pm to 6:30 pm (AEST)
Add to my calendar
Organiser
The Society of Trust and Estate Practitioners ("STEP") is the worldwide professional association for practitioners in the fields of trusts and estates, executorship, administration, and related issues.  STEP has more than 20,000 members from across 95 countries worldwide, who practice across the legal, accountancy, corporate trust, banking, and related professions.  Members belong to branches that provide professional development and opportunities to network at a local level.