Sales Have Ended
Ticket sales have ended
Not long now until we are ready to get creative with you! Time to set up your painting table, grab your favourite drink and log onto zoom. Dont forget you will need a glass jar of water to wash your brush and maybe an old face washer to wipe your paint brush on. We will see you soon! Paula and the team at Sunshine Coast Art and Framing Gallery
Event Information
Refund Policy
Contact the organiser to request a refund.
Eventbrite's fee is nonrefundable.
Sales Have Ended
Ticket sales have ended
Not long now until we are ready to get creative with you! Time to set up your painting table, grab your favourite drink and log onto zoom. Dont forget you will need a glass jar of water to wash your brush and maybe an old face washer to wipe your paint brush on. We will see you soon! Paula and the team at Sunshine Coast Art and Framing Gallery
About this Event
We truly believe that a healthy mind and body are essential to living life to the fullest now more than ever. We would like to help you keep your mind healthy and stay positive with a fun night at home with our online Sip & Paint class.
We will join you live from our gallery via Zoom for a relaxing night where you can de-stress and be creative. Absolute beginners welcome, no experience necessary. Our experienced art teacher will guide you step by step to create an artwork in your own home for 3 hours.
Art work theme for the night is a Ocean Mandala
Art materials required:
Sip & Paint Pack (This will include acrylic paint colours, 4 x paint brushes, 1 x 16" x 20" Create Art Canvas and a palette)
Table or Stand Easel (optional)
Glass jar of water for brush washing
Your favourite drink is essential!
Online cost will be $20.00 if you have your own art supplies.
If you don't have art supplies we can help with that:
Purchase your Sip & Paint pack and receive free delivery to your door! (Must live in the Sunshine Coast Region) add $40 Delivery not available within 24 hours of event.
Pick up is available in store add $40.00
Postage available via Australia Post (Express Post satchel) add $66.00 (Please allow Metro 1 to 2 days and Rural 2 to 3 days)
Zoom is free and easy to use on any device - smartphone, tablet or laptop. We will send you the link via email to access the teacher for the night.
20 people maximum per session
Hosted by Sunshine Coast Art and Framing Gallery
8 Nicklin Way Minyama QLD 4575
07 5444 0009
www.artframes.com.au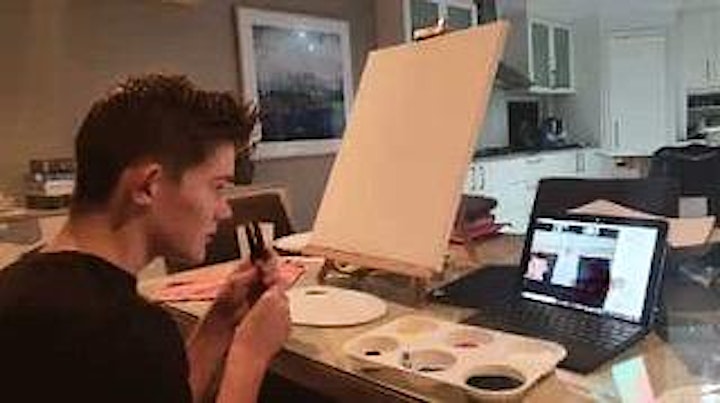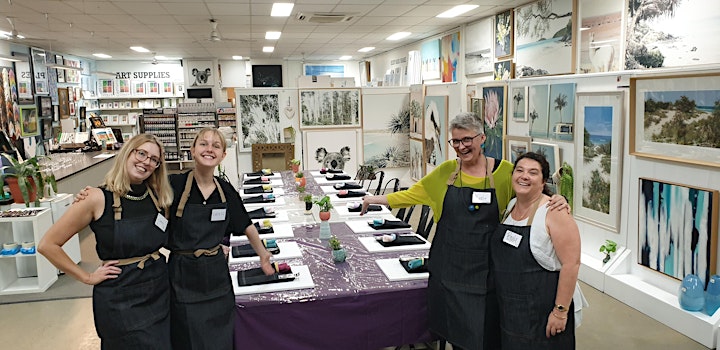 Why Paula from the Sunshine Coast Art and Framing Gallery feels we should all be painting while in isolation
I truly believe that a healthy mind and body are essential to living life to the fullest, when I lost my leg in 2014, I felt my whole world had fallen apart. After I learnt to just breath and take life minute by minute and then hour by hour until I could finally do day by day, I filled my time in hospital with painting and writing. It was a way to let my mind go to another place and let go of worry and fear. It gave me a purpose and I felt I had achieved something at the end of long days in hospital.Having a creative hobby like painting helped me to keep you mind strong and improved the quality of my life. Below is a list of reason why I believe everyone should paint during tough times.
1. Painting is a Stress Relief
Mental-health issues and stress or high anxiety often go hand in hand. Painting is a great way to release emotional stress and helps you to relax your mind and let go of all the problems that are contributing to a high stress level.What people don't realise is that when you create something beautiful through painting you stimulate your creative mind (the right side of the brain) and this will help to relieve mental strain. If we can reduce our stress this will lead to a healthier and happier lifestyle.
2. Artistic vs Analytical Brains
Painting comes naturally to artistic, right-brain people, however if you are an analytical left-brainer you can stimulate and nurture your creative growth by practicing painting.
3. People who paint have sharper minds and retain memory
Painting sharpens your mind! People who use creative outlets such as painting, drawing and writing have less chance of developing memory loss when they get older.
4. Enhances Problem-Solving and Motor skills
An artist must think conceptually to bring multiple solutions to life when painting. This means the person is using their critical thinking skills. During this process, what an artist imagines may evolve due to colour limitations or unexpected outcomes that occur during artistic implementation. Find the solution helps build important problem-solving skills. Thinking outside the box becomes second nature to a painter.Using a paint brush increases the mobility in your hands and fingers. These fine motor skills help people create shortcuts that the brain implements in everyday life.
5. Emotional Growth
Releasing emotions through painting, drawing and writing is a very helpful experience for many people. An artist can use painting to pour out their emotions onto their artwork, they can understand and evaluate factors contributing to various moods they are experiencing. Experimenting with painting can help a person to understand what triggers feelings and emotions such as happiness, sadness, love or anger. Painting can be very healing for the mind, body and soul.
6. Painting can stimulate an optimistic attitude
Painting helps build strong mental health at every age and it is never to late to start a new hobby. Paint will help to generate a happy mood not only for the person that is painting but also the people that are around them.Painting provides a very relaxing, open environment where a person feels safe to explore their own creativity and encourages a more optimistic approach to life.The reward is creating visually appealing artwork that others admire that will give the person a sense of pride and happiness in the work which helps boost self-esteem and inspires people to reach new levels of skill.
Date and Time
Location
Refund Policy
Contact the organiser to request a refund.
Eventbrite's fee is nonrefundable.