Description
What's special about a #LinkedInlocal Meetup?
#LinkedInLocal is a meetup concept with the purpose to meet the people behind the LinkedIn profiles. Many people connect with others on LinkedIn with the intention of meeting to explore the possibility of doing business in the future. But life often gets in the way and pretty soon that person becomes just another forgotten 1st level connection. No longer with a #LinkedInLocalSydney meetup near you.
This will be an informal, pitch-free event that is all about relationship building. You will hear from the hosts but merely as an introduction & facilitation of the event. We will be available to answer your LinkedIn questions and encourage sharing of what is working for you. Ultimately the intention of the evening is to solidify your existing connections and create new LinkedIn connections.
SPECIAL GUEST: Anna McAfee - founder of the #LinkedInLocal concept
The guest at this very special #LinkedInLocalSydney meetup is none other than Anna McAfee of Coffs Harbour, the brainchild of this viral LinkedIn based meetup concept. Yes, viral. #LinkedInLocals are now running in every continent and every corner of the globe in just a few short months. So far there are around 40 locations all over the world from New York to Rio & old London town.
"These events allow people to not just meet the humans behind the profiles but take part in inviting those strategic connections they feel could be of value to their business or job. The Sydney #LinkedInLocal events enable you to invite 1 or 2 of your first connections to a set time and place to not only meet them in person but start a solid business relationship. Not only that, the #LinkedInLocal events enable you to hear from others about LinkedIn best practices and social media success stories. It's a win for everyone and no networking group has had this focus on LinkedIn before."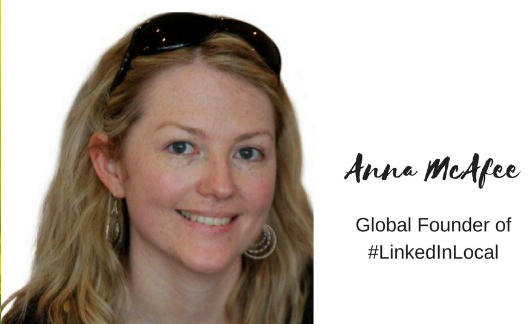 Optional LINKEDIN Q & A session: with two LinkedIn specialists
What do you most want to know about regarding LinkedIn? What has been working (or not working for you)? This is your chance to get those burning questions answered during a short Q & A session with the hosts Jillian Bullock and Jane Jackson. Plus, we'd love you to share your experience with LinkedIn so others can learn from you too.
FAQ
Where & when is this #LinkedInLocal in Sydney?
Wednesday 29th November 5.30pm for a 6.00pm start.
'1908' Cronulla Cocktail Bar 1/15 Surf Road, Cronulla
Cost to attend?
The cost to join us is $30 which covers the room hire & canopies, drinks available at the bar. Yes, this is more expensive than some of the other events around Australia, but that's Sydney for you!
Travel & Parking
The location is within minutes walk from Cronulla Train Station. Street parking is available or council parking at the train station or near the Cronulla mall.
This is a no-profit event.