Multiple Dates
LinkedIn Training Course Melbourne Update Your Profile for your Purpose
Description
LinkedIn Workshop Melbourne - Update Your Profile for your Purpose - Maximum 5 participants
Have you been saying to yourself for some time that you really MUST update your LinkedIn Profile?
Well here's your chance!
With a small group of just four other people in a quiet and friendly setting, you will be able to update your LinkedIn Profile for your Purpose on the spot.
What will we cover?
> clarifying your purpose and keywords
> updating your settings and content
> showcasing your digital competency
> measuring your return on investment
> networking with other participants

Confirmed guests will be sent the full details of the location and be invited to bring their own laptop and LinkedIn password.
Enrol now, places are limited (only 5 participants).

Facilitator
This workshop will be run by Sue Ellson, an Independent LinkedIn Specialist.
Sue has been recognised by the Social Media Marketing Institute as one of the Top 10 LinkedIn Experts for the Asia Pacific Region in 2018
Sue joined LinkedIn on the 21st of December 2003 and is one of the first 80,000 people in the world on the platform. In 2008, she started consulting and training on the topic of LinkedIn and in 2016, released her first book of 80,000 words - '120 Ways To Achieve Your Purpose With LinkedIn'
Sue is also part of an International Mastermind of LinkedIn Trainers and keeps up to date with all of the latest trends by attending between one and four events every week.

Who is it for?
> job or career seekers
> career changers
> self employed business owners
> directors and partners in business
> expatriates and repatriates
> migrants and people new to Melbourne
> professionals wanting to improve their online brand
> people wanting to manage their career risk and remain continually employed

Enrol now, places are limited (only 5 participants).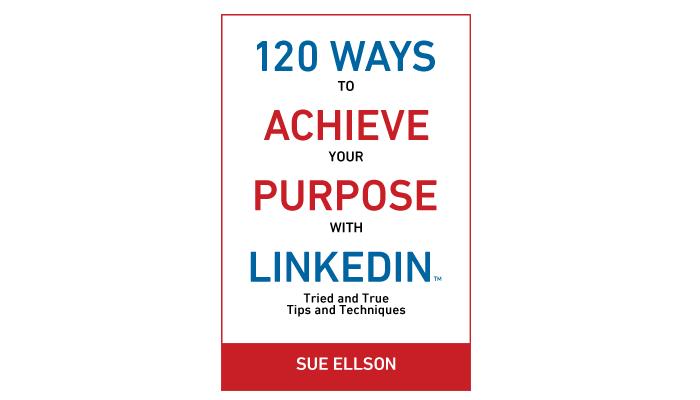 Extra Bonus
A digital copy of '120 Ways To Achieve Your Purpose With LinkedIn' will also be given to all participants as well as a Certificate of Completion and tax invoice for claiming a tax deduction.
Testimonials
I had the pleasure of attending Sue's LinkedIn workshop last Saturday. For three hours, Sue shared so many great ideas and tips on how to write, update or improve my LinkedIn profile.I learnt so much about the importance of using relevant, and sort after key words, and information. Sue was outstanding in presenting the workshop, tailoring to each of our needs and working with us, as a small group,on our laptops as she went through each section of our profiles. I highly recommend Sue, she is what she says, a LinkedIn Specialist and someone who clearly communicates how to improve and update LinkedIn profiles for each attendees purpose. Thanks Sue for all your help- now the work begins and thanks to your workshop it will be done with a clearer understanding of my purpose on LinkedIn.
Rod S
Thanks for the workshop, it was a good reinforcement and I will be working on my content over the weekend. Clare N
Thank you Sue, Really enjoyed the workshop, I will implement what I have learnt building my profile and will stay in touch! Janine L
Thank you for your informative session, you are amazing. Thank you also for the certificate, nice idea. Ingrid P
Thanks so much for the workshop - it was truly excellent and I will make sure I put a recommendation for you. After seeing how effectively you train I was wondering if you would consider being a presenter at our conference? Natalie V
Thanks for preparing the additional drawing to help explain the huge amount of information. Lois M
Thank you for your help. Patrick M
Thanks for a great session last week! I have a second interview sometime later this week…. : ) (and she got the job) Anita C
Enrol now, places are limited (only 5 participants).
Private Consultations
Private personalised consultations are also available at a time that suits you, in person in Canterbury or Melbourne CBD or online via Skype or Zoom - $400 for two hours or $900 for three sessions of two hours which also includes tasks to complete between appointments, review of your resume, networking, referrals and behavioural interview training for job seekers and marketing and business training for experts and entrepreneurs.

Sue Ellson is a Professional Member of the Career Development Association of Australia and has an extensive range of presentations, publications, podcasts, details of clients and training all listed on her website at https://sueellson.com

Further information
Contact Sue Ellson +61 402 243 271 or sueellson@newcomersnetwork.com or connect on LinkedIn at https://www.linkedin.com/in/sueellson
Enrol now, places are limited (only 5 participants).