LinkedIn Local Gladstone are "no-pitch" business networking events allowing you to connect with your local business networks in Gladstone.
About this event
LinkedIn Local Gladstone is a business meetup concept with a difference. It allows you to connect and engage with your local business networks in Gladstone and you don't have to be on LinkedIn to attend.
LinkedIn Local Gladstone allows people like you to connect with like-minded people in business who want to create meaningful interactions and contacts that will be valuable in the future.
So come along to this free 'no-pitch' event and network over some nibbles and drinks in a great atmosphere and just chat and enjoy and make some new business friends and connections.
Please note: We have moved to Auckland House in 2022.
Nibbles (canapes') supplied. LinkedIn Local Gladstone is free to attend and you do not have to be on LinkedIn.
Thanks to our January sponsor: Jobs In Central Queensland.
Thanks to our supporters:
Resource Industry Media, 4CC and Auckland House.
Sponsorship opportunities are available for LinkedIn Local Gladstone. Phone 0438 146 819 or email: info@linkedinlocalgladstone.com.au for details.
About Jobs In Central Queensland.
Jobs In Central Queensland™ is the premier platform for local jobs and careers in Central Queensland, covering the major centres of Gladstone, Rockhampton and Mackay. We help local businesses, local workers and local service-providers connect, network and forge fruitful relationships. In doing so, we help strengthen the resilience and prosperity of the region that we serve – Central Queensland.
To find out more or to connect with Jobs In Central Queensland™ email: service@jobskillsnetwork.com and/or phone 1300 487 419 or connect by Clicking Here.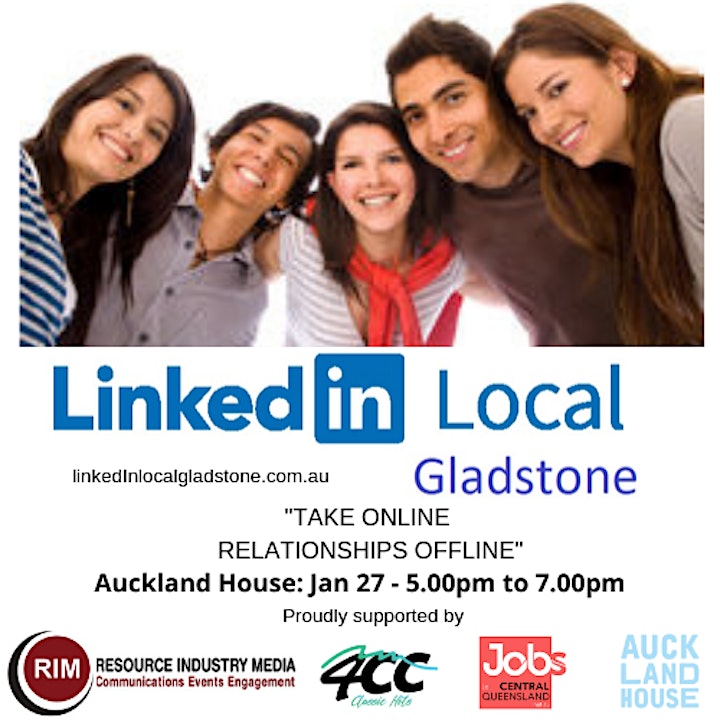 Organiser of LinkedIn Local Gladstone
Since establishing his career in 1999, Resource Industry Media Director Kieran Moran has been helping local and national clients attract positive exposure around the stories that matter. Kieran identifies the best angles to promote your business to industry, government and the wider community to benefit brands, create captivating content, and uses his widespread network of industry and media contacts to gain exposure and propel your business to success.
Kieran's experience stems across a number of multi-media platforms where he has a clear understanding of marketing, public relations, stakeholder engagement and communication practices. He is competent in developing internal, external marketing and communication strategies and procedures including project, brand/reputation, issues and event management, strategic development, promotions and publications.
"I pride myself on the ability to communicate effectively with community, industry and all levels of government and media by translating technical, scientific and/or political subject matter into an everyday easily understood packaged format" – Kieran Moran
Throughout his career Kieran has initiated, developed and implemented community, industry and state government media, marketing and communication strategies and has a clear understanding of local and state government standards, policies and procedures. Most of all, Kieran focuses on the 'big picture' for your business ensuring deadlines and the desired outcomes with impacts are always achieved.