LinkedIn Interactive Workshop - Advanced

Thursday, 22 June 2017 from 1:00 pm to 3:30 pm (AWST)
Event Details
LinkedIn has changed drastically since late 2016.  Have you updated your profile since then to capitalise on the new opportunities? Are you in the know with the new LinkedIn format and capabilities?
If you are a Small Business Owner, Professional or Job Seeker, there is no better place to be than on LinkedIn.
65% of people agree that your online image or brand, is just as important as the one you make in person. LinkedIn has 500+ million members of which 8 million are in Australia.  Every third professional has a profile. There are 25 million LinkedIn profile views daily and over 40% of the network's users checks in on a daily basis.  80% of lead conversions referred by social channels come from LinkedIn.
Become part of the magic 11 % of people who actually know how to use LinkedIn.  Develop and implement your unique LinkedIn strategy - warm leads would flow in, easily connect with decision makers, no need for cold calling, gain credibility and trust.
At this *ALL NEW* ADVANCED++ INTERACTIVE workshop - the only one for 2017
YOU will get -
1. Hands-on assistance, as the workshop attendee numbers are strictly limited
2. An IN-DEPTH understanding of:-
- How to build social influence 
- Understanding LinkedIn Articles and LinkedIn Updates
- How the LinkedIn search functions work
- Developing your unique LinkedIn strategy 
3. Workshop notes and templates
4.  Walk away empowered with knowledge to do it all yourself!
5. ** BONUS ** - You will get FREE access to my private Master LinkedIn Group where I share new LinkedIn developments and tips with you.
  ++ LinkededIn users who would like to focus on creating their LinkedIn profile may want to consider signing up for my Basic LinkedIn Workshop - held at the same venue, same day and in the morning. 
Workshop Housekeeping Notes:-
Registration starts at 12:50 pm
A laptop is preferable; although a mobile phone/tablet would also be suitable
Ensure you have your LinkedIn email login and password details available on the day
This workshop is best suited to attendees with a Basic understanding of LinkedIn 
Notes about the venue:-
Complimentary Wifi provided; to ensure you have maximum speed connect to the internet using your phone or dongle.  
Limited power connections are available. 
Complimentary tea, coffee and treats provided.  
Parking is free.
Please bring your business cards for networking opportunities. 
What others are saying:-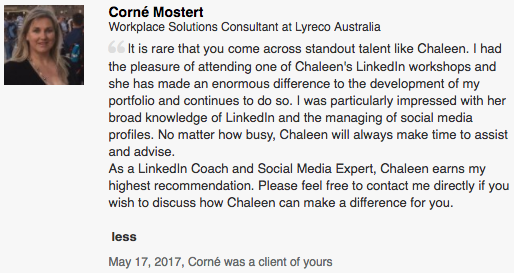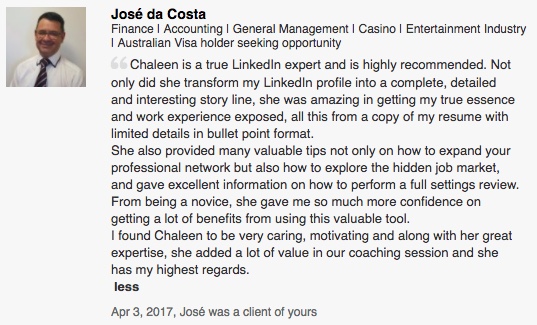 Practitioner and Trainer in Business Continuity and Crisis Management - Preparing Organisations for the Inevitable
I attended Chaleen's LinkedIn Interactive Workshop and found it to be extremely beneficial, with plenty of useful takeaways on how I can use LinkedIn more effectively. Chaleen certainly knows the ins and outs of LinkedIn, and is an engaging and first-rate trainer. Thank you for the workshop - it was time well spent! 
November 24, 2016, Kenny was Chaleen's client
Helping organisations better identify, understand and manage uncertainty, opportunity and risk
I recently attended Chaleen's course, which I'm happy to recommend. I was really pleased to gain some productive insights on the use of social media for myself and our business. Thank you. 
November 4, 2016, Mark was Chaleen's client
Business Coaching/Mentoring/Tailored Training & Workshops
I can recommend Chaleen to anyone who wants to learn how to use linkedin effectively. Chaleen is professional and creates a calm environment with excellent timekeeping. Thank you for sharing your valuable knowledge Chaleen. The venue was great!
November 4, 2016, Ronél was Chaleen's client

Freelance programmer
I attended Chaleen's Linked in course and I was very impressed with the depth of knowledge that she had on the subject. 

There was a lot of technical knowledge that Chaleen helped me with as well as advice on how to best market myself. I would definitely recommend this course to anyone interested in getting the most out of their Linked In profile. 


November 3, 2016, Alan was Chaleen's client

Studying Certificate of Fundraising at Fundraising Institute Australia I Development I Events I Marketing Officer I
Chaleen's one-to-one workshops are very worthwhile. She considers your current, unique situation as an individual and so is able to tailor the information needed on your profile. Chaleen also matches your "social media tech skill level" to what you can continue to successfully implement to get the best out of LinkedIn. 
I highly recommend connecting with her! 
October 4, 2016, Bronwyn was Chaleen's client

Editor: Merise, your magazine for migration inspiration
I am always impressed by Chaleen's knowledge of social media. She fully embraces the importance of social media in business and she patiently teaches the intricacies of especially LinkedIn to her students. Her workshops are well worth attending!
October 7, 2016, Suzette was Chaleen's client

Assistant Manager at Midland Women's Health Care Place
Thank you for making me feel welcome in your home office and providing me with a wealth of advice. I'm much clearer about the things I need to work on. I have already made some changes to my profile and I have finally achieved the All Star status that I have been chasing.
August 31, 2016, Kate was Chaleen's client
Insurance Broker Perth. General Insurance, Liability - Indemnity- Cyber-Workers Comp. Perth.
Once again Chaleen has presented a Professional and Easy-to-Understand Linked-in Presentation. Whilst I have already attended at least 3 of Chaleen's presentations in the past, there is always something new to learn and I would have no hesitation in recommending anyone looking to grow their business through social-media, Even if you just want a better understanding of how linked-in works! Thanks again Chaleen.
Adding Strategic Value to Businesses | Owners Preparing Owners & Businesses For The Final Exit
Chaleen has a clear concise message in her LinkedIn workshops. She gets to the point in a friendly, professional manner. I recommend that anyone who uses LinkedIn, should talk to her about attending one of her workshops. Highly recommended.
August 22, 2016, Wayne was Chaleen's client
Volunteering Development Officer| Job Application Information Session Facilitator| Mentor| Capacity Builder
Chaleen Botha generously gave her time and skills to the Wanneroo Community Skills Bank facilitating a workshop in Linked In. The session was booked out and attended by local business owners. Chaleen was very engaging and informative. Everyone learnt so much and the feedback from participants was great. Thank you so much Chaleen!
August 29, 2016, Glenda was Chaleen's client
Clinical Psychology ★ Adolescent & Adult Mental Health ★ Major Life Changes ★ Psychoeducation
I attended Chaleen's LinkedIn workshop. She was insightful, professional and delivered a very interesting and useful workshop. Thank you Chaleen.
August 26, 2016, Sally Jayne was Chaleen's client
Founder of National Finance Brokers Day | Business Development Manager at Suncorp Bank
I first met Chaleen online via the LinkedIn platform where we then met face to face for a coffee and a chat about what we both do. Chaleen was extremely keen to add value to my network that I arranged to get her in to conduct a session on utilising LinkedIn for my work colleagues. The session was very well received as Chaleen catered to all different skill levels and assisted from setting up an attractive profile to going through different aspects on LinkedIn to help grow your connection base within your market. I know that with her expert advice to the team that we will now have a greater voice on social media. Can highly recommend contacting Chaleen for one on one or group workshops on social media. Thank you, Dino
June 21, 2016, Dino was with another company when working with Chaleen at Chaleen Botha
Mindfulness Leader. Best-selling author. Speaker. Trainer. Coach. Mindful Safari Guide.
Chaleen inspired me to re-energise my Linked-In page and got me excited about the opportunities available via this platform. She has great tips about using Linked In and I would highly recommend her as an adviser, coach and online guru!
June 27, 2016, David was Chaleen's client
Owner at 5th Level Consulting
I have know Chaleen for a number of years now, I have over that time referred a number of friends, clients and associates to her for assistance with developing their social media skills and strategy. The results and feedback have always been extremely positive and everyone I have referred has come away with new skills, a better understanding of social media and the impact it can have on their business. 

I recently attended a Linked In workshop delivered by Charleen and was again amazed at how much I learnt, what I was able to immediately put into practice and also start applying a very simple, quick and easy strategy around using Linked In to help me achieve my outcomes. I continue to refer people to Chaleen and she continues to be a great source of knowledge and advice when it comes to social media. 

June 12, 2016, Douglas was Chaleen's client
Accounting |Tax | BAS | GST | IAS
In the time that I've known Chaleen, she has never ceased to amaze me. Her work is impeccable and her dedication to her clients is incredible. She always gives her best effort and her emphasis on authenticity is reflected in her professional conduct. Chaleen has great communication skills and it is always a pleasure to talk with her. I am very pleased with the work she has done for myself and my colleagues and we all hold her in the highest of esteem. 

June 13, 2016, Nicolette was Chaleen's client 
Thesis of Organizational Psychology and Criminology
I had the privilege to attend one of Chaleen's LinkedIn workshops, and I can with confident say that her actions are aligned to her profile. She is a passionate person, with ambition to help and guide people towards success. I highly recommend Chaleen , as she has helped me learn and develop skills that would prosper my future career and profile. 
June 13, 2016, nieke was Chaleen's client
Post-graduate Research Student in Biological Sciences
Chaleen's work is of a high standard. She is professional, friendly and helpful. I will definitely recommend her workshop to anyone who wants to know how LinkedIn can work for them.
June 11, 2016, Louise was Chaleen's client
Accounting | Bookkeeping | Tax | BAS, GST, IAS | SMSF | Business Set-Up | Business Advice
Chaleen, Thank you for setting up my LinkedIn profile and giving me support and encouragement. Looking forward to continue our relationship and a lot more learning from you.
June 17, 2016, Maya was Chaleen's client
★ Amicable Divorce Settlements ★
Chaleen is very knowledgeable on social media marketing and I have learned so much by attending her Linked In workshop and understanding the power of networking through the professional medium of Linked In. I have much more direction now in moving forwards with my profile as a platform for communicating the services that my business can offer. Can't wait to do Chaleen's advanced workshop later in the year!

June 11, 2016, Adrian was Chaleen's client
Small Business Specialist | Accounting | Tax | BAS, GST, IAS | SMSF | Financial Planning | Business Set-Up
I first met Chaleen 5 months ago, and after that initial meeting, I have counted her as one of my most valuable contacts. 
She provides an excellent level and quality of service and her work is always of the highest standard. More importantly, Chaleen's professional dedication is only surpassed by her keen eye for detail. She is very efficient and detail oriented and has exemplary communication skills. 
Chaleen is a pleasure to work with and has put a lot of effort into cultivating a personal relationship that adds an authenticity to her work that cannot be bought. She would be a wonderful asset to any team and my staff have benefited from her skill and knowledge. With Chaleen, I can trust that my business is in good hands. 

February 3, 2016, Audrey was Chaleen's client
Insurance Broker Perth. General Insurance, Liability - Indemnity- Workers Comp. Perth.
Hi Chaleen, 
Your knowledge with Linkedin and confidence in presenting your subject has grown in leaps and bounds. I attended a Workshop approximately one year ago and whilst a learnt a lot there, I have learnt so much more this time around. I have no hesitation in recommending Chaleen Botha to anyone who wants to grow their business through the power of Linkedin. Well done Chaleen! 

June 11, 2016, Ron was Chaleen's client
College Principal at Lake Joondalup Baptist college
Chaleen Botha is a highly professional and knowledgeable social media consultant. Chaleen has provided social media workshops (raising your online presence through linkedin) to my staff which have been of tremendous value. Dawn Clements, College Principal, Lake Joondalup Baptist College
April 8, 2016, Dawn was Chaleen's client

Executive Manager Enrolments & Promotions at Lake Joondalup Baptist College
Chaleen, 
Thank you for the training and support you have given me. I so appreciate your willingness to 'go the extra mile' and making sure I'm on track 
Jan
April 25, 2016, Jan was Chaleen's client
Author, Blogger, Content Writer
I attended the ECU How2Linkedin that Chaleen presented. As always Chaleen was the ultimate professional en knowledgeable presenter. Chaleen is passionate about making Linkedin work for her clients.
February 8, 2016, Marlize was Chaleen's client

Head of Science at Lake Joondalup Baptist College
Chaleen is an astute and innovative social media specialist. Her recent presentation at Lake Joondalup Baptist College on how to understand and improve your profile at LinkedIn was clear, informative and intuitive. The session was well received.
February 3, 2016, Peter was Chaleen's client         
Cash Flow Management Specialist assisting companies with cashflow strategy, forecasting & budgeting
Chaleen was charming and professional as always, she covered the material in a manner that was easy to understand and the fact that we all used our own laptops and tablets to build and modify our online profiles was ideal. The workshop was very interactive with lots of handy tips to refine and to get the best benefit from our LinkedIn presence, also how best to network with new connections. The most important thing I take away from Chaleen's course that will remain with me as long as I am on social media is 'To post with integrity'

November 12, 2015, Maylene was Chaleen's client
Solving your tax and accounting problems | Registered Tax Agent | Tax Planning & Advice | Financial Statements | Payroll
I met with Chaleen when she came to our office for a workshop on LinkedIn and social media. Chaleen is a lovely person and has a strong passion for social media. Her workshop was very informative and useful tips on how to use social media to benefit your business. 
If you looking for someone to help you with LinkedIn or any social media tools Chaleen is the person to see. I would recommend her without doubt.

November 26, 2015, Beatrice was Chaleen's client
SMSF Specialist Advisor (SSA) and Chartered Tax Advisor (CTA) at Sondergaard Accountants
We used Chaleen's services a few months ago to run a marketing campaign for one of our events. Chaleen was very professional, very helpful running a very successful marketing campaign. 

Last week I attended a LinkedIn workshop run by Chaleen. This was extremely useful providing hints and tips. Chaleen really knows what she is talking about.
August 11, 2015, Gina was Chaleen's client
Graduate Mechatronics Engineer and Computer Scientist
Chaleen and I met through a mutual enthusiasm for providing information and tools for the next generation of job ready University graduates. Chaleen presented a Linkedin Workshop held at Edith Cowan University to an audience of students and professionals, the workshop was well researched, relevant, and engaging. Those in attendance spoke praise of the clear and concise manner in which information was presented, and the personal anecdotes provided to maximise success. 

In a highly competitive job market Chaleen's wisdom is crucial for those who wish to create their personal brand. Chaleen was a joy to work with and I look forward to future collaborations. 

November 25, 2015, Tamzin was with another company when working with Chaleen at Chaleen Botha

Recent university graduate - looking for my next challenge
In my role as Events Manager for the Women in Engineering club of Edith Cowan University I hosted a LinkedIn workshop for staff and students as I am a great believer in promoting the benefits of using LinkedIn particularly to students. 

I was lucky enough to make contact with Chaleen who generously offered to come along and run the workshop for the club and share her amazing knowledge with the students and staff of ECU. 

The workshop was an incredible experience and I received lots of feedback from students on how detailed and relevant the presentation was, particularly the helpful tips that Chaleen adds as a personal touch. 

Thank you Chaleen for bringing your professional expertise to our club and making our event something truly special.

November 25, 2015, Ngaire was Chaleen's client




When & Where

Enterprise House
935 Wanneroo Road
Wanneroo
Perth, WA 6065
Australia

Thursday, 22 June 2017 from 1:00 pm to 3:30 pm (AWST)
Add to my calendar
Organiser
Why choose and book for this workshop?  
My hands-on, value for money and easy to understand approach is what attendees appreciate most.

 I currently have 78+ written recommendations from clients on my LinkedIn profile

Need business leads and want to grow your business?  I understand business, I qualified as an accountant and have had my own successful businesses for over 30 years.  
Looking for a job?

I have a thorough understanding of job hunting and have written a 

blog titled "How to Land a Job in Australia", with over 21 695 views to date and a retweet from social media A-lister Dave Kerpen. Furthermore, I started a Jobs Group in 2012 and now have over 28 708 members.

Once you have attended my workshop, you become a member of my Master LinkedIn Group, and it is completely FREE 
What have I done in the LinkedIn space?
Completed countless LinkedIn profiles for my clients here in Australia and Overseas.  

I have presented many of my own LinkedIn workshops, including for Suncorp management, Edith Cowan University, City of Wanneroo, networking groups and a private school. 

Other invitations have been from a social media school in Shanghai, an Accounting Franchisor and two of the town councils in Perth.

I train regularly with the World's Number 1 authority on LinkedIn, listen to popular LinkedIn podcasts and read widely on a daily basis to keep abreast of the changes.  Most importantly, I am a very active user of LinkedIn and involved in my LinkedIn community.
Exciting projects which I have been involved in, include:
Having my written iReport covered on CNN television.  
Creating several online communities; including my Facebook Jobs groups with a membership of more than 28 050 members.   
Ranking #1 for "most viewed professionals similar to you" on LinkedIn by applying my "Five Minute A Day LinkedIn Strategy".   
My Specialities Are: 
LinkedIn Profiles and Coaching
LinkedIn Workshops
Branding
Business Development
At chaleenbotha.com I firmly believe that social networking is a form of social insurance of which we all can never have enough of!
https://au.linkedin.com/in/chaleenbotha 
http://chaleenbotha.com/contact/