Ask LinkedIn Strategist and Trainer Anne Miles any question you want to in order to help you improve your LinkedIn performance
About this event
Anne Miles is a LinkedIn Strategist & Trainer and has a proven but unique way of looking at LinkedIn called ReputationMarketing™ that is all about converting sales for B2B businesses and consultants.
Anne is keen to help the community stop treating LinkedIn like a business version of Facebook (even some professional social media strategists still do this). Join Anne in this free session and ask any question you like to improve the performance of your lead generation and business development. First in best dressed.
No strings attached.
Besides, Anne loves the challenge and is locked in right now so come and talk LinkedIn.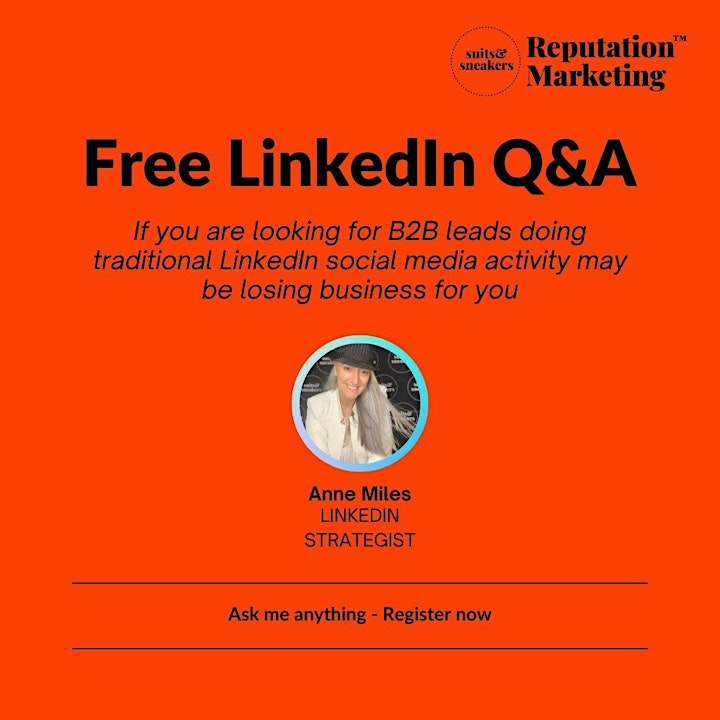 Organiser of LinkedIn Freestyle Q&A
Suits&Sneakers is a diverse collective of hand picked creative and strategic services for marketing and advertising from around the world.

We hand pick creative and strategic talent for marketing and advertising projects, whether it is moving, still or illustrated and help you keep the jobs on track. Whether it is local, national or global.

We act as creative problem solvers, find the best fit creatives, negotiate the best solutions for your brief, connect the industry, meet your budget,
 and help keep the jobs on track. Just ask us to make some recommendations for any creative brief and you'll see the difference.
We are a winner of the Westpac 200 Businesses of Tomorrow.
Brands deserve better.