Description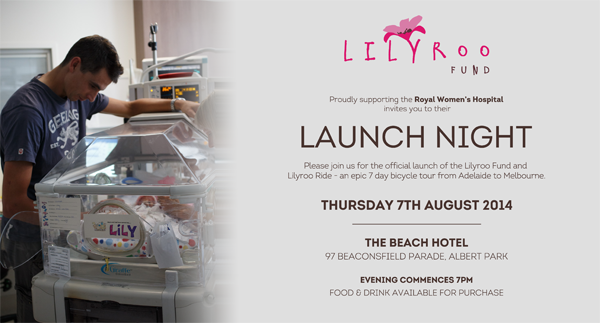 About
Set up in memory of Lily Mary Lockyer, the daughter of Pete and Kristie Lockyer, the Lilyroo Fund exists to raise funds to support the Royal Women's Hospital in their work giving premature babies a better chance at life.
Since its inception in late March, the fund has raised over $20,000, already providing the Royal Women's Hospital NISC unit with 2 resuscitation systems. The Lilyroo Fund has lofty targets in sight over the coming year and beyond.
Please join us for the official launch of the Lilyroo Fund and Lilyroo Ride - an epic 7 day bicycle tour from Adelaide to Melbourne.
Details
7:00pm - Evening commences
7:15pm - Presentation from the Lilyroo Fund and A/Prof Carl Kuschel, Director, Neonatal Services (Medical) from the Royal Women's Hospital
7:45pm - Food, drink and networking
Your support means so much to so many. We look forward to seeing you on August 7th.