Mindset for Life is a non-threatening, inclusive, personal development program for people navigating retirement
About this event
Mindset for Life full program
Mindset for Life is a non-threatening, inclusive, personal development program for people navigating retirement to reflect on their strengths and skills and positively plan a productive and meaningful future.
Mindset for Life is suitable for people from all walks of life. Participants are encouraged to draw from their own life experiences to create a vision of an appealing and achievable future.
Throughout the program we share tools, tips and tactics to help you get this phase of life off to a good start.
About this event
Date: Monday 8th, 15th, 22nd November(Booking into November 8th covers all 3 sessions)
Venue: Kapunda Library Community Room (51 Main St)
Time: 9:30am to 12:30pm
Cost: FREE for Light Regional Council residents
Light refreshments provided – please advise if any special dietary requirements
Funded by the Office for Ageing Well
After you book in we will email you a link to a pre-program online survey to be completed before the event date.
For more information, contact Lorinda on 0428 947 479
*Please note, if over 16 people are booked in the event will relocate to a larger facility in town and all ticket holders will be notified.*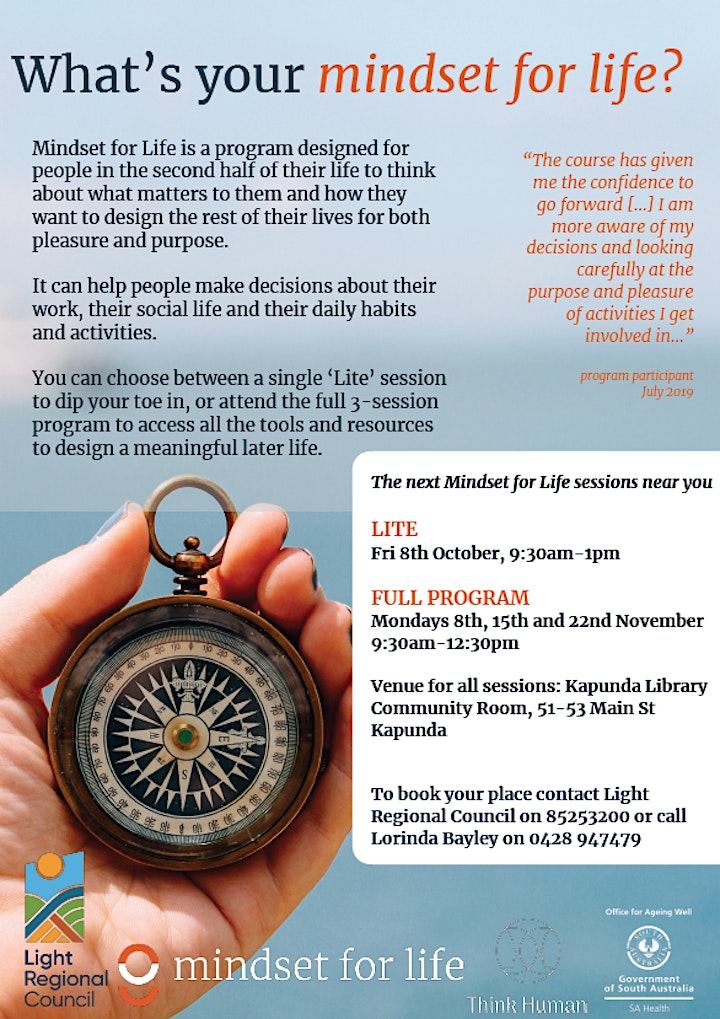 Organiser of Light Regional Council - Mindset for Life Full Program
Kapunda Public Library - 51-53 Main Street, Kapunda, SA, 5373 - Tel: 08 8525 3290
Freeling Public Library - 7 Hanson Street, Freeling, SA, 5372 - Tel: 08 8525 3240
Greenock Public Library - Kapunda Road, Greenock, SA, 5360 - Tel: 08 8562 8308
Photographs are sometimes taken at Library events and may be used for promotional purposes. If you do not wish to have your photograph taken please advise staff at the event.