Learn the beautiful art of Light Painting with Still Life
About this event
Learn the beautiful art of Light Painting with Still Life with Julie Powell. Learn to create stunning art from small everyday items, by harnessing and learning to 'Paint' with light.
Learn the basics of Light Painting, with Still Life. Turn everyday items into works of art by using these techniques to create a painterly effect by just using a few simple tools. The technique used to create a "sculpture" or painterly effect, is unlike standard photography and can be at once simple to learn, but with practice more complex images and scenes can be created. Through the manipulation of light, colours, and shadows, we can make small details stand out and accentuate or alter the look and feel of your subject. It does not necessarily require any specialists tools, but everything required will be supplied, with the exception of camera gear.
Learn to see light in a whole new way, all items for subject, props, lighting and staging are supplied, you only need your camera gear. If you have done Light Painting on a large scale and enjoy Still Life...you are going to love this class.
This Workshop will cover the basics in lighting painting;
Creating artistic composition
Adding atmosphere
Capturing the details
Get off Auto - get confident in Manual Mode
Learn to harness the light
Requirements:
DSLR camera or Mirrorless camera, as long as you can change lenses. Also, bringing your manual is a good idea if you aren't overly familiar with your camera.
a 35-50mm lens or 24-70mm is suitable 
Tripod is a must
remote shutter release (wireless or cabled)
spare battery and SD Cards
Neutral Density Filter, not gradual - if in doubt Message Me (You need at least a 6 + 3 or a 9-10 stop). ** Please note that this workshop can be done without, but to get the full idea of how this is completed they are required, I do have some that can be borrowed.
This is a two-hour workshop, limited to 5 people so that we can all get very hands-on.
If you have any questions at all, send me a message!
Please note due to government regulations participants must be double vaccinated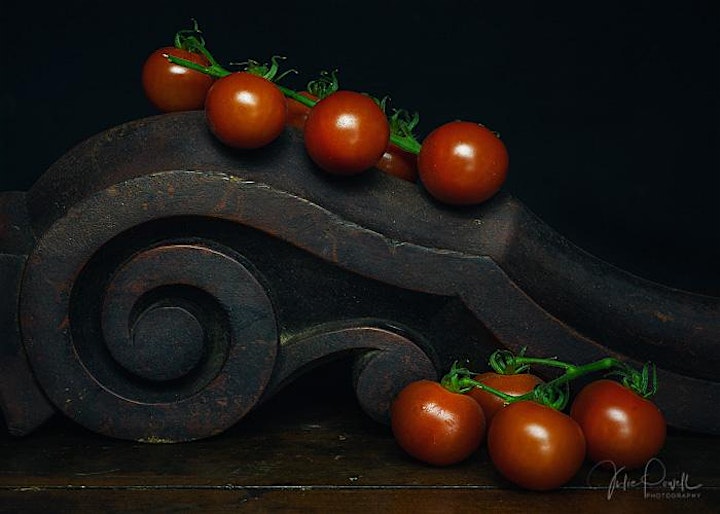 Organiser of Light Painting with Still Life November 2021
I am a Still Life Photographer.
Sounds like something from an AA Meeting doesn't it? But it IS an obsession and kind of like an addiction. The feeling I get from creating an amazing image, or even better, from helping someone else create their own amazing image, when they thought they couldn't; there's nothing better…such a buzz! But beware…I am a bit of a dag and rarely take myself seriously. Life is meant to be enjoyed…so have fun!
I think I have tried just about everything…
That's what we all do when we start out isn't it? Try everything, well at least I did. But, after a while I decided what I love (still life, macro, florals, food & portraits - yay!) and what I don't (weddings, sport and birds in flight - yuk!). I think you have to try many different styles and genres of photography, to find what you are passionate about. When I first started out, my images sucked big time - I couldn't figure out my ISO from my F/stop, my images were flat, uninteresting and well…boring! I was so frustrated, there had to be an easier way.
I spent years studying the Masters, lighting, staging and styling, pouring over so many beautiful images online and in magazines. Eventually one a-ha moment after another it all started to come together. People started asking me to show them how I created my beautiful photos and I started running small classes and workshops out of my home studio. These quickly lead into larger classes offering more and varied subjects.