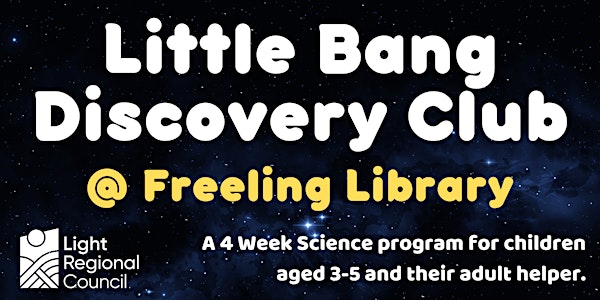 Light Library Service: Little Bang Discovery Club @ Freeling Library
Location
Freeling Library
7 Hanson Street
Freeling, SA 5372
Australia
A fun filled 4 week science program for children aged 3-5 brought to you by the Light Regional Council Library Service.
About this event
The Little Bang Discovery Club is a fun and engaging science program for children aged between 3 and 5 and an adult assistant.
In this hands-on program children combine every day objects and experiences with scientific enquiry methods.
During our first session children will receive a take home discovery box to borrow for the duration of the program and return in our final session. This box is loaded with activities and tools for budding scientists.
Each week there is a simple homework task for children and a helper to complete, these are simple and fun activities that highlight how science is a part of their everyday lives, not something that happens in a lab.
The sessions run on Monday mornings from 10am - 11am for 4 weeks:
August 8th, 15th, 22nd and 29th.
To reduce confusion and overbooking we have only made tickets available for Monday August 8th, by booking in on this Monday you are booked for the whole program.
To ensure we adhere to Covid Safety requirements we are asking that children only bring 1 adult assistant with them, this will allow more children to attend. A different adult assistant can attend each week if you wish. If for any reason you require a second adult assistant for your child please reach out to us to arrange this. We are happy to work with families where this may be the case.
Bookings essential as spaces are limited.
Please note: Events may be cancelled at short notice if we are advised to do so in the interest of public health. All those who have booked will be notified via email if this is the case.