Lift The Lid Gala 2020 - raising funds for mental health research
Join us at the annual Lift The Lid Gala, raising funds for mental health research through Australian Rotary Health.
About this event
In recognition of Queensland Mental Health Week, Rotary is hosting The Lift The Lid Gala in support of Australian Rotary Health and it's work in Mental Health Research.
Australian Rotary Health is one of the largest independent funders of mental health research within Australia.
Hosted by the Rotary Club of Brisbane Mid-City, we are focused on Men's Mental Health this year and to share awareness, the event is celebrating with a '20's theme, hosted at Customs House, Queen Street, Brisbane.
Guests will enjoy a two-course dinner and drinks included, live auction, games, raffles, and prizes throughout the evening. Themed outfits, hats, and headwear are essential.
During this time of virus control, we will be observing social distancing and restrictions that apply; there will not be dancing, and food and beverage service will be for seated patrons.
Despite the changes, the event hopes to exceed its previous tallies, and you can help the cause, by your attendance and sharing this event.
Thank you for your support in Lifting the Lid on Mental Illness, and Men's Mental Health issues.
For more information about our Rotary Club: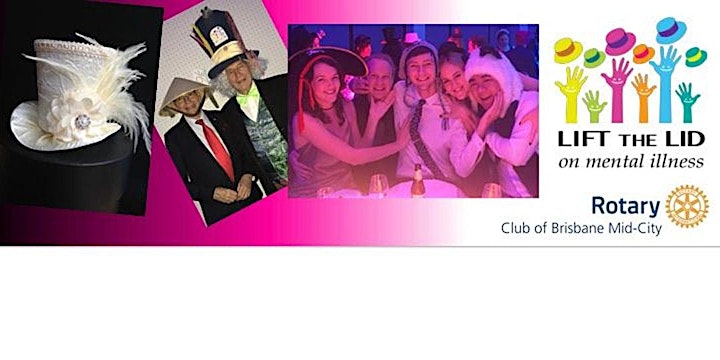 Organiser of Lift The Lid Gala 2020 - raising funds for mental health research
With an active membership from the Brisbane CBD business community, Rotary Mid-City has been challenging groups and individuals to collaborate for worthy causes for over 40 years.
Supporting students and young leaders through scholarships, cultural exchange, and academic endeavour, as well as investing in initiatives for disadvantaged people in society, the club has been harnessing local interests to Rotary's good in the world.
As Australian Rotary Health is focused on Mental Health Research, and while mental illness is the cause of so many symptoms of social dysfunction, this event will raise funds to support vital research and scholarships in this public health area.