Sales Have Ended
Registrations are closed
Thank You for registering for this candid and convivial conversation online from 4.30 pm sharp through to 5.30 Melbourne time Monday 12th February 2018. On the day please click in this link https://zoom.us/j/7843385806 to join in the conversation. Best regards Ian
Sales Have Ended
Registrations are closed
Thank You for registering for this candid and convivial conversation online from 4.30 pm sharp through to 5.30 Melbourne time Monday 12th February 2018. On the day please click in this link https://zoom.us/j/7843385806 to join in the conversation. Best regards Ian
Description
There are 3 distinct kinds of leadership as illustrated below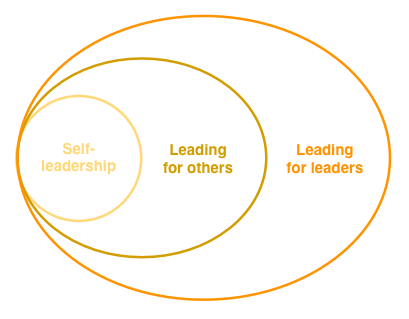 To successfully lead for others we must master self-leadership. When we master both of these we have earned the right to lead for leaders. This is the pinnacle of leadership.
I refer to this third level as being a leadership valueologist i.e. person fully committed to the art, life-long learning, unlearning and relearning, and daily practice of fully appreciating and getting the best out of themselves and other people, and ensuring people feel valued, live values and deliver value.
The key to self-leadership is being remarkable. Read about why we're all remarkable here and here.
Most people don't know they're remarkable, or they have forgotten, and consequently they don't consistently bring the best version of themselves to their work.
The holy grail of 21st century leading for others is therefore is inspiring, reminding, and sometimes persuading people that they're remarkable.
Change leadership is imperative.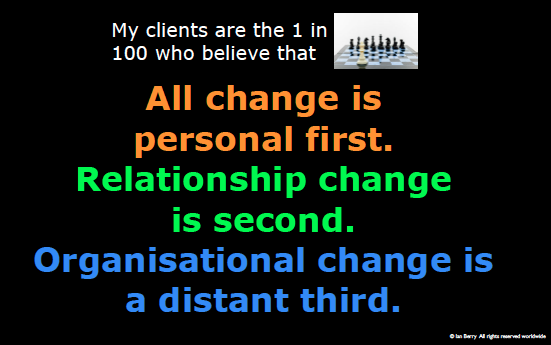 You will leave this special online event with the know-how to change yourself, your relationships and to create a procces to change your organisation.
You will also learn how to ensure making the progress of above visible.
We'll be working through my Changing What's Normal book which you can download with my compliments here.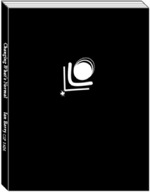 What I say in the book (and a signature to all my work) is important, yet nowhere near as important as what you hear yourself say to yourself, and then do your own unique work.
Key messages
Closing the knowing-doing gap is all about being the best version of yourself and being accountable for your intentions, feelings, thoughts and behaviours (actions).
Embracing the 5 faces of a human being fully alive is paramount.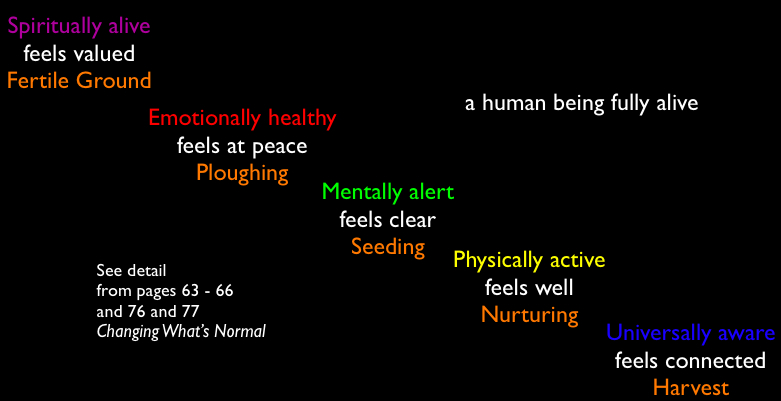 Who before do is a key principle of consistent high performing cultures and must be reflected in rituals, ceremonies, processes, policies, procedures, practices and systems.
Sustaining a shared-view in seven areas of significance is how the most successful people stand out. Sustaining shared-view is the catalyst for relationships of high value and mutually reward both personal and in business.
We'll be using Zoom technology so you can join in from anywhere using your computer, tablet, or mobile device.
Places are limited for this event to enable everyone to have the opportunity to share.
Be remarkable.
Ian
Ian is a very wise man and his book "Changing What's Normal" is a great summary of his wisdom. Need some inspiration? It is the book you should refer to.
Priscilla Chan Founder & Director at Speakers Connect and China Speakers Agency
At the start of 2015 it became clear on the road ahead for my business we were facing some serious challenges.
We had just purchased the Budget franchise and were experiencing inconsistent business results, some big rental agency changes, and some poor staff attitudes had crept in.
I had heard Ian speak at a function in 2014 and I had been impressed with the message of his talk that day.
Ian has worked as a mentor to me for the last 14 months. He's also run sessions and worked 1:1 with my staff.
We've made several small shifts in how we conduct our business that have made a significant difference with my key people, how we work, and to our results.
Darren Rix, Franchisee Avis Ballarat & Western Victoria, Budget Ballarat & Bendigo
We have had some great presentations at our breakfasts, and your presentation was one of the very best ever.

Malcolm White, Managing Director, Communicat
I engaged Ian Berry to talk to my team and challenge them to bring their very best to the office every single day as we commenced the new financial year.
I recommend Ian as a value-add to any business leader or staff member and feel confident each participant will walk away inspired with a greater understanding of themselves and equipped with additional ideas and techniques of how to achieve their very best performance each and every day.
Luke Rieniets, Senior Business Banking Manager, Bendigo Adelaide Bank Ltd