The Official Launch of new collaboration project, the Life Sciences Innovation Hub Export (LSI Export Hub)
About this event
The Life Sciences Innovation Export Hub in Queensland will be established through a collaboration with Life Sciences Queensland, Queensland University of Technology and the Australia China Technology Incubator, supported by the Department of Industry, Innovation and Science's SME Export Hub Program.
Please join us as we officially launch this new industry program, on Wednesday 21 October 2020 at the Life Sciences Innovation Export Hub Launch Webinar.
With speakers from the project collaborators LSQ, ACTI and QUT.
Applications will officially launch on our website immediately following the event: https://research.qut.edu.au/lsiexporthub/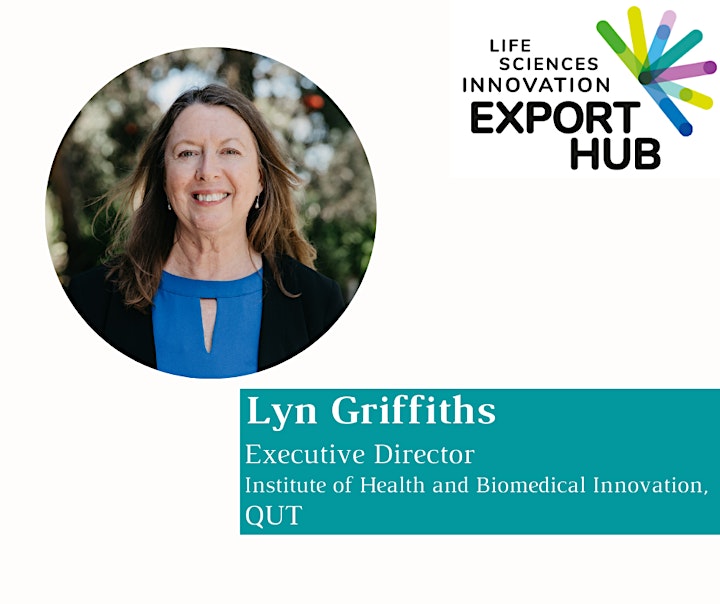 PROFESSOR LYN GRIFFITHS
Executive Director
Institute of Health and Biomedical Innovation- QUT
Professor Lyn Griffiths: is Executive Director of the Institute of Health and Biomedical Innovation (IHBI), QUT's health and medical research institute and Director of the Genomics and Personalised Health Research Centre at QUT.
An active and respected molecular geneticist with more than 28 years' experience, Prof Griffiths has brought a translational focus to medical research to increase IHBI's influence and its impact on human health.
Currently she is Director of the nationwide and industry supported Bridge and BridgeTech programs, which provide commercialisation training for the pharmaceutical and medical devices industries, respectively.
Prof Griffiths' own genetics research has led to diagnostic breakthroughs for several neurogenetic disorders, including familial migraine, ataxia, epilepsy and hereditary stroke. Her research has appeared in more than 350 peer-reviewed international journals and she has obtained significant competitive and industry research funds to support her research team.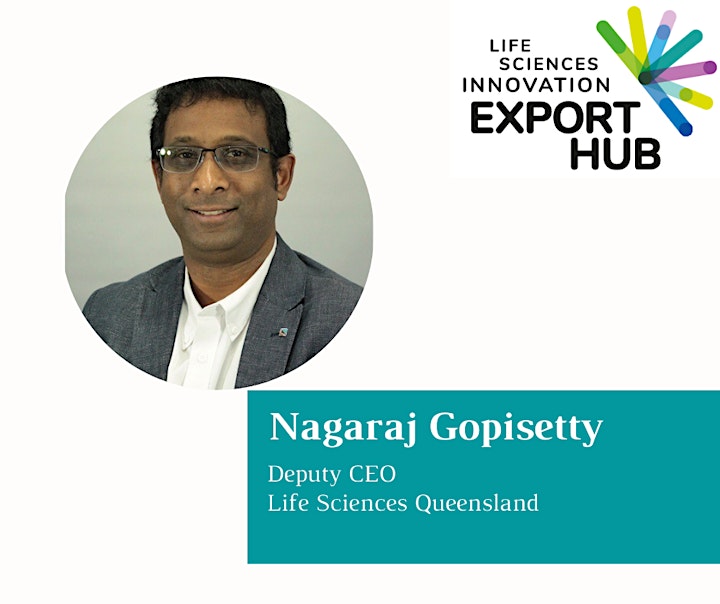 Dr Nagaraj Gopisetty
Deputy CEO
Life Sciences Queensland (LSQ)
Dr Nagaraj Gopisetty is the Deputy CEO of Life Sciences Queensland and heads the business development program - Life Sciences Catalyst. The LS Catalyst program is a platform delivering targeted initiatives and services to support Queensland based Life Science Startups and entrepreneurs and facilitate the growth of Queensland's life sciences industry. Nagaraj is an innovation architect with a proven track record in technology translation and commercialisation. Prior to joining LSQ, Nagaraj was the Business Development and Innovation Education Manager at the Translational Research Institute. He also worked as a technology transfer professional within Australian Universities and medical research institutes along with short working stints within government, a biotechnology start-up and leading multi-national pharmaceutical companies. He is experienced in business development, research translation and commercialisation, intellectual property management, contract and licence negotiations, projects management. He is also experienced in facilitating alliance management and stakeholder engagement involving partnerships with academia, clinicians, industry and other stakeholders. Nagaraj holds a Bachelor of Pharmacy degree from India, a Masters in Biotechnology (Hon's) from Griffith University and a PhD in Pharmacy from the University of Queensland. He also has an MBA from the University of Newcastle. He is an active mentor on the IMNIS program, grant reviewer on government and private funding schemes and represents on a number of key working groups and steering committees Nagaraj is passionately interested in education and training programs aimed at improving current practices and processes within the knowledge exchange, knowledge transfer and entrepreneurship in the life sciences sector.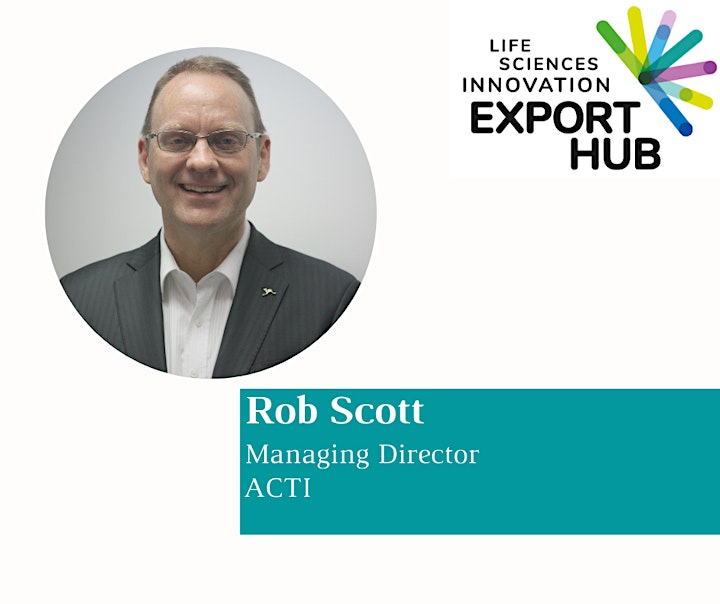 Mr Rob Scott
Managing Director
Australia China Technology Incubator (ACTI)
Rob Scott is a Managing Director of China BlueSky Partners and Australia China Technology Incubator and Accelerator (www.acti.asia). Both companies have offices in Shanghai and Melbourne and focus on helping Australian life science/medtech companies engage better with China. Mr Scott has in excess of 20 years' experience in commercialising life science companies in Australia and China. He is the Representative, China for AusBiotech; a former Executive Director of ACBC; and was State Leader (QLD) for EY's China Business Group.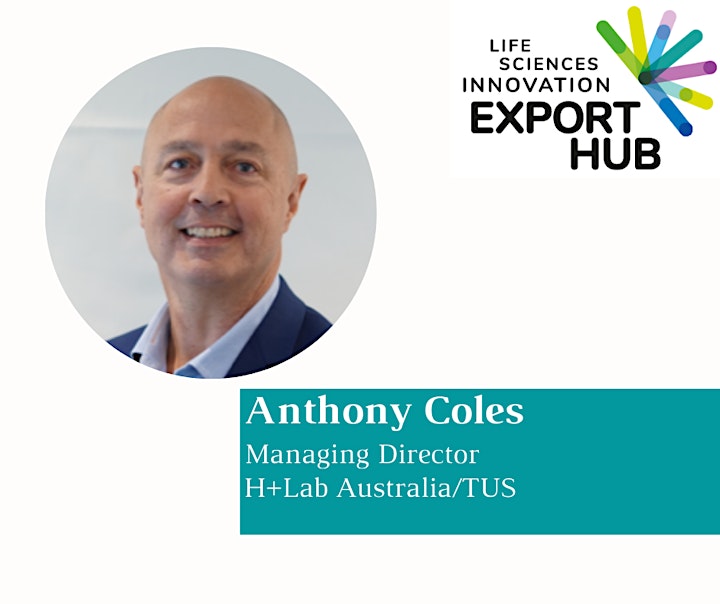 Anthony Cole
Managing Director
H+Lab Australia/TUS
H+Lab is a strategic partner with the Australia China Technology Incubator, providing commercialisation advice and support to Business & Government. H+Lab and ACTI are supporting the QUT/ LSQ SME Export Hub program in the SE Asia market.
Since first venturing to China in 2007, Anthony has been involved in Export, Tourism, Health, Clean Energy, Investment & Education business with China, establishing a company in China (Qingdao) in 2015.
In 2017 Anthony brokered a visit to Australia by delegates from Tsinghua University's commercialisation arm, TusHoldings as part of a collaboration with the South Australian Health & Medical Research Institute, (SAHMRI) and the South Australian Government.
As an extension to this activity, Anthony established H+Lab Australia as a vehicle for further cross-border collaboration & exchange and has been hosting inbound & outbound delegations with TusHoldings' investee companies, and the TusStar Global Innovation network. (www.tusstar.com)
TusStar provides 'soft-landing' market entry support for International businesses in Health, New Energy, Environment and Education, and VIP access into 100's of Science Parks and Centres of Innovation across China, and now 10 Countries Internationally - including the new TusPark BioTech Hub within the Cambridge Science Park in the UK.
TusStar H+Lab China runs a $20M Venture Fund focussed on commercialising research & technology in Health & Wellbeing (幸福).
Anthony will introduce the Tsinghua commercialisation network and support services, along with sharing some insights into the opportunities for Australian businesses looking to commercialise in the Asia market.