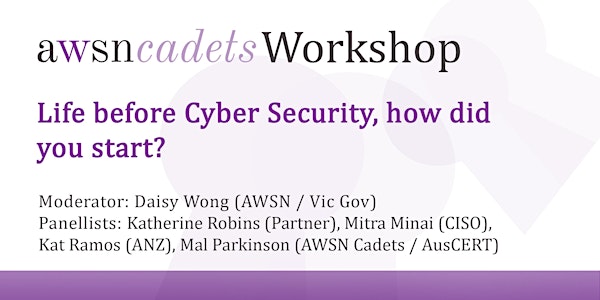 Life before Cyber Security, how did you start?
Join AWSN Cadets for the 'Life before Cyber Security, how did you start?' workshop
About this event
In this session of The Security Sessions, we'll hear the origin stories from four female industry leaders. Come join us!
Moderator: Daisy Wong (AWSN / Vic Gov)
Panellists:
• Katherine Robins (Partner)
• Mitra Minai (CISO)
• Kat Ramos (ANZ)
• Mal Parkinson (AWSN Cadets / AusCERT)
The Security Sessions
Hi there, and welcome to The Security Sessions!
These recurring Zoom video hangouts will provide an informal, stress-free way for you to:
Make friends with others in the AWSN Cadets program nationally;
Discuss all things security. (And other topics, like the latest cat videos or whatever piques your interest);
Ask questions and learn - WITHOUT being made to feel stupid;
Be study buddies with everyone who is trying to attain the same scary security certification as you;
Collaborate with your new friends upon security projects [to be pioneered!].
The first two sessions will be pure networking events. Once we're feeling comfortable and have got to know each other a little better, we will invite our industry mentors (professional members of the AWSN) to run a few practical workshops for us.
AWSN Cadets
AWSN Cadets is an outreach program run by the Australian Women in Security Network (AWSN) for female-identifying tertiary students and early career professionals.
We exist to connect, support, and inspire tertiary students and early career professionals interested in and/or working across different areas of the security industry.
You can check out more information about the program on our website: https://www.awsn.org.au/index.php/awsn-cadets/