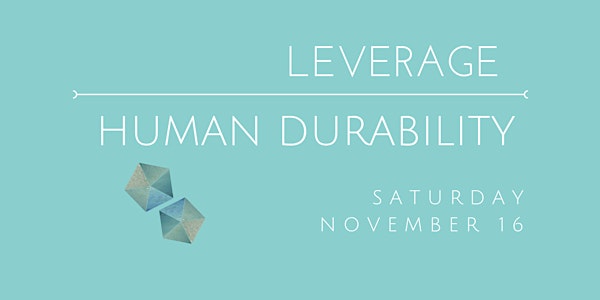 Leverage + Human Durability Boutique Workshop
Event Information
Location
Refined Eastern
262 Magill Road
Beulah Park, South Australia 5067
Australia
Refund policy
Refunds up to 7 days before event
Eventbrite's fee is nonrefundable.
Description
This one day Workshop is for Leaders and Changemakers.
Leverage | Rachel Titley
This boutique workshop is designed to enable you to critically and strategically Leverage yourself, your season, your story and your future.
To Leverage is to influence a system, or an environment, in a way that multiplies the outcome of efforts without a corresponding increase in the consumption of resources.
This boutique workshop is small in number - approximately 15 participants - to allow maximum contribution and networking.
''I appeal to participants to come to Leverage to validate and value their journey and position; and to identify their levers which then enables them to reach their maximum potential - and to get there in as quick of a timeframe as possible!''
Rachel Founder Leverage
Human Durability | Derrick McManus
Derrick McManus proved he had Durability when he survived being shot 14 times in less than 5 seconds and then, against all odds, returned to full duties after two and half years of rehabilitation.
Derrick was a Sniper, Diver and Counter-Terrorist Operative in the elite Special Tasks And Rescue (STAR) Group of the South Australian Police. During a high-risk arrest in 1994 Derrick was shot 14 times with a high-powered rifle. He was lying on the ground, bleeding to death, for 3 hours before he could be rescued. Doctors predicted he would struggle to merely walk properly let alone return to the extreme performance demands of STAR Group.
Since the shooting Derrick has developed the model for Durability of Human Performance. This is brand new, it's powerful and it's usable in everyday occurrences. Durability thinking supersedes resilience thinking and changes people's attitude to managing challenges.
''Durability of Human Performance is created when people, leaders and organisations take responsibility for choices and consequences; have the knowledge and tools to create success; and have the plan and commitment to see it through.''
Derrick Founder Human Durability
Date and time
Location
Refined Eastern
262 Magill Road
Beulah Park, South Australia 5067
Australia
Refund policy
Refunds up to 7 days before event
Eventbrite's fee is nonrefundable.