Description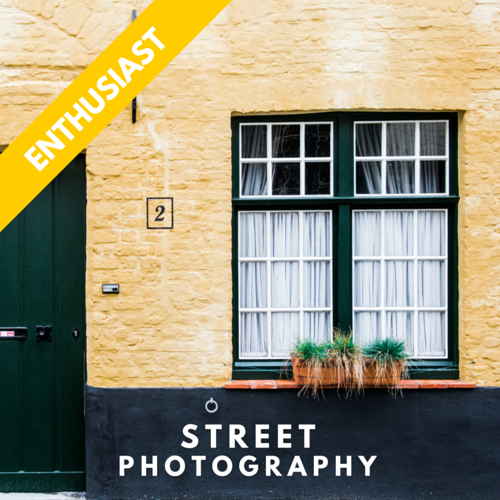 Why You Will Love This Course: Get lost in your own city using prime lenses on this street walk! Prime lenses generally offer a larger maximum aperture, which enables quicker shutter speeds. Faster prime lenses aren't just good for avoiding camera-shake and freezing the action in dull lighting conditions but also in advantage is that get a much shallower depth of field, enabling you to isolate the main subject in a shot by blurring the background.
This course has been developed to gain knowledge and put theory into practice through an interactive hands on photography street walk experience. On the walk we will take a few turns down more interesting streets in search of graffiti and other stencils giving us different and unique backdrops for our photography. Returning to the training suite, you will get the opportunity to review the stories behind your favourite photos as a group.
Reach your full potential and master the following techniques:
Prime lens options - understanding different focal lengths

Shutter Speed - Freezing the action

Aperture - Controlling depth of field

Zoom with your feet - Composition and perspective techniques

Outlining the legality of street photography

Seeing like a painter, understanding your subjects and the art of patience
Duration: 4 Hours
What To Bring? Your camera fully charged and camera manual, notepad and pen. If you have a prime lens we also recommend bringing it along. As this is a photo walk, please ensure you wear comfortable shoes and suitable attire to suit weather conditions. You may find it beneficial to keep existing photos on your memory card for critique by our trainer.
About Your Trainer: Lindsay has been running photography workshops in Adelaide for 11 years since moving here from his native Scotland. He studied Audio Visual Technology in his home town of Edinburgh, before moving to London and then to Berlin. After owning a studio and photo lab in the UK, he then moved to Australia to pursue his passion for photography and teaching. As well as conducting training for Diamonds, he also conducts the photography training program for Adelaide Zoo.
Location Details: Diamonds City Store, 165-171 Rundle Street Adelaide 5000.
Please Note: As this is a Level 2 course, it is expected that you have a basic knowledge of how to operate your DSLR as taught in our Introduction to Photography course. This course is designed for owners of DSLRs and Mirrorless systems.
Cancellation: 48 hours notice is required to reschedule. Failure to provide notice within this period of time will result in your voucher being forfeited. The course will normally operate in all but exceptional weather conditions, in the event of severe weather we will contact you and transfer your booking to another date.