About this Event
About the experience... 
We invite you on a journey to relax and find serenity in nature. Through this experience we explore techniques to release negativity that we can accumulate from others and the environment around us. In today's world we are surrounded by constant negativity in events that are happening globally, but also on a smaller scale within our homes or community.
Even in loving relationships, negative emotions are projected at times and we can easily absorb and store that energy within us. This may be exacerbated with toxic relationships at work, with friends, family or complete strangers at the checkout! Even more concerning, negative energy can head your way from others that you may not even be aware of.
For those that are feeling lethargic, sluggish, stressed, suffering from headaches, restlessness, tension, stomach aches, overwhelmed, unable to sleep, frazzled, achy or just feeling a bit 'off' - these are just some of the signs indicating that you may be accumulating negative energy. If you consider yourself 'sensitive' or have depression or anxiety, it's likely that you are drowning in others' negativity and you may not have even realised.
It's no wonder our energy and positivity struggles when we are bombarded by negativity -much of it oblivious to us. Our nature session provides respite from our stressful lives allowing us to heal in peace - releasing negativity and freeing space to invite more positivity into our lives. This session is a physical, mental, emotional and spiritual transformation towards wholeness, joy and love. We work towards releasing and healing.
This session can be used for general relaxation (ie, anyone can benefit!) or part of a deeper journey to heal and create positive steps in coming into a harmonious and balanced life.
Being in nature can enhance health, increase well being and overall assist you to live a happier life. Back in the times of our great ancestors, we lived and evolved in nature. In today's hectic world, most of us couldn't be further away from nature and unfortunately our mental health has all the scars to prove it. Take the journey back to nature as a way to reconnect back to your authentic life.
During this experience we take a break from our emotions, peeling back the distractions and releasing the negativity to be at peace. Nature is a perfect environment to assist relieving the effects of negative energy, combined with meditation and healing exercises you can start or continue the journey to long term healing in a relaxed, non-judgemental and informal atmosphere.
When you join us on this experience you will;
be assisted to balance your energy levels and emotional state, instantly calming your mind and nervous system
learn techniques to use your physiology to release negative energy to overcome worries, anxieties and fears
take home techniques to be more proactive in dealing with negative energy as it happens
cultivate new practices to make positive improvements in your life
enjoy a nature experience to rediscover your true self
The 2 hour session (+ tea afterwards) will include;
guided meditations
journalling
nature healing
take home information and practices
nourishing organic herbal tea blends from @teabeing (due to COVID19 we will not be serving food)
If you want to make a positive step to assist in healing anxiety, stress or just need some time out, this event will leave you feeling re-energised, positive and confident that you can cultivate simple healing practices in your life. We try to keep the experience as 'down to earth' as possible and is suitable for all.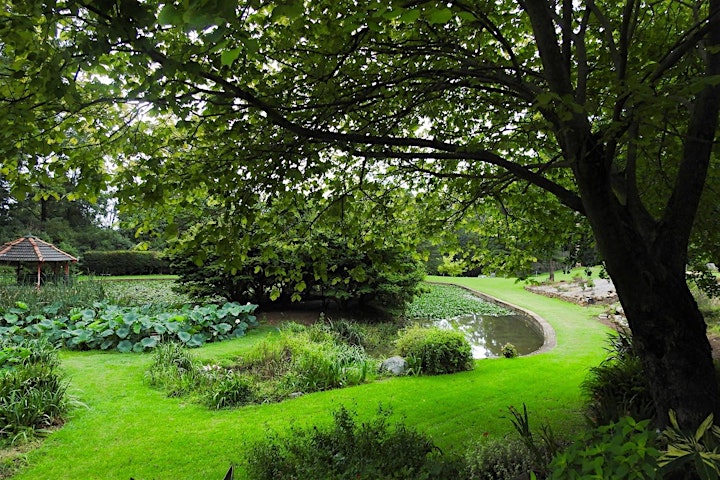 The location...
This is an outdoor event at the exquisite Illawarra Rhododendron Gardens, Mt Pleasant in Wollongong. A beautiful backdrop of impeccable gardens, peaceful views and nurturing nature. Enjoy the beautiful sounds of nature in this unique location.
Full information on the event, parking and meeting spots will be sent via email to ticketholders, please check your junk mail and advise us if you don't receive it a few days before the event. It is important that you register with an email address you check.
* statistics from Beyond Blue website.
IMPORTANT NOTE: One w/ Earth has provided these events as self-help, self-improvement, learning, motivation, relaxation and de-stressing assistance. They do not constitute a replacement for medical or psychological treatment and One w/ Earth neither expresses nor implies any claims to the contrary.
If this event has raised any issues for you or you feel you need to talk with someone - please call Lifeline on 131114. If your life is in immediate danger, please call 000.
TICKETS
Information collected won't be shared
Ticket holders accept being added to our emailing list, you can opt out at any time
If you manage to secure a ticket for yourself and not your spouse/friend etc. just contact me on onewearth@gmail.com - we'll sort it out!
FAQ's
Do I need any specific experience?
Absolutely not. Come with no experience and an open mind. There is no long bushwalking required, but we will be on the cusp of beautiful rainforest. The event is suitable for reduced mobility as the destination is not too difficult nor far.
On the other side, if you are a regular meditator, you will benefit from a 2hr session of nature techniques that will assist enhance your current practice.
What if I haven't meditated before?
There are no pre-requisites and the activities are helpful to anyone.
Are there minimum age requirements to enter the event?
Yes, the event is suitable for +10 year olds and all adults 
What are my transport/parking options for getting to and from the event?
Parking is very limited. Please carpool where possible, no public transport. Parking fees are included in the price of the event.
How can I contact the organiser with any questions?
onewearth@gmail.com
Do I have to bring my printed ticket to the event?
No need to print your ticket, I can check you in without it.
What if ticketholders need to cancel?
Refunds are available up to 7 days before the event, within 7 days, credits will be provided for future events.
What if I have a credit I want to use?
Simply email us or send a direct message and we will arrange your ticket for you.
What if the weather is bad?
If the weather is too dangerous or uncomfortable the event will be rescheduled. All ticket holders will receive a credit for future events, there are no refunds - however we allow transfers on tickets. All ticketholders will be advised prior to the event via the Facebook event page (please make sure you are checked as 'going' to receive notifications, or just check the discussion). It is the responsibility of the ticketholder to check the event page on the day if the weather conditions may be an issue.
COVID19 IMPORTANT MESSAGE:
Help keep everyone safe from COVID-19, do not attend if you have;
fever or symptoms of respiratory infection (cough, sore throat, shortness of breath)
returned from overseas in the last 14 days
been in close contact with a confirmed case of COVID-19: (coronavirus) in the last 14 days
Together we can help stop the spread and stay healthy. For more information about Coronavirus (COVID-19) visit health.gov.au
We advise all attendees to use the COVIDSafe app.