Let's Talk About Mental Health and Suicide: Reducing Stigma and Embracing L...
Event Information
Location
Wilsmore Lecture Theatre
University of Western Australia
35 Stirling Highway
Crawley, WA 6009
Australia
Description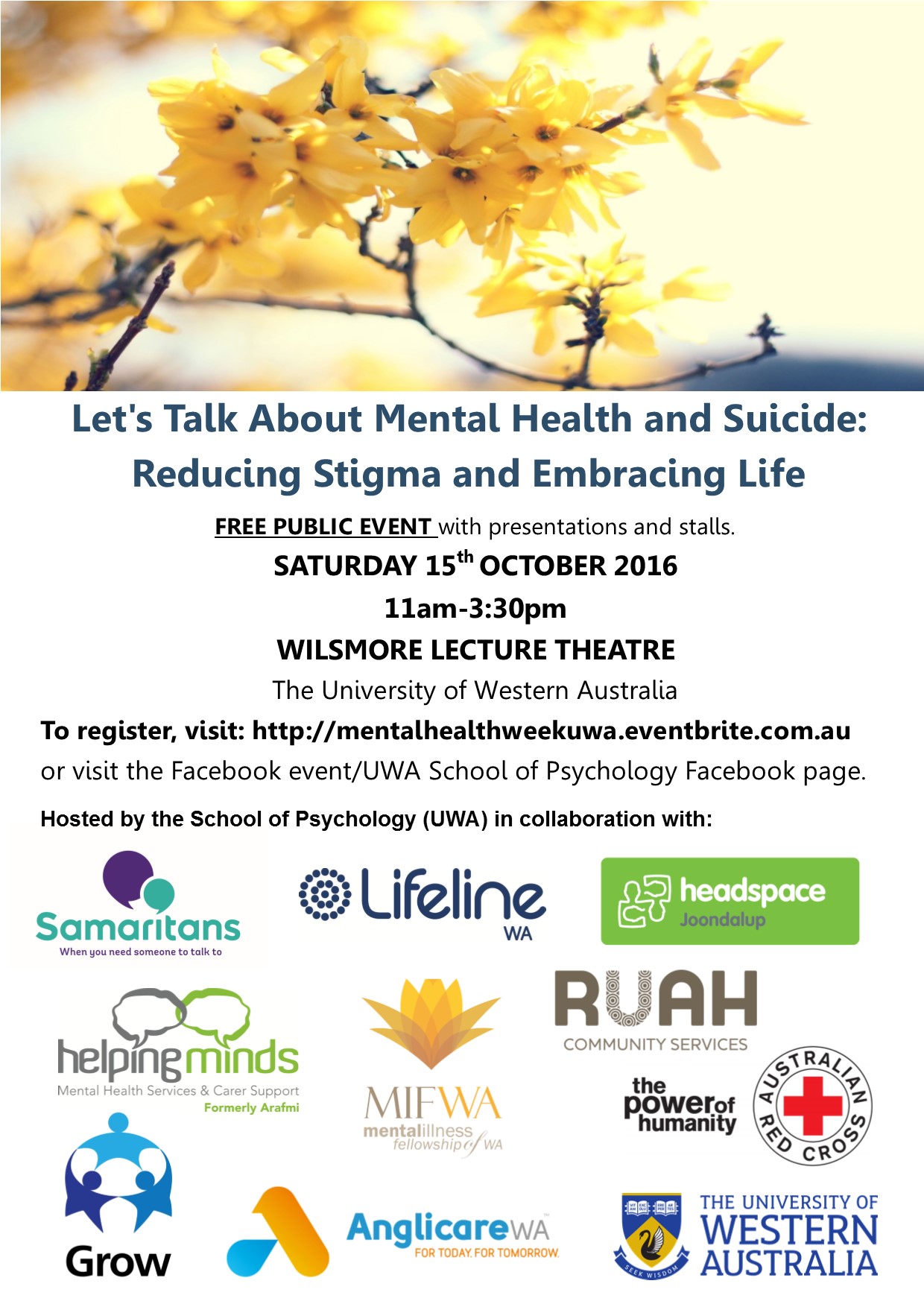 ABOUT THE EVENT
Join the School of Psychology (University of Western Australia) for their 2016 Mental Health Week event. This event aims to present what we know about mental health and suicide, in line with Mental Health Week's 2016 focus on suicide prevention. In collaboration with numerous community mental health organisations, the event aims to enhance awareness, reduce stigma, and promote the services available in the community.
The program will consist of postgraduate student presentations, research presentations (PhD students), presentations by community organisations, and a range of stalls with resources. The organisations that will be joining us for the day include:

Lifeline
Samaritans Crisis Line
Mental Illness Fellowship of WA (MIFWA)
headspace Joondalup
Ruah
Helpingminds
Anglicare
Grow WA
Red Cross CRCC
See the event Facebook page: https://www.facebook.com/events/1643985115932017/
---
PROGRAM
See below for the current program (titles still being finalised):
10:50am Doors open
11:00am-11:15am: Welcome Address

11:15am-11:30am: What Do We Know About Suicide? (Elise Hartley)

11:30am-11:40am: Meet the Provider: Lifeline
11:45am-12:00pm: Depression (Postgraduate Students)

12:00pm-12:10pm Meet the Provider: Mental Illness Fellowship of WA (MIFWA); Carer's Lived Experience
12:15pm-12:30pm Anxiety (Postgraduate Students)
12:30pm-12:40pm Meet the Provider: headspace (Joondalup)

12:45pm-1:30pm: LUNCH (+STALLS)
1:35pm-1:50pm: Getting More Active and Better Sleep (Postgraduate Students)

1:50pm-2:00pm: Meet the Provider: Ruah
2:00pm-2:15pm: Ambivalence About Suicide: Embracing Life (Natasha Goods)

2:15pm-2:25pm: Meet the Provider: Samaritans Crisis Line
2:25pm-2:35pm: Meet the Provider: Helpingminds

2:35pm-2:50pm: Mindfulness (Postgraduate Students)

2:50pm-3:00pm: Meet the Provider: Anglicare

3:00pm-3:15pm: Challenging the Stigma of Suicide (Kim Eaton)
3:15pm-3:30pm: Closing Address (including School of Psychology services)
3:30pm Close

---
This is a FREE PUBLIC EVENT. While we recommend staying for the whole program, please feel free to drop in as you wish. The stalls will run throughout the day. We look forward to seeing you there!
Please find a map below to help you find the event and parking. There will be additional parking around campus (e.g., Myers St, in front of the University Club).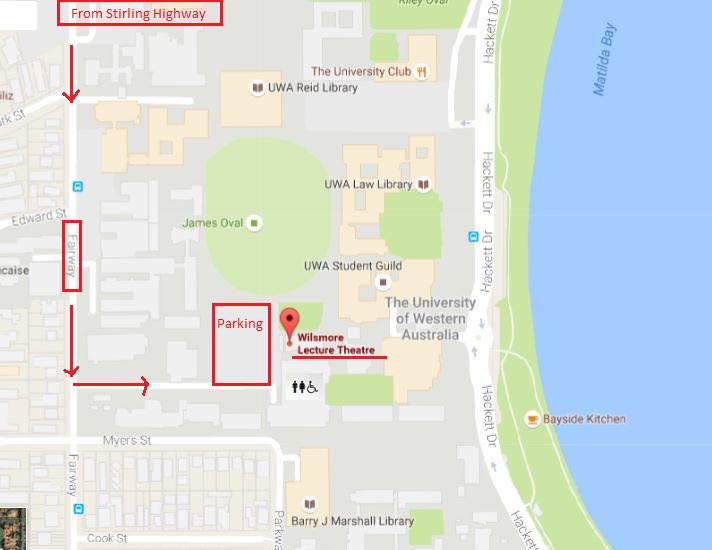 Date and Time
Location
Wilsmore Lecture Theatre
University of Western Australia
35 Stirling Highway
Crawley, WA 6009
Australia