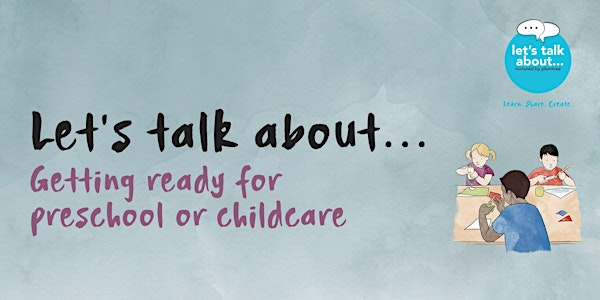 Let's talk about… getting ready for preschool and childcare • Online
<DIV>Let's explore ways to prepare your child for a successful transition to preschool or childcare</DIV> <DIV> <DIV> <DIV> <P>Starting preschool or childcare is an important milestone for your child and family. As parents and carers, there is lots you can do to prepare your child and the preschool.</P> <P>In this session, you will hear the insights and experiences of a preschool director and parents.</P> <P> </P> <P><STRONG>LEARN ABOUT</STRONG></P> <P>Come along to discuss:</P> <UL> <LI>Ways to prepare your child for starting preschool</LI> <LI>What a typical day at preschool looks like</LI> <LI>The importance of play in the early years</LI> <LI>Tools and resources to prepare the preschool for your child</LI> <LI>What supports are available for your child</LI> <LI>What are the important questions you as a parent can ask of your preschool</LI> </UL> <P> </P> <P><STRONG>AGE FOCUS</STRONG></P> <P>For parents, family members and primary carers of children aged 0-5 years old</P> <P><STRONG>JOIN US ONLINE</STRONG></P> <P>– Monday 27 July; 8pm to 9.30pm (1.5 hours) via Zoom</P> <P>Further details will be provided closer to the date. You will need a good internet connection to attend.</P> <P><STRONG>PLEASE NOTE</STRONG></P> <P>The Let's talk about… series is for parents, primary cares and family members of children with disability, developmental delays or neurodivergence.</P> <P>Sessions are subject to cancellation due to low RSVP</P> <P>To get the best learning experience from this program, we encourage your involvement and interaction during each session. For families who need a certificate of attendance, we require for the camera to be on so that we can confirm your attendance in the session.</P> <P><STRONG>MORE INFO</STRONG></P> <P>Your facilitators: <A HREF="https://plumtree.org.au/people/chelsey-barnes/" TARGET="_blank" REL="nofollow noopener noreferrer">Chelsey Barnes</A> and <A HREF="https://plumtree.org.au/people/deb-herbert/" TARGET="_blank" REL="nofollow noopener noreferrer">Deb Herbert</A> Peer Workers here at Plumtree and <A HREF="https://plumtree.org.au/people/hannah-watts/" TARGET="_blank" REL="nofollow noopener noreferrer">Hannah Watts</A>, Early Childhood Teacher.</P> <P><A HREF="https://plumtree.org.au/blog/launching-a-peer-led-series-lets-talk-about/" TARGET="_blank" REL="nofollow noopener noreferrer">Let's talk about</A>… is a series of 'by families, for families' workshops. Families are a rich resource – we can learn so much from each other. Parents and Carers are experts in their children, and bring valuable knowledge, experience, tips and strategies – so we have so much to learn from each other.</P> <P>If you would like to discuss this program further, please feel free to contact Mana on mana@plumtree.org.au</P> <P><A HREF="https://www.youtube.com/playlist?list=PLPJ0lKlfnVfRd2XtsfqFG7RPXbgd_-f1N" TARGET="_blank" REL="nofollow noopener noreferrer">Watch </A>our interview with Kerry Staples, Lecturer in Early Childhood Education at Western Sydney University in regards the importance of Early Childhood Education.</P> </DIV> <DIV><IMG SRC="https://img.evbuc.com/https%3A%2F%2Fcdn.evbuc.com%2Fimages%2F104298872%2F181780304816%2F1%2Foriginal.20200623-051158?h=2000&w=720&auto=format%2Ccompress&q=75&sharp=10&s=02537e3ef0915aa5cb2252f2eadf5660"></DIV> </DIV> </DIV>
About this event
Starting preschool or childcare is an important milestone for your child and family. As parents and carers, there is lots you can do to prepare your child and the preschool.
In this session, you will hear the insights and experiences of a preschool director and parents.
LEARN ABOUT
Come along to discuss:
Ways to prepare your child for starting preschool
What a typical day at preschool looks like
The importance of play in the early years
Tools and resources to prepare the preschool for your child
What supports are available for your child
What are the important questions you as a parent can ask of your preschool
AGE FOCUS
For parents, family members and primary carers of children aged 0-5 years old
JOIN US ONLINE
- Monday 27 July; 8pm to 9.30pm (1.5 hours) via Zoom
Further details will be provided closer to the date. You will need a good internet connection to attend.
PLEASE NOTE
The Let's talk about... series is for parents, primary cares and family members of children with disability, developmental delays or neurodivergence.
Sessions are subject to cancellation due to low RSVP
To get the best learning experience from this program, we encourage your involvement and interaction during each session. For families who need a certificate of attendance, we require for the camera to be on so that we can confirm your attendance in the session.
MORE INFO
Your facilitators: Chelsey Barnes and Deb Herbert Peer Workers here at Plumtree and Hannah Watts, Early Childhood Teacher.
Let's talk about... is a series of 'by families, for families' workshops. Families are a rich resource - we can learn so much from each other. Parents and Carers are experts in their children, and bring valuable knowledge, experience, tips and strategies - so we have so much to learn from each other.
If you would like to discuss this program further, please feel free to contact Mana on mana@plumtree.org.au
Watch our interview with Kerry Staples, Lecturer in Early Childhood Education at Western Sydney University in regards the importance of Early Childhood Education.