Let's go walking with the Giants! [CURRENT UTAS STUDENTS ONLY]
About this event
This is your chance to meet the world's tallest flowering tree species and feel like you're Jack in the "Jack and the Beanstalk" tale!
Come out to see some of Tasmania's most impressive and amazing wild environments at Mount Field National Park. We'll travel from Hobart with a local expert scientist to marvel at the soaring Eucalyptus forests and the deep green rainforests growing beneath. These are some of the most impressive trees on Earth. Along the way, you'll learn about the natural Tasmanian environment, the famous waterfalls of the National Park, and the unique dolerite mountain ranges.
Our guide Yoav Daniel Bar-Ness runs Giant Tree Expeditions to Tasmania's world-famous Giant Forests - the tallest flowering forests on Earth. He is the Editor of Tasmanian Geographic, former Field Editor for Asian Geographic, and a forest scientist with more than 20 years of experience in Giant Forests.
So join us and learn the science and experience the magic of our ancient forests.
How it works:
Normally valued at $85 per person, your special price is only $25!
This includes return transport from Sand Bay, National Park entry fee, Yoav's expertise and a hot beverage.
Food and drinks are at your own expense, so pack a picnic lunch and let's walk with our giants.
We're short on space, so book now!
Trip details:
Date: Thursday 25 November 2021
Departs: 9:00 am - TUSA Building, 1 Churchill Ave - Sandy Bay Campus TAS 7005
Returns: 4:00 pm
What to Bring:
Lunch and water bottle
Comfortable walking shoes (walking is on flat trails at your own pace)
Hat, sunblock
Waterproof jacket, umbrella and warm layers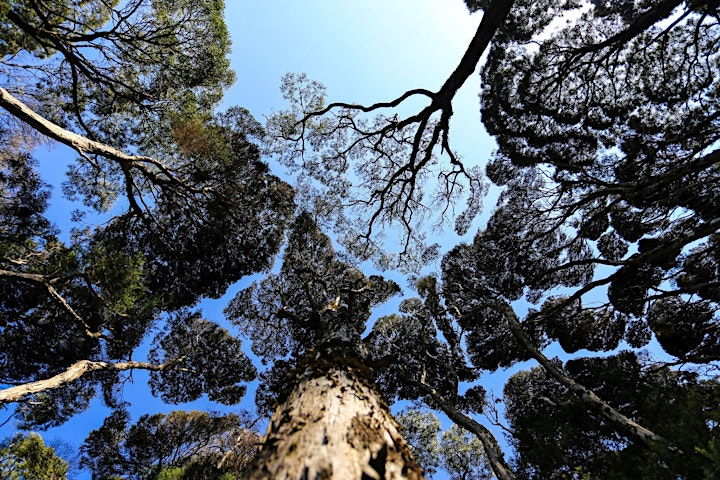 Note:
As this experience is located in a wild environment, there may be circumstances in which we will need to cancel a trip to ensure the health and well-being of our students.
If the activity is cancelled for any reason by TUSA, all tickets will be refunded. However, if you purchase a ticket and then cannot attend on the day, you will not be refunded. This is a risk you take when purchasing the ticket and we have no obligation to refund.
During the COVID-19 pandemic, we will not allow students to join our experiences if we believe they are unwell. If you feel unwell or display flu-like symptoms, contact us to discuss options and cancel your booking.
This experience is subsidised by your TUSA.
Organiser of Let's Go Walking With the Giants!