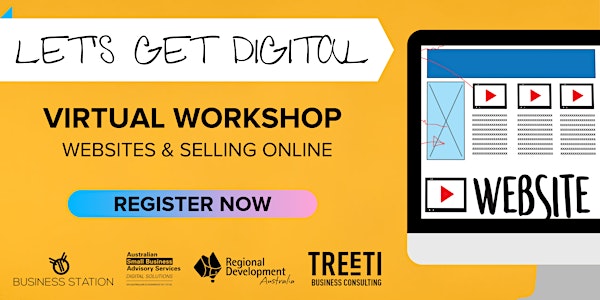 Let's Get Digital - Creating Endless Content Easily presented by Cindy Rand...
Sales Have Ended
Ticket sales have ended
Thank you for your registration to our ASBAS Digital Solutions Event.
Description
ABOUT THE VIRTUAL WORKSHOP
Creating Endless Content Easily
Level: Beginner
Time:
WA: 9:00 AM AWST

NT: 10:30 AM ACST

QLD: 11:00 AM AEST
Learn to brainstorm endless content ideas for your website, blogs, social media, and more!

Ever get stuck staring at a blank page?

As a business owner, you need to share value with your audience to build trust, attract new customers, help your website rank on Google and showcase your industry authority... but what to say and what to share?!?

In this workshop we will learn how to get inside the mind of your customer and unlock loads of content ideas that are already in your head – so you can get them on paper.

Get ideas for:

– Blog Topics
– Social Media Posts
– Website FAQs
– and more...

You're the expert in your industry and have so much to offer to your customers – let's elimiate that pesky 'blank page syndrome'!
This workshop is brought to you by Business Station and AusIndustry under the ASBAS Digtial Solutions Program.
ABOUT THE PRESENTER
Cindy's superpower is helping business owners write words that work for their businesses. If it is talking to your customers before you do, it is a valuable conversion and marketing tool and deserves some TLC!

Cindy runs Hats Off Copywriting, taking the Word Hat out of busy business-owners hands and crafting targeted, personality-driven copy for their websites, blogs, professional profiles and all other sales and marketing copy they need to deliver ROI. Not just a 'word nerd', Cindy has also spent the last 3-years training in small business marketing, and uses those tools and strategies to deliver copy and practical, digital advice that works.

She is never happier than when she is helping amazing businesses brainstorm marketing strategies, learn how to maximise their blogs or map out their websites for optimum customer engagement. Experienced in running workshops, 1-on-1 training sessions, networking groups, guest-speaking on radio shows and more, she is excited to now be able to support business owners in her role as an ASBAS Advisor.
#contentcreation #businessmarketing #copywritingtips #copywritingworkshop