Description
Bowie's iconic Let's Dance video was filmed at the Carinda Pub, Northern NSW.
Bowie danced all the way to Carinda in his red shoes 34 years ago and Jeff Duff continues the Dance to Carinda in September 2017! Time to put on your Red Shoes and Dance the Blues! Jeff Duff (Duffo) and Band are extremely professional international artist's and will Rock Carinda with their first class performance in memorance of Bowie.
Duffo and Band perform on 30th September (Saturday night)at the Showground/Camp Site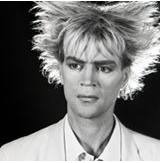 in Carinda and will also be performing a reenactment of Bowie's video 'Let's Dance' in the Carinda Pub on 1st October ( Sunday afternoon).
A concert not to be missed!!
A weekend of music...local and travelling bands..and activities for families young and old whilst experienceing the true outback of Australia!
A Bowie 'Look-a-Like' competition will also be running over the Event so don't forget your Glam!