Leslie Kaminoff Down Under 2020 Tour PERTH 14-16 Feb 2020 (co-author of Yog...
Description
LESLIE KAMINOFF - DOWNUNDER - 2020 TOUR
PERTH : Breath-Centered, Individualized Yoga – Theory and Practice
Join Leslie Kaminoff, co-author of Yoga Anatomy (one of the most widely recommend anatomy texts for Yoga Teachers and Practitioners in the world), and founder of The Breathing Project, from 14-16 Feb in PERTH.
Leslie Kaminoff offers this two-day immersion focused on his teacher T.K.V. Desikachar's uniquely practical teaching philosophy. Desikachar's observation that "the form of a practice should always follow its function" emerged from his background both as an engineer and a yoga teacher.
Leslie will bring his anatomically-informed, inquiry-based perspective to his teacher's revolutionary work discussing breath, asana and practical teachings from the yoga sutras.
PERTH 14-16 Feb 2020
https://lesliekaminoffperth2020.eventbrite.com.au
Scroll down for Leslie's full Bio
Package includes a signed copy of Yoga Anatomy Book
PRICING PACKAGES & OPTIONS
Option 1: ALL WORKSHOPS (Fri, Sat & Sun) plus SIGNED COPY of YOGA ANATOMY only $599 strictly available until Sep 30 2019. This option will not be available after that date. NO exceptions. THIS TICKET TYPE HAS EXPIRED. If you wish to attend for all classes, please purchase Option 2 and Option 3. Thank you.
Option 2: Weekend Package (Sat15 & Sun16 Only) Early Bird $499 before Sep 30 Full Fee $649 from Oct 1
Option 3: An Evening With Leslie (Fri 14 Feb) Early Bird $75 before Sep 30 Full Fee $100
FRIDAY 14 FEB - AN EVENING WITH LESLIE
6:00-8:00pm
Who was Desikachar? – Stories, Videos, Teachings
This session features Leslie at his storyteller best – featuring video clips, archival photos, personal class notes, and memories of being a student of T.K.V. Desikachar for three decades. Blending humor, inspiration, and specific practices learned directly from his teacher, Leslie will strive to give students the feeling of what it was like to learn from one of the greatest yoga teachers of the past century.
Price $75 Early Bird $100 Full Fee
OR included in weekend package (with signed Yoga Anatomy book if purchased as Option 1 package by Sep 1)
SATURDAY 15 FEB
9:00am-12:00pm
Yoga Anatomy of Body, Mind and Breath
Yoga can be described as integration of body, mind and breath. Leslie's teacher, T.K.V. Desikachar, stated that without the breath there is no yoga. Join Leslie Kaminoff, co-author of Yoga Anatomy, for a three hour introduction to the basics of the anatomy, physiology and neurology of yoga practice. Lecture, audio-visual material, led practice and interactive inquiry; All levels of experience (including beginners) are welcome.
1:30-4:30pm
The Essential Spine: Healthy Movement, Steady Support
This workshop covers the basic evolution and anatomy of spinal mechanics, as well as practical methods for developing greater postural support and articular freedom, all through the lens of Patañjali's sthira/sukha definition of asana.
Particular attention will be given to the details of the anterior and posterior lines of the body from both an anatomical and a yogic perspective. We will practice a variety of breath-based movements and healthy alignment strategies.

SUNDAY 16 FEB
9:00am-12:00pm
Inquiry vs. Technique in The Classroom – The Sthira and Sukha of Teaching Yoga
Teaching yoga techniques without a spirit of inquiry can be overly reductionistic and didactic. But promoting a spirit of inquiry without the structure and boundaries of specific techniques can lead to students feeling lost and confused.
This workshop addresses strategies for balancing this dynamic dichotomy in the classroom, with sample sequences and interactive discussion.
1:30-4:30pm
Practical Teachings from Selected Yoga Sutra
Unlike professional pundits, Desikachar learned the yoga sutra from his father Krishnamacharya in an ongoing, practical, progressively deeper manner, contextualized by them living in the same household among their families. The lived experience of this learning was revealed through all Desikachar's lectures and practice sessions: he lived his life through the lens of Patanjali's teachings. In this session, Leslie will share his core understanding of a few, choice sutras that his teacher gave him to contemplate, based on Desikachar's exquisite sensitivity to his student's needs, interests, and nature.
ABOUT LESLIE KAMINOFF - Your Facilitator (photo credit: Lydia Mann)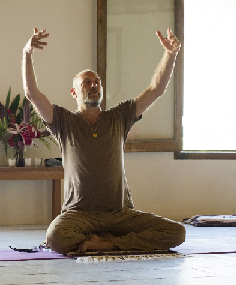 Leslie Kaminoff is a yoga educator inspired by the tradition of T.K.V. Desikachar.
He is recognized internationally as a specialist in the fields of yoga, breath anatomy and bodywork.
For over four decades he has led workshops and developed specialized education for many leading yoga associations, schools and training programs in America and throughout the world. His approach to teaching combines intellectual rigor, spontaneity and humor, and is always evolving.
Leslie is the founder of The Breathing Project, a New York City based educational non-profit dedicated to advancing educational standards for yoga teachers and other movement professionals. His unique year-long course is available online at yogaanatomy.net.
He is the co-author, with Amy Matthews, of the best-selling book "Yoga Anatomy."
You can follow him on Instagram (@leslie.kaminoff), Twitter (@lkaminoff) and on Facebook (LeslieKaminoffYogaAnatomy), on YouTube (YogaAnatomy) and learn more at YogaAnatomy.org.
REFUND POLICY
No refunds, however if you change your mind or have a change in circumstance you can transfer your place to another person.
In the unlikely event that training is cancelled by organiser you will be entitled to full refund.
SCROLL UP FOR PRICING OPTIONS
We look forward to being of support during these workshops and beyond
Lee & the Yoga Training Australia Team