Journey through the breath to an altered state of consciousness on the new moon in Leo - a time to remember who you truly are
About this event
This special Shamanic Breathwork ceremony falls on the new moon in the fire sign of Leo. A time of action, creativity and remembering who we really are. Utilising this astrological event, it's a powerful time to turn inward and evaluate whether you are truly standing in your centre, in your personal power and in true alignment, and if not, how you can begin the journey back home. It's a great time to usher in some radical self-honesty, and to ask yourself if you are self-sabotaging, filling yourself with doubt or fear, and how you can become more empowered and strengthened in your life.
What is Shamanic Breathwork?
Blending ancient traditions and wisdom with elements of modern breathwork techniques, this modality combines the use of the shamanic drum, invocations of spirit, chakra- attuned music, body and energy work and use of a circular, connected breath, to create a safe and sacred ceremonial container to journey into altered states of consciousness. From this state, we can transcend beyond the ego and the conscious mind through the breath, which allows us to become more aware of insights and understanding that we may not have access to in our everyday lives such as suppressed emotions, places where we are living out of alignment with our highest truth and almost authentic self, unconscious patterns and stories, and root causes of programs and behaviours that unknowingly impact our work, relationships and how we show up in the world.
What are the benefits of Shamanic Breathwork?
With awareness of patterns, stories and suppressed emotions and within the supportive ceremonial space, we can question and unlearn, and release pain, stress or stuck emotion within our bodies to reconnect with and step into a truer, more authentic version of ourselves. Each journey is unique and different, bringing different emotions, physical sensations, memories and images, and helps us to peel back the layers, let go of what no longer served us, and reconnect with our hearts and intuition. Many leave the experience feeling clearer, lighter, more like themselves and more connected to the natural environment, natural cycles and oneness of life.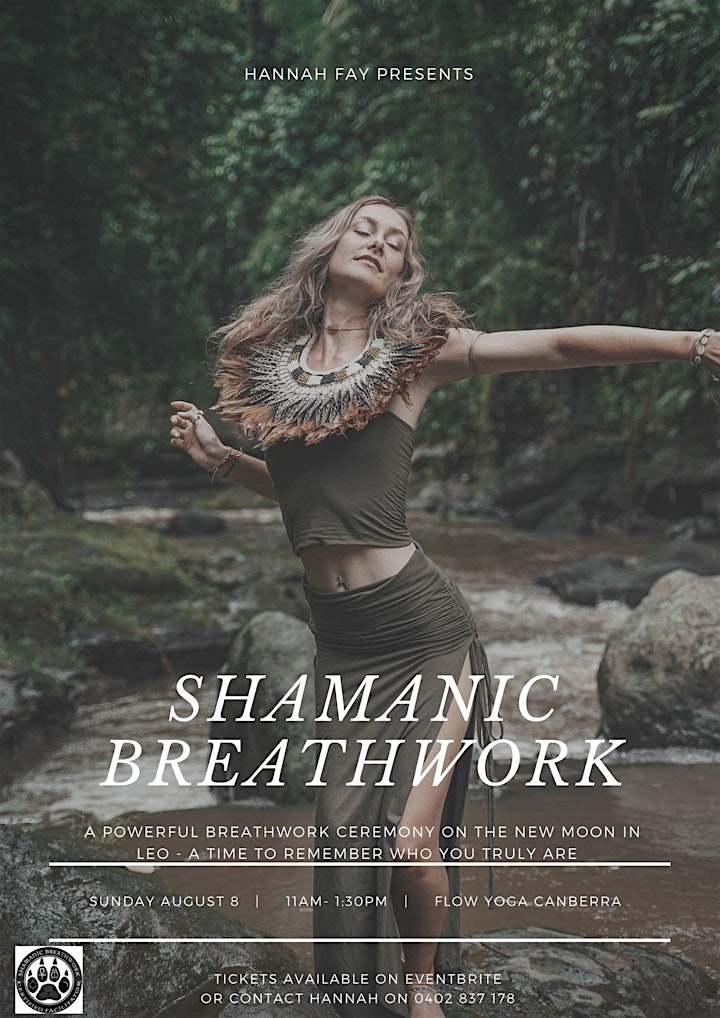 Practicalities
Please wear comfortable clothing that allows for unrestricted movement and come with an empty stomach (light breakfast or fasting prior are great). If you have a blindfold or something to cover your eyes, please bring that along too. You are also welcome to bring along any items that you'd like to journey with; some people like to bring crystals, a shawl or blanket, a journal.
Yoga mats, pillows, blankets and eye pillows will be provided at the studio, however you can still bring your own if you wish.
The ceremony will be followed by a processing and sharing circle to assist with integration of the experience. We will then ground down together by sharing some food and tea (provided).
This experience is suitable for beginners or those without prior experience in breathwork or yoga. It is also suitable for those familiar with breathwork practices.
Testimonials
"As someone who had never been to a breathwork workshop before, I was a little nervous to attend. But Hannah's welcoming and reassurring presence, alongside her no-expectations, no-pressure approach, made it the perfect first experience for me. The whole workshop was well-organised, and not only did I feel safe the whole time, I learned something new about myself. I couldn't recommend the experience more, and am certain that I will be back!"
-Breathwork participant
"As someone who had never heard of breathwork before, Hannah's workshop blew my expectations! I went to try out something that sounded interesting, and by the end I had learned much from the experience (particularly the concept of traversing beyond the conscious mind) and met some fantastic people too.
I couldn't have imagined a better guide than Hannah, with her naturally positive personality and calm spirit. She is clearly passionate and knowledgable in this field, and carefully prepared a safe and comfortable environment for the breathwork session.
I highly recommend it to everyone - whether you are a curious and open-minded first-timer (like I was) or have existing experience and interest in breathwork".
-Breathwork participant
About Hannah
Hannah became qualified as a Shamanic Breathwork Facilitator through the Venus Rising Association for Transformation in 2020. She has been holding monthly group Shamanic Breathwork sessions in Canberra. She is also a yoga teacher at Flow Yoga, teaching weekly Slow Flow and Restorative classes. She completed a 200 Yoga Teacher Training course with Levi Banner (Yoga Barn) in Bali in 2019.
For further information contact Hannah on:
M: 0402 837 178
Instagram: @hannahfay___