Join Lens on Strengths Training 2021 in ACT and learn how to facilitate and inspire people-centred social change and impact.
About this event
Soulgen in partnership with Kasama Consulting present:
Lens on Strengths Training 2021with Dimitrios Papalexis, Soulgen and Nicole Deen, Kasama Consulting
Are you passionate about participatory youth and community development, active citizenship, storytelling, diversity and collaboration for social impact?
Are you looking for some new ideas, tools and inspiration to go from problems to possibilities and to engage and inspire people to co-create positive change in the world around them?
Would you like to connect with a group of likeminded social changemakers, community supporters and practitioners who can support you to put ideas into practice?
Then join us for our "Lens on Strengths" training in Canberra this July 2021!
In this 1-day face-to-face workshop, you'll grow your skills and confidence to:
• use strengths-based principles and tools to co-create more equitable and inclusive futures with individuals and groups you work with;
• build people's resilience, confidence and motivation to take action by starting with what's strong rather than what's wrong;
• harness the potential of individuals and groups by identifying existing strengths and resources and asking powerful questions that generate new possibilities and opportunities for change;
• embrace diversity through the use of ethical storytelling;
• expand participation beyond the 'usual suspects' and engage meaningfully with diverse groups of people in the process of social change.
Together, we will:
• explore the principles and practices of collaborative, strengths-based approaches such as Asset-based Community Development (ABCD) and Appreciative Inquiry (AI);
• discover the power of social capital and local, 'bottom up' and strengths-based approaches to help bring about positive economic, social and environmental change within our communities;
• explore and practice a range of collaborative strategies, tools and mindsets to enhance your existing practice and apply in your own context;
• discover the power of storytelling and diversity to help achieve more equity and positive social change;
• build a toolkit of tools and practices that you can use in your organisation, community or business to work with young people, communities and organisations to widen participation and achieve greater social impact.
Who is this training for?
This training is designed for anyone who wants to explore new, more collaborative and people-centred approaches to enabling and influencing positive social change. People who work or volunteer with community-focused organisations, government agencies or social enterprises will all find value in both the content and process of the workshop, as the principles and tools can be applied across a wide range of contexts. We encourage participants to come with an existing or future project in mind that they would like to apply a strengths-based approach to in order to make the most of the learning experience.
How might you use what you learn in this training?
Strengths-based approaches such as ABCD and AI can be used and adapted in diverse contexts and activities. Some examples of where you might apply the principles, tools and practices we will explore include:
• community engagement and participation strategies;
• project planning and co-design;
• strategic and business planning;
• organisational change processes;
• collaborative activities;
• collective impact initiatives;
• program evaluations, monitoring and learning;
• coaching.
Why this, why now?
We're livIng in challenging times of increasing unemployment, homelessness, mental health, social isolation, environmental crisis and other systemic issues.
At the same time, this period of of disruption gives us the opportunity to view problems differently, to challenge the status quo and 'old' ways of working and to embrace more collaborative approaches to positively influence social change.
We need to work better together and adopt new theories of change and innovative approaches that move away from silos and deficit-based models and bring together different stakeholders, place young people and communities at the centre of decision making and harness their strengths, passion and creativity so we can foster sustainable development.
This is also a time that professionals are required to shift their mindsets from service providers to facilitators and hosts and grow their confidence and skills to facilitate participatory processes for widening participation, social change and impact.
Some of the topics we'll cover in the workshop are:
Asset Based Community Development – Asset Mapping – Open Space Technology – Circle Methodology – Appreciative Inquiry – Storytelling –Facilitation & Hosting Skills
Asset Based Community Development (ABCD)
(ABCD) builds on the assets that are found in the community and mobilizes individuals, associations, and institutions to come together to realise and develop their strengths. Whereas needs-based community development emphasizes local deficits and looks to outside agencies for resources, asset-based community development focuses on honing and leveraging existing strengths within the community. Everyone has gifts. Each person in a community has something to contribute.
Appreciative Inquiry
Appreciative Inquiry (AI) is a strengths-based, positive approach to leadership development and organizational change. AI can be used by individuals, teams, organizations, or at the societal level; in each case, it helps people move toward a shared vision for the future by engaging others in strategic innovation
Storytelling
Storytelling is considered one of the most important tradition humans possess. It describes the social and cultural activity of sharing stories, sometimes with improvisation, theatrics or arts. Every culture has its own stories or narratives, which are shared as a means of entertainment, education, cultural preservation or instilling moral values. Every story contains a lesson to instruct the audience. Stories inspire us and teach us how to love, forgive, be just and strive for a better world.
Social Capital
Social Capital refers to features of social organizations such as networks, norms, and trust which increase a society's productive potential. It is built on a web of relationships that exist within any given community that allows people to succeed or advance through associating together. Social capital is present in the networks, norms, and social trust inherent in associations whose members work together in concerted collaborative action. In a literal sense, social capital is the store of good-will and obligations generated by social relations. At the core of ABCD is its focus on social relationships. Formal and informal associations, networks, and extended families are treated as assets and also as the means to mobilize other assets of the community. By treating relationships as assets, ABCD is a practical application of the concept of social capital.
Limited spots, get your ticket early to avoid disappointment
Discounts for groups available
Co-Host: Dimitrios Papalexis BA., Grad.Dip.Couns., MCC, Founder SoulGen, cofounder Sydney ABCD Network, Member IACD, 2019 NSW Youth Worker of the Year, 2020 Score Foundation Appreciation Award
Dimitrios is a Social Change Agent, Trainer, Facilitator, Social Capitalist and Creative who has lived in three different countries, speaks four languages and worked in various non-government organisations including mental health, disability, carers and community programs in the past. Dimitrios is the Founder of Soulgen and uses strength based, participatory and creative approaches working in partnership with various NGOs, Local Government, social enterprises, young people and diverse communities in Australia and overseas.
Dimitrios has also many years of experience in Psychodrama, Playback and Forum theatre. Dimitrios has been awarded with a Do it Differently Grant from Bayside Council and South Eastern Local Health District SESLHD for his project Everyone has a Story. He has also been awarded the NSW Youth Worker of the Year Award 2019 for his outstanding work with young people using Asset Based Community Development, Arts & Social Enterprise. Recently, Dimitrios efforts in Covid-19 Recovery has led to another award: A Cause for Applause Appreciation Award 2020. Over the last years, Dimitrios has worked with a number of organisations and councils offering trainings and consultancy. He is known for his passion for community-led approaches, his dynamic facilitation style and his warm and positive nature.
For more details of Dimitrios' experience, click here:
Co-host: Nicole Deen M (Int. & Comm Development), Founder Kasama Consulting
Nicole is a Canberra based facilitator and coach, specialising in working collaboratively and creatively with organisations and individuals to design and implement programs and services that inspire positive social change. She works with a range of organisations, including community and school associations, international and national NGOs and is currently co-hosting and producing a podcast with the Australian National University that explores co-creativity in action. She is also a collaborator with For Purpose, where she offers online training and coaching on all things co-design.
Nicole worked for over 15 years in international development and lived in seven countries before coming back to Australia to work with social changemakers here. She has focused particularly on supporting small non-profit organisations and social entrepreneurs in Vanuatu and various countries in Asia and South America. Through her facilitation and coaching, she helps people and organisations to shift their mindsets and practices to be more people-centred and strengths-based in their social change initiatives.
Nicole is committed to working creatively with people and organisations to expand their thinking, opportunities and skills in order to maximise their potential and create positive change. She believes in strengthening and supporting from behind, listening and respecting everyone's unique histories, abilities and dreams. She's known for making processes and learning accessible, relevant and useful for all, no matter what context she's working in, and has unlocked latent creativity in all processes she has facilitated.
For more details of Nicole's work and experience, click here.
Contact us at info@soul-gen.com.au or 0400354939 or nicole@kasamaconsulting.org for more information
SoulGen is an ethical enterprise operating on a for purpose model. We are committed to providing a space for community and young people to express their voices and identity and mobilize their strengths. Part of the income goes back to support young people and diverse communities.
Kasama Consulting is a Canberra-based boutique consultancy whose mission is to support and enable social changemakers in Australasia. 'Kasama' translates to 'companion' or 'friend' in Filipino, which embodies the approach we take to working with people and organisations – enabling them to do their best work by facilitating strengths-based approaches to help them effectively influence social change. As an ethical business, we offer some pro- and low-bono work for smaller organisations.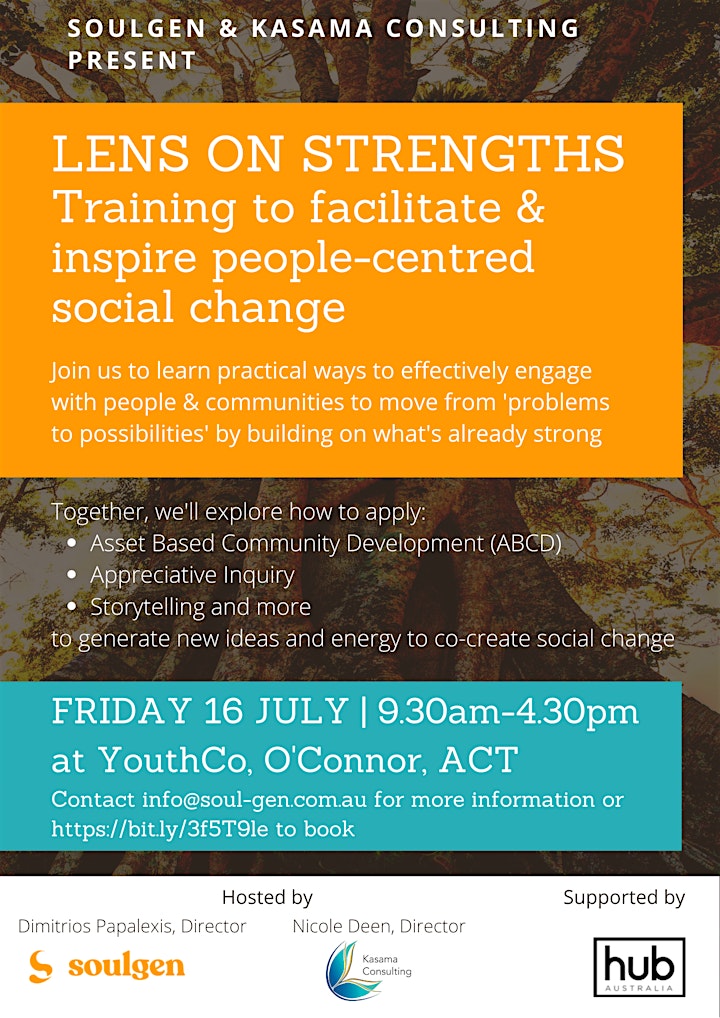 Organiser of Lens on Strengths Training 2021