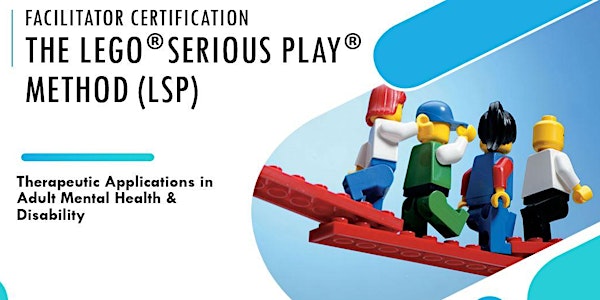 LEGO® Serious Play® - Therapeutic Applications in Mental Health/Disability
Refund policy
Contact the organiser to request a refund.
Eventbrite's fee is nonrefundable.
Bring the awesome power of The LEGO® SERIOUS PLAY® method (LSP) to your clients and your organisation.
About this event
This Facilitator Certification course in the LEGO® Serious Play® method is truly unique, not only do you get the opportunity to learn all there is to know about the LEGO® Serious Play® method and gain certification in that, you also gain the advanced skills of applying the method for use in both individual and group work in Mental Health / Disability settings, including detailed step by step guides to run successful therapy groups utilising the power of LEGO®.
Our course is 100% Online and Self-Paced.
The LEGO® Serious Play® method is not just adults playing with LEGO®, and whilst it may appear that way it really is so much more than throwing some LEGO® Bricks on a table. It's immensely fun but it is all based on science!
Our Facilitator Certification course in the LEGO® Serious Play® Method - Therapeutic Applications in Mental Health & Disability is designed for maximum involvement, flow, openness, creation, innovation, ownership and very clear next steps and to that we say Yes please!
The LEGO® Serious Play® Method or LSP is for exploring and dealing with real issues and challenges in real time. LSP is a science-based process that draws on extensive research from the fields of Business, Organisational Development, Psychology and Learning.
The LSP Method is an innovative clinical intervention model that consists of a highly-structured process of expressing ideas and interpersonal communication. LEGO® Serious Play® assists with social connection, emotion conversion, cognitive development and action taking of clients in clinical and community practice settings.
LSP brings about positive emotional and behavioural changes through deliberate, innovative and productive thinking. The LSP Method promotes emotional regulation and cognitive restructuring.
Introducing a LEGO® Serious Play® program delivered by a certified facilitator in both Clinical Practice settings and Community Mental Health & Disability settings has a high developmental potential different from the defects of the traditional medical model because the LEGO® Serious Play® methodology creates a positive psychological healing environment and promotes the capacity building and resource rebuilding of clients. LEGO® Serious Play® improves cognitive skills and allows the practicing of mindfulness.
Research has proven that LEGO® Serious Play® is 15% more effective than any other creative therapies. Why wouldn't you be offering this to your clients?
LSP is an effective tool and brings about positive outcomes for particpants.
Our Certified Facilitator Training Program in LSP is a fun and engaging hands-on / minds-on course, for ease of access we offer our facilitator certification program as a self-paced online course, enabling the course to be completed around work and family commitments. You can complete it as quickly as you like!
Our course developer is a Nationally Qualified Trainer and Assessor and Clinical Nurse Consultant with over 20 years experience in the Mental Health & Disability sector, holding several post graduate degrees and other education and advanced training in the field. In addition to that is also a Master Trainer in both the LEGO® Serious Play Method (Adults) and LEGO®-Based Therapy (Children).
This course will seriously change your world and the way you and your clients see it. Make a positive difference in the lives of your particpants today!!
What Will You Learn?
This online program teaches participants the core fundamental processes, application techniques, and supporting theories. Participants are also given the opportunity via assessment task to design a customised workshop using the method.
You will learn and master all aspects of the method and be able to successfully implement the method in your setting. You will learn the advanced techniques to improve business problems, team communications, employee engagement and drive creativity and innovation to your organisation as well as the additional Mental Health & Disability adapted specific training.
Not only will you be able to utilise this with your clients you will also be able to utilise all that you have learnt to run successful team building workshops within your own workplace. There are no limits to its use. Our LSP Course is based on positve psychology methods. There is no additional training or certification required beyond this program.
LEGO® Serious Play® is the only universal methodology that has the ability to be translated and utilised across all industries for many various applications. The program is appropriate for Facilitators, Team / Project Leaders, Trainers, Educators, Learning and Development Specialists, Consultants, Mental Health Professionals, Coaches, NDIS Service Providers, Researchers and In-house Trainers.
Pre-requisites
Prior facilitation experience is not required as all the tools you need to succeed will be learned by you throughout the course.
Key Features
Enrolment activated within 48hrs of purchase. (No waiting for weeks to commence your training!)
24/7 Online Access to our training / education portal, allowing you to undertake the course at your own pace in your own time. Access granted for a period of 3 months
7 - Comprehensive modules covering all the key aspects you need to deliver and run your own LEGO® Serious Play® therapy sessions.
Free resources and templates included.
Ongoing support will be provided (if required) subsequent to your training to ensure that you achieve success in designing and delivering workshops for end users and clients.
Certificate - Upon completion of the facilitator certification training, participants will be awarded with a certificate which will then allow the qualified facilitator to design and facilitate group workshops / sessions utilising the LEGO® Serious Play® method. (You will be able to deliver both the standard LSP and the additional Mental Health specific LSP training techniques either face to face or online). We teach you everything in the one training program - no drip feeds !
Course delivered by CPD Accredited Provider and CPD Accredited and Nationally Qualified Trainer and Assessor / Qualified Clinical Nurse Educator.
Our course is so comprehensive that there is no need to do any further LSP training or add-ons following it.
Upon completion of the course you will be able to design, deliver and facilitate LEGO® - Serious Play® Sessions / Groups.
Is it interactive?
Yes, absolutely!
Ticket / Enrolment Purchase Info:
Our courses have various enrolment dates available via Eventbrite. Alternatively you may purchase your enrolment by visiting our website www.progressiveplay.com.au and enrolling directly via the PayPal button on the course enrolment page. There is no early bird discount applicable for the PayPal payment option via our website. Discounted Early Bird enrolment options are exclusive to Eventbrite only.
NB: When making your purchase via Eventbrite please disregard the allocated times on the Eventbrite tickets, the Eventbrite platform only allows listers to advertise specific dates and times, the course enrolment link will be sent to you within 48 hrs from the date of your purchase, the time slots applied i.e.; (9.00am – 3.30pm) are not applicable, as mentioned all students are granted 3 months access into the online learning portal which can be accessed 24hrs per day/7 days per week. Please be advised that the 3-month period commences from the day we activate your enrolment and you receive your log in link.
If you have any further queries please don't hesitate to reach out to us via email info@progressiveplay.com.au
We look forward to seeing you over in our facilitator certification portal soon.
Copyright© - Progressive Play.