Description
Lego robotics kids holiday program

EV3 Lego Robot action for kids who know what they're doing! This workshop is designed to cater for kids who have been using EV3 robots already; they know the sensors and the programming functions and can make EV3 robots do their bidding with ease! The course is open-ended and challenge based; the skill of the attendees determines the types of problems given to the kids. This workshop is ideal for those children who have already attended Lego Robotics 1, 2 & 3 and now can use a Lego robot's basic and intermediate functions with ease.

If your child does own an EV3 robot and is familiar with the programming platform you are most welcome to join!
Please be aware that these robots use different software to the Lego Mindstorms NXT robots used in previous holidays, so please enrol in Lego Robotics 1, 2 & 3 before you attend Lego Robotics 4 if you have not used this type of Lego robot.

Ages: 8-14 years.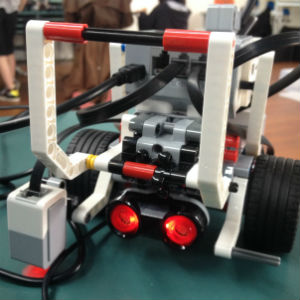 This program is presented by Fizzics Education as part of the Sydney Olympic Park Kids in the Park program of activities. Pair this with the morning Lego Robotics 3 intermediate program for a full day of robotics fun! Please bring a snack, a drink and a hat with you on the day! Any children that require an EpiPen must bring a minimum of 2 on the day in association with the ASCIA Guidelines

Check out our other awesome holiday workshops on offer at Sydney Olympic Park!



Frequently Asked Questions
I've attended Lego Robotics before, which workshop should I enrol in?
The new EV3 programming software is very different to that used with the NXT robots. Please attend Lego Robotics 1, 2 & 3 program before enrolling in Lego Robotics 4. If you have already spent time with the EV3 Lego programming platform you are welcome to join this session (ie. you know how to use the common motor functions and sensors).
Where is the program being held?
The Education Centre is located within Bicentennial Park in Sydney Olympic Park. To get there, enter the park via the Australia Avenue gates and follow the signs around to the p10f carpark (it is almost at the park exit). Once you reach p10f, you'll see signs to the Education Centre! If you're arriving by train, Concord West train station is closer to the venue than Olympic Park train station.
My child is 4/5/6/7 years old, can they attend with their older sibling?
No sorry. The minimum age of this program is set to ensure that children attending have the mathematical and problem-solving skills to successfully program the robots and keep up with the pace of the program. Younger children tend to fall behind and can end up frustrated which can have an impact on the rest of the class.

Where can I find any updated information?
Check out our Facebook page for updates and fun facts!