Legacy Business and Community Luncheon - 26 November 2021
About this event
Legacy provides crucial services to Australian families suffering
financially and socially after the incapacitation or death of a spouse
or parent, during or after their defence force service. Established in
1923 by a returned WW1 serviceman, Legacy remains dedicated to that task almost 100 years later.
Legacy helps ease heavy financial commitments, provides
companionship, helps with children's education, ensures medical and
welfare services are available or simply provides somebody to talk to.
Legacy's assistance takes many forms, providing a level of support
necessary for each individual situation. With the help of Legatees,
who stay in touch with all families, Legacy also ensures families
receive access to government benefits and whatever support from
Legacy required to maintain and improve their quality of life.
ABOUT LEGACY WOLLONGONG & SOUTH COAST
In our local area (Helensburgh to Gerringong), Legacy supports over
800 widows and dependants. The Annual Legacy Appeal raises much
needed funds to allow Legacy to continue to provide services to these
families who have suffered the loss of a husband, father or provider
as a result of their service.
In 2017, our committee successfully launched Legacy Appeal Week
with the tenth annual Legacy Business and Community Luncheon.
Since the inception of the luncheon, we have raised over $350,000
which has been directed to both social and financial welfare for our
Legacy dependants.
Ticket Cost is $110 and Includes:
3 Course meal and beverage package
Guest Speaker - Shane Fitzsimmons
Centrepiece draw and lucky door prize
If you wish to make a donation, please click here to proceed to the Legacy South Coast Page. https://www.legacy.com.au/donate/
Proudly Supported by Waples and Bluejuice Events.
Terms and Conditions:
Before purchasing tickets, carefully review the event information including date, time, venue and COVID restrictions.
The NSW Government mandated that only fully vaccinated staff and patrons will be legally permitted at the City Diggers.
The following restrictions will be in place based on the advice of the government:
* Only double- vaccinated patrons will be able to enter the premises
* All guests must check in using the Services NSW App
* Masks must be worn by all guests and staff
Please note a change in personal circumstances does not entitle a ticket holder to return or exchange a ticket. Should you not be able to attend, please consider the following options:
* On sell your ticket to another person who can attend the event. Should you do this, please provide the event organisers with this person's name so we can update seating plan.
* Donating the ticket price to Legacy's Appeal Week Subject to any statutory rights of refund (including, without limitation, the provisions of the Australian Consumer Law), if an event takes place then generally there is no right to a refund or exchange, including where a ticket holder cannot attend because of adverse weather conditions or a change in personal circumstances.
Should the event be cancelled due to COVID, ticket purchasers will be offered seats at any rescheduled event up to the face value of the original tickets or, if the ticket purchaser is unable to attend the rescheduled event or the event is not rescheduled, a refund will be given. It is your responsibility to ascertain whether an event has been cancelled and the date and time of any rescheduled event. If an event is cancelled or rescheduled, we will use reasonable endeavours to notify ticket purchasers of the cancellation once we have received the relevant authorisation from the Event Partner. We do not guarantee that ticket purchasers will be informed of such cancellation before the date of the event.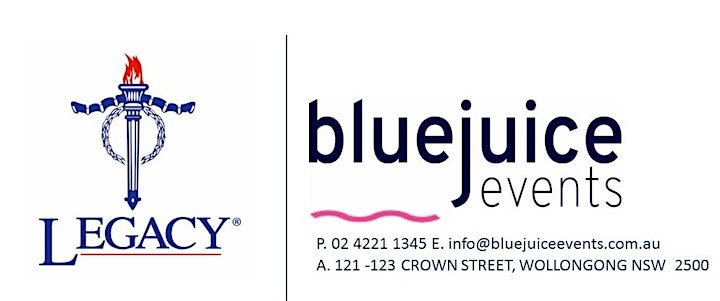 Organiser of Legacy Business and Community Luncheon - 26 November 2021
Bluejuice Events is the Illawarra's premier event production company and is part of the Waples Marketing Group.  The force behind the name is a group of specialist event professionals experienced in producing show stopping and meticulously planned events.

The Bluejuice events team of Amber Morrisey and Megan Waters, under the direction of Graeme Gulloch and Vicki Tiegs have a combined experience of over 30 years and have produced more than 1,000 events covering, local, national and international events.