Description
Learning Together in Living Systems ('symmathesy') —
A new way of thinking about problems, peace and plenty
A conference and retreat exploring what it means to change the way we think
---


13 - 16 February 2019 | Murdoch University, Perth, AUSTRALIA
---
Event & ticket options updated 3 December 2018
PETER LE BRETON'S PERSONAL STORY — How this event came about
I have been teaching at Murdoch University for ten years. Last year I was fortunate and surprised to win a Vice-Chancellor's Citation for Excellence in Enhancing Learning. The award came with a grant, which I used for travel to present at a conference in the US.
I chose this particular conference because its theme and the keynote speaker had great appeal to me. The theme was "A Difference That Makes a Difference: Systemic Change for Social and Environmental Justice." The theme was inspired by the work of Gregory Bateson, whose ideas about living systems and the sacred have had a big impact on my work. The keynote speaker was Nora Bateson, Gregory's daughter. Nora produced an award-winning film about her father in 2011, and she is President of the International Bateson Institute in Sweden.
I was so impressed by Nora's ideas, compassion and conversation that I just had to invite her to Perth to share Batsonian thinking with people in my neck of the woods. Nora has never been to Australia and this will be her only event here. The event is much more than a conference, and is not only or mainly for academics. We have created a unique opportunity for you to experience a conference-retreat with Nora and others who are questioning how we think and who want to do good in the world.


MANY TICKET OPTIONS . . .
We are offering many ticket options, as we want to make it possible for any interested person to be able to attend. Because this event is a retreat—and not just a typical conference where attendees pop in and out or give a presentation and leave—we are encouraging participants to join together in dialogue, reflection, and creative activities for the entire program.
There is an Early Bird discount until 15 December (save $100), a student discount (save $300), and half-price scholarships for students and others in financial need. There is also a two-day ticket option for people who can only attend the first two days.
We understand that you may be unable to participate every day or unsure yet whether you want to. If this is the case, you can register for the opening night film evening with Nora Bateson—while tickets remain available. Then, if you are sufficiently inspired and your schedule allows, you can upgrade for the entire event. We will credit your film fee towards any upgrade fee.
IN A NUTSHELL . . .
Despite affluence for many and the wonders of science and technology, many people believe our world is in crisis and civilization is on the brink of disaster. Those who are concerned about our personal, social and environmental troubles often identify a root cause—capitalism, patriarchy, human nature—or a combination of causes. There may be some truth in all of these perspectives, but could there be a deeper issue, and could it be the way we think?
This extraordinary event is inspired by the ideas of Gregory Bateson, anthropologist and systems thinker, who believed that the major problems of the world arise from the difference between the way nature works and the way people think. This is a paradox because we are nature. Whereas nature is ever-changing patterns of connections and relationships, the way we think is based on parts and wholes. We do not see the complex interdependencies in living systems, so we disrupt them to our peril. DDT and the atomic bomb, invading Iraq and deregulating banks, all illustrate the devastating effects of our way of thinking.
Nora Bateson, Gregory's daughter, will be the keynote speaker and heartfelt intellectual guide throughout this event. Nora is a filmmaker, writer and educator. She is dedicated to developing and promoting the seminal ideas of her father, which are needed now more than ever.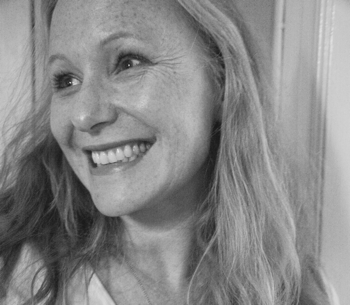 ---
NORA'S INVITATION TO US AND HER KEYNOTE ADDRESS . . .
Taking a systems approach to mutual learning in everyday life
"My teaching, and my challenge, is to develop capacity for a systemic approach to mutual learning in everyday life—from family, to groups, to organisations and society. Combining theory, art, storytelling, poetry and emerging practice, I will guide us to approach differently the seemingly intractable problems we face personally and as a society. Our journey will explore the art and science of complexity and ambiguity, expanding our capacity to work with and be within these states. By exploring symmathesy, we discover how a shift in perception can alter and ease our relationship with life's complexity.
"'Symmathesy' is a term I created to express the mutual learning that occurs within and between living systems. This word derives from the Greek prefix sym (together) and mathesi (to learn). Symmathesy is not about finding 5-step solutions: it is about deepening, expanding and exploring the sensitivity with which we interpret and interact with our complex world. Be sure, this is not a tweaking of thinking and approach, but a profound shift—away from destruction and despair and towards creativity and possibility.
Identity in complexity
"As individuals, and within larger communities, our notions of identity inform who we are in relation to the systems we inhabit. But we live in an era of profound upheaval, in which global ecosystems and social systems are in rapid transition. Change is a constant in living systems, but the rate of change now is unprecedented. Who are we in this world of accelerated change? As families, as professionals, as cultures, how are our perceptions of ourselves changing . . . and what if they aren't?
"An identity often depends on belonging to a particular gender, nationality, political party, religion etc., with problems emerging where one belonging rubs against the edges of another. Identity is a personal matter, but it also matters to society, ecosystems and the future. Double binds of identity, and other obsolete fragmentations of thought, can be unraveled through the lens of complexity and systems. Through a Bateson frame, translated to the modern world, we will explore transcontextual descriptions of identity and the "paradox of agency".
"Our most valuable asset in finding identity and meeting the needs of a changing world is the sensitivity that accompanies a deep appreciation of complexity.
"As our ability to perceive the complexity of identity increases, so we perceive more clearly the world's complexity. This perception provides better information and greater sensitivity with which to make important decisions. For example, through a lens of complexity, how is the experience of pain expanded? Pain is often reduced to a single cause and experience, and then numbed away. But in these times, we need to feel the sadness and anxiety of our world in a larger colour spectrum. We cannot afford to anesthetise ourselves against the times we live in.
How systems learn
"These days, there is more focus on appreciating complexity, but our predominant metaphors are still linear and mechanistic. These are hardwired into us and deeply personal, so tend to rule the day. Even when we believe we are taking a systemic approach, we may be limited by non-systemic thinking that is deeply conditioned, habitual and invisible.
"All of biological evolution, including the development of culture and society, are testament to contextual and multilayered changes through time. Nothing stays the same, clearly. So could it be that change is a kind of learning?
"If a living entity transforms (even slightly) any of its contextual interrelationships, a calibration change is revealed. The same kinds of trees in the same forest do not necessarily grow to be the same shape as each other. Some may have higher winds to contend with, while others grow in a thicker density of surrounding flora. Trees in contrasting surrounds live contextually by receiving and responding to diverse relational information from their environment. They grow into different shapes and metabolize distinctively. They learn, calibrate, and respond to their contextual interrelationships by stochastic (random) process. And aren't we all a little like these trees? Becoming who we are in the contexts of our interlinked lives.
Warm Data Labs
"A Warm Data Lab is a practice I developed for groups wanting to strengthen their collective ability to perceive, discuss and research complex issues. By shifting perspectives, the Warm Data Lab increases our ability to respond to difficult or "wicked" issues. Because so many of the challenges we now face are complex, we need new ways to meet this complexity. Although it's tempting to reframe such issues in simple terms that lend themselves to easy solutions, this often leads to unintended reductionism and further problems.
"But thinking in complexity demands the ability to perceive across multiple perspectives and contexts. This is not a muscle we have developed in school or at work. Yet it is a skill now needed for meeting our personal, professional and collective need to respond to crisis, and to improve our lives.
"The Warm Data lab is a kaleidoscopic living conversation in which information is exchanged and cross-contextual knowing is generated. Designed to seamlessly engage multiple theoretical principals in a practical format, the process relies on two concepts: transcontextual interaction and symmathesy. Through transcontextual interaction, we recognize that complex systems do not exist in isolation but are overlapping and interdependent—forming, learning and adjusting to information sent and received. Through symmathesy, we see how interactions generate shared or mutual learning" (Nora Bateson, 2018).
---


THE WHOLE STORY . . .
Nora is the founder of the International Bateson Institute. Her award-winning film about her father, An Ecology of Mind (trailer), shows Nora in action. Zombies and Hitchhikers, taken from her book, captures the essence of Batesonian thinking.
In response to her father's epistemological insights, Nora in her work has reflected on the process of learning together. She calls this process 'symmathesy'—from the Greek "sym" (together) and 'mathesi' (to learn). Symmathetic learning is that which occurs in and between living systems. This is the learning on which this conference is modelled and it has determined the design of the event.
Theme
We live in a world in which humanity and other sentient creatures are arguably on the brink of disaster. The three Ps in the conference theme—problems, peace and plenty—are emblematic of our times. Problems are everywhere and multiply like triffids; violence and oppression are endemic. Abundance for all may be possible, yet billions live in wretched conditions. Perhaps, as Einstein, Bateson and others have claimed, the state of our still beautiful world has a lot to do with the way we think and, therefore, how we feel and act. Trying to solve (wicked) problems based on the prevailing way of thinking—in which the arts and sciences, heart and head, imagination and rigour, morality and rationality—are split, may be futile or worse.


Purpose
The purpose of this conference/retreat is to look, from many angles, at what it means to change the way we think. If our thinking is now linear, mechanical and reductionist, can we change it to systemic, organic and holistic? What would this mean? As Nora writes in her book, Small Arcs of Larger Circles, "our 'knowledge' often prevents us from seeing the interdependencies in our complex world, which we therefore disrupt to the detriment of our wellbeing and the biosphere we live in." By attending to the parts of systems, rather than to relationships within and between systems, many of our policies, programs and innovations are either ineffective or actually make matters worse. Could it be that changing our way of thinking, our epistemology, so that we can see the world ecologically, is a radical step towards transformative change?
Over this four-day conference, we will explore these issues. The event will bring together a diverse range of scientists and other scholars, artists, thinkers, professionals and activists, including Nora Bateson, who are working towards a better world and who—whether consciously or not—embrace complexity thinking and a systems perspective. The time has come for those of us who, in Nora's words, "feel the sadness and anxiety of our world," to meet, share and act.


More than a conference
No scheduled individual presentations
This event will blend the elements of a retreat and an academic conference. This is to enable space(s) for deep reflection and genuine dialogue. We will reflect as individuals and in small groups about what matters most to us, to others, to the world, and what we can do about it. There will be no scheduled individual presentations other than Nora's keynote to inspire and set the tone. Instead, presentations will be given within focus-related groups. A facilitator will guide dialogue between presenters and non-presenting participants. Presenters should prepare a 3 to 5 minute summary of their ideas, research, experience, and bring handouts and/or posters (or run a PowerPoint or video on a laptop during breaks) where appropriate. Dialogue will be the core activity of each focus group.
Embodied expression and connection
This event will also explore forms of learning together that do not prioritise language, and which allow embodied practise and reflection. These activities will centre on learning about self and others while creating together.
We will co-create a mandala outside in the courtyard and there will be time each morning for conference attendees to participate. A mandala is an expression of wholeness amidst chaos and of the ephemeral nature of creation. Making one together will be a chance to leave some of our words (briefly) aside, and is symbolically relevant to our intentions.
We are also going to invite you to sing! If you consider yourself a non-singer, it might help to understand that our singing voice develops, functionally, before our speaking voice. With expert guidance, we will learn to make music together. Again, we will move beyond the usual ways of perceiving ourselves, to share a different, more explicit sense of rhythm, to be connected, and to enjoy the act of traversing complexity together.
Gentle chi kung and/or yoga sessions will be offered at the end of each day, as well as time for reflective writing at regular intervals. All activities will be led by skilled facilitators.


Presentations
We invite mini-presentations from academics, postgraduate students and non-academics that approach the conference theme from a variety of perspectives. Presenters are asked to consider how their emerging research, thinking, and practice in any domain, occupation—or other context that relates to systems change, complexity and ecology—can help life on Earth evolve and thrive. Because the perspective is transdisciplinary (or non-disciplinary in that we celebrate multiple ways of knowing), we hesitate to list specific disciplines or topics. Some questions presenters might consider include, but are not limited to, the following:
How can we move beyond dualistic, mechanical, linear thinking?
How can we do research that is not fragmentary and reductionist, but instead explores and gathers 'warm data' from multiple interrelationships and contexts?
How can we renew science so that it values qualitative information as much as quantitative texts and data?
How can we move beyond the hegemony of (materialistic) science, legitimize multiple ways of knowing, and integrate art and science?
How can we examine our taken-for-granted, unquestioned assumptions about knowledge and values (our worldview), and move towards an epistemology that will enable us to understand and act better, both individually and collectively?
How can 'double binds' (catch-22s) and other paradoxes be embraced creatively?
How can we nurture community development in an individualistic, hierarchical society in which inequality in both opportunity and outcomes is increasing?
How can climate change, the threat of nuclear war, and other global issues, be seen as opportunities for imagination and transformation, rather than primarily as polarizing, fear-inducing physical and social phenomena?
How can pain and suffering be a catalyst for good?
In a complex, systemic world, what are agency and leadership?
What are "the patterns that connect" within and between systems?
What role can education, medicine, psychotherapy, work, the economy, law and order, politics, government, and so on, play in transformative change?
Can our "knowledge" and specialized expertise blind us to deeper truths?
Can we effectively intervene in complex living systems in ways that don't camouflage deeper issues and/or unintentionally make matters worse?
"What if This is Heaven?" as near-death survivor Anita Moorjani asks, but our cultural myths prevent us from knowing and experiencing it yet?


Proposals
First page: Submit a proposal with the title (15 word limit and 3 keywords) of your presentation, your name, physical address, contact details, and affiliation.
Second page: Include an abstract (250-word limit) and a brief biographical statement (100-word limit). We welcome proposals from organisations or project groups following the same guidelines. Email your proposal as an MS Word file to Peter le Breton via bateson2019@gmail.com and insert "Presentation Proposal" in the subject line. You will receive a confirmation receipt within 3 days and results within 3 weeks.
Proposal Submission Deadline: 15 December 2018
Presenter Conference Registration: 12 January 2019
Register by 12 January to confirm your acceptance and to be included in the Conference Program.


Program
Wednesday night: Introduction; refreshments; Nora Bateson's award-winning film, An Ecology of Mind: A daughter's portrait of Gregory Bateson; film introduction and post-film conversation facilitated by Nora.
Thursday: Nora's keynote; small group facilitated conversations; lunch; small group facilitated conversations; morning & afternoon teas.
Friday: Small group facilitated conversations; lunch; small group facilitated conversations; morning & afternoon teas.
Saturday: Large group (plenary) panel and conversation; sundowner; reserved premium seating at Music at Murdoch 2019 in the stunning surrounds of Murdoch University's Bush Court.


Times
Wednesday 13 February: 4.00 pm to 8.00 pm. Registration opens at 4.00 pm. Program starts at 5.00 pm.
Thursday 14 February: 9.00 am to 5.00 pm. Dinner by private arrangement.
Friday 15 February: 9.00 am to 5.00 pm. Dinner by private arrangement.
Saturday 16 February: 9.00 am to 1.00 pm, followed by sundowner at 5.00 pm and at 7.00 pm Music at Murdoch.


Accommodation
Accommodation will be available in beautiful Fremantle, with easy access to Murdoch, at a special conference rate for registrants. Details forthcoming.


Publishing opportunities
If your presentation is to be based on a paper, there will be publishing opportunities after the event. Details forthcoming.
---
ENQUIRIES
bateson2019@gmail.com
---
FAQs
Can I participate in this event without presenting?
Of course. The event is designed both for those who want to give a short presentation and for those who want to participate in dialogue and other activities without presenting.
How will this conference/retreat be different from typical conferences?
In many ways:
Other than Nora Bateson's keynote to set the tone, there will be no individual scheduled presentations. We want people to talk with each other rather than at each other. We want to move beyond the conventional park (at a lectern) and bark (at an audience) format.
The main activity will be facilitated small group dialogues, which will include one or more short or mini-presentations.
There will be time for individual and group reflection.
There will be non-talking activities (such as building a mandala and singing), to give creative expression to our quest and connections. Participation in any activity is of course entirely optional.
Are there scholarships or concessional fees?
Yes. Our guiding principle is that anyone who wants to participate should be able to participate irrespective of their financial circumstances. We therefore offer the following discounted fees:
Early Bird — register by 15 December and you save $100
Student — if you are a currently-enrolled university student you can save $300
Student Scholarship (awarded on financial need) — students who apply to the Organiser and are pre-approved prior to purchase can save $395
Non-student Scholarship (awarded on financial need) — anyone who applies to the Organiser and is pre-approved prior to purchase can save $245
Can I attend just part of the conference-retreat?
Because this event is a retreat—and not just a conference where attendees pop in and out or give a presentation and leave—we are encouraging participants to join together in dialogue, reflection, and creative activities for the entire program. However, we understand that you may be unable to participate every day or unsure yet whether you want to. If this is the case, you can register for the opening night film evening with Nora Bateson. Then, if you are inspired and your schedule allows, you can upgrade either for the whole event or for the first full day (Thursday). We will credit your film fee towards any upgrade fee. We are offering many ticket options as we want to make it possible for any interested person to be able to attend.
Are there ID or minimum age requirements to enter the event?
No. Students need to provide evidence to the Organiser of current enrolment in a tertiary institution.
What are my transport/parking options for getting to and from the event?
Free parking immediately in front of the venue. Murdoch train station is a 10-minute walk or 5-minute bus trip. Busses to and from Fremantle regularly.
What clothing should I wear?
Wear cool clothing as Perth can be very hot in February. Bring a light jacket too because the venue is gently airconditioned.
How can I contact the organiser with any questions?
Email Dr Peter le Breton — bateson2019@gmail.com
What's the refund policy?
If you want to cancel your registration for any reason, you must do so in writing to bateson2019@gmail.com by 13 January 2019. If you cancel before this date you will receive a refund, subject to a $50 service fee. Refunds will not be given after 13 January 2019.
Do I have to bring my printed ticket to the event?
It would help smooth the registration if you bring your ticket on the first night, at least.
Can I update my registration information?
Yes.
Is my registration fee or ticket transferrable?
Yes, just let us know by emailing bateson2019@gmail.com
A student registration can be transferred to a non-student with payment of the balance owing.
Is it ok if the name on my ticket or registration doesn't match the person who attends?
Yes, we can sort this out by changing your name tag at registration.