Theoretical and practical knowledge and ideas, to embed nature play and learning into your existing curriculum and play within the centre.
About this event
Learning in and with Nature - Nature Based Practice in Early Childhood, FDC, OHSC, and Homeschool educators (full day). Introduction Level
This workshop explores Nature Pedagogy – the "why", the approach to outdoor learning, the theorists, the benefits to children and it showcases what outdoor learning looked like in services – showing examples and also engaging in hands on nature play activities. It focuses on how you can implement nature pedagogy within the fence of an early learning centre.
It is suitable for educators caring for children aged 0-12 with all workshop content mapped to the Early Years Learning Framework and My Time Our Place. This workshop will provide educators with the theoretical and practical knowledge and ideas, to embed nature play and outdoor learning into your existing curriculum and play within the boundaries of your service setting. It includes resources to support progression and whole service implementation.
Outcome
Explore the principles and practice of Learning in Nature through Nature Pedagogy.
Explore the Forest School model: the history, ethos, approach, and the benefits for contemporary children and learning communities.
Explore techniques to implement these principles and practices in the context of your service play spaces within the fence.
Explore nature play resources, including the use of risk-benefit assessments.
Explore curriculum possibilities across all play spaces indoors and outdoors.
Explore the links to the Early Years Learning Framework and My Time Our Place.
Explore how to inspire the whole educator team and families to support nature play developments in your setting.
Take part in adaptable and practical Nature Learning activities.
Engage in an action plan to take back to your service.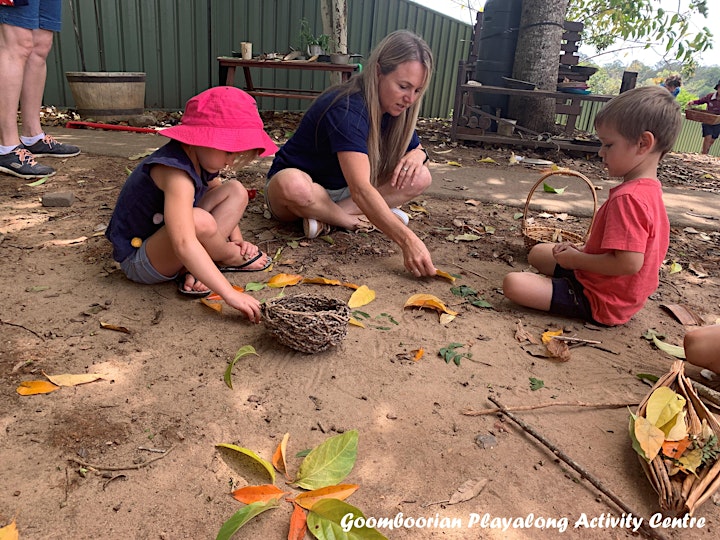 Registration
We ask that each participant complete the Registration form personally as it asks specific questions about training, knowledge, medical and dietary requirements that an Employee would be unable to complete. Each participant can pay for workshop via credit card or request an invoice to be sent to their organisation.
Workshop Cancellation Policy
Workshop numbers are kept small to maximise quality and positive experiences. There is a maximum and minimum number of students per class. Book early to secure your place. If the minimum number of students is not achieved within 1 week of the workshop date, the workshop may be cancelled.
Cancellations by workshop attendees:
Cancellations made 2 or more weeks prior to a booked workshop date will receive a full refund.
Cancellations made less than 2 weeks of a booked workshop date will receive a refund, less administrative fee. (Admin Fee for each workshop to be confirmed) 20% *that would equate to $250 for BKLC, $50 for EOL, LIWN.
Cancellations made less than 1 week of a booked workshop date will not receive a refund.
Each case will be considered on individual merit and evidence. Please submit requests to educationteam@natureplayqld.org.au
Where possible, every effort is made to fill spots with an attendee on the workshop wait lists. If this is possible, Nature Play QLD may then refund your workshop fee or keep your workshop fee in credit for up to 12 months so you can attend a future workshop.
Evidence may be requested to support refund applications.
Cancellations by Nature Play QLD:
A workshop may be cancelled by Nature Play QLD due to insufficient student numbers or unforeseen circumstances (e.g., illness or global pandemic*). In this event, you will be offered a full refund or option to reschedule.
*In the event that government restrictions force the cancellation or postponement of workshops, attendees will be offered the option of a refund, or their fees held in credit for when workshops are able to resume again.
Organiser of Learning In and With Nature Workshop - Gold Coast
Nature Play QLD provides support to educators and teachers through Professional Development, an array of workshops and resources. Whether you are beginning your journey in outdoor learning and nature play, or deepening your knowledge as the advocate for outdoor learning and play at your school or centre, Nature Play QLD offers professional development and networking opportunities for wherever you are in your professional development journey.