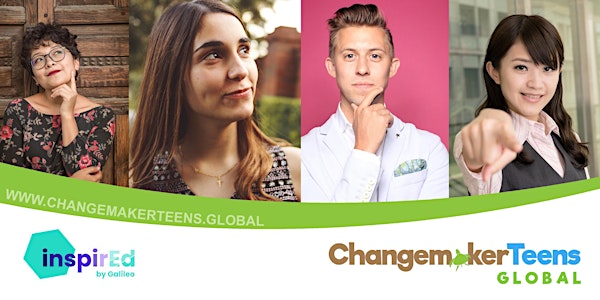 Learning Dojo's Info Session for Teachers & Parents - The Changemaker Way
LEARN ABOUT A NEW PATHWAY FOR 2022 WHERE WE HELP YOU LAUNCH YOUR PERSONALISED EDUCATIONAL BUSINESS & PARENTS SEE THEIR YOUNGSTERS THRIVE.
About this event
Changemaker Teens Global, in partnership with and inspirED by Galileo, would like to share an exciting opportunity for educators who believe that the future of education is just getting started! Join us as we listen and discuss the role of the facilitator as we explain how the education rEvolution is gaining momentum. During the information session, we will be introducing the concept of our Changemaker Learning Dojo's, an in person learning place for young people to 'find their way'. Our Dojo's are exciting, innovative and life-changing, and we invite YOU to help young people discover who they are so as to create adult lives full of purpose and meaning, changing the world as they grow!
Changemaker Learning Dojo's, also known as Hybrid learning centres, are the perfect combination of a global, online learning platform and a local, in-person learning community. Hybrid learning for young people consists of three unique components, all equally important in the desired outcome of well adjusted, passionate young adults. On our webinar, you will learn how these three components work together in a life-affirming way:
One on one coaching and mentoring
Learning using the GalileoXP platform
In-person learning in our Changemaker Learning Dojos
Your new pathway of passion and earning can start anywhere you choose along a step by step process of ease. Starting from you offering at least one learning experience in a learning dojo we set up for your preferred area, to having your very own Changemaker Learning Dojo. The Changemaker and Galileo XP Teams will continue to help you grow at the speed you choose. Along the way we promote your learning experience/s and expertise to parents of young homeschoolers aged 8 -18 and encourage communication with them so as to discover how they best learn and lead. We will also help you find a venue if your home isn't suitable. With our Changemaker Way system and heart for changemakers, together with your passion, facilitation and mentoring, the young people are set to thrive now and in their future.
Combinging your experience with the Changemaker Way adds an inevitable twist; we all get to be our true selves which, by being the change, allows the young learners to consider what contributions they would like to make to their families, their communities, and their planet!
Changemaker Learning Dojo's are ideally suited for teachers and parents as educators who are ready to facilitate learning and make a significant educational leap forward and if ..
your values and beliefs are no longer in alignment with the requirements of traditional education
you are noticing a change in the mental health of your students (and yourself) because of the pressure and challenges associated with learning in a pandemic
you are an educator who is losing your passion for teaching curriculum in the traditional way, yet deeply believes in the value of learning
you want to leave a legacy and nurture young hearts and minds as the changemakers of the future.
you are ready to leave your traditional teacher role, and want a clear path to a new income for your family
you are willing to BE YOU!
THERE ARE OPTIONS FOR YOU! REAL, CREDIBLE, EXCITING OPTIONS, AND WE WOULD LOVE TO TELL YOU ABOUT THEM MORE IN THIS INFORMATION SESSION!
SEE YOU THERE!!