Description
6.00pm: Networking
6.30 - 8.00pm: Workshop
---
So... why podcast?

We know that to be successful in our profession or business these days we need to be our authentic selves. Yet, we hide behind a facade when presenting ourselves to the world - trying our best to appear "professional".

Our selfies, our LinkedIn profiles, status updates, and tweets are all 'doctored' the way we want the world to see us. Even our blog posts are carefully structured to convey the message we want to send out to the world. Our videos are vetted by image consultants and our appearance filtered by make-up artists. In the process, we lose the very essence of ourselves.

If only there was a medium where we could be just ourselves, where we can't pretend. Thankfully there is. The spoken word. Conversation, interviews and simple story telling forces us to convey the real us. It's almost impossible to pretend. Unless we are really good actors.

Podcasting allows us to extend our real selves to the whole world. In fact to anyone who would listen. When we are in front of a microphone, there is nowhere to hide. We are who we are. Very soon every business, large or small will need a podcast to get the message out. Hence the reason why podcasts are gaining in popularity, while other methods are losing credibility.
Podcasts can be anything from an integral part of the overall digital marketing strategy to a personal journey that shares your wisdom and experiences through the spoken word. It is the best way known to establish rapport with your audience and show off the real you.
Why would a startup need a podcast?
It's the new community building tool. With a community of early adopters, raving fans, building your startup can be so much easier. Launch your podcast before you launch your startup. Find out how.

Who should attend this event?
Startup founders, aspiring founders, co-founders and team members engaged in any form of marketing, specifically digital marketing.
While the event is targeted at the startup community (since Silicon Beach is Australia's largest network of startup communities), anyone wanting to start a podcast can benefit from this event.
What will you learn?
At this session, Ray and Matt from The Razor Sharp Show and Podcast Launch Co will take you through their tried and tested podcast launch framework.
About the presenters - RAY MILIDONI & MATT ROMANIA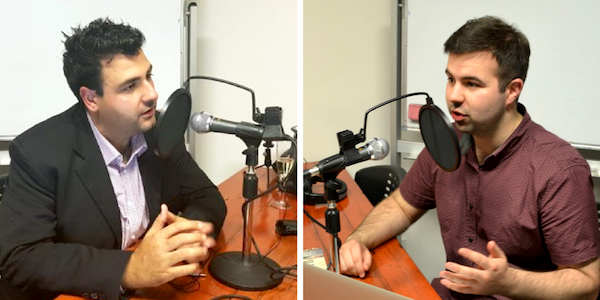 RAY MILIDONI
Host, The Razor Sharp Show
Co-Founder, Podcast Launch Co
Placing a solid foundation for crafting success and setting up his future in the world of business and entrepreneurship, Ray Milidoni carries an abundance of corporate experience across a range of industries. With a knack and genuine passion for sparking growth in the start-up sector, and equal expertise in nurturing the growth of successful corporations, Ray continues to cherish his journey throughout the business sector with determination and an open mind.

His experience has seen him found several businesses, including the creation of an innovative web agency at the age of only 15. Since then, Ray has moved forward to helping build organisations from the ground up, investing particular interest in the initial growth period of businesses both big and small, and achieving the title of General Manager at a global digital agency. From sustainability through to digital innovative, Ray has garnered extensive experience and milestones that see him consistently solving problems and setting new goals.
MATT ROMANIA
Host, The Razor Sharp Show (Deep Dive edition)
Co-Founder, Podcast Launch Co

Obsessed with podcasting, Matt Romania regularly interviews entrepreneurs, social enterprises, experts and creatives to share their insights and amplify their message. His love for audio and being in front of the microphone started in the rewarding atmosphere of community radio while completing a business degree.

Matt has always had an affinity for business and marketing. For over eight years, Matt has been shaping and sharpening marketing strategies for companies both big and small – and helping business owners navigate the ever-changing digital landscape. In his spare time, you'll find Matt strumming a guitar (sometimes ukulele), playing with his two whippets (Dixie and Raven) or enjoying a coffee in the sunshine (or rain… it is Melbourne).
----------

FAQs
Is my registration/ticket transferrable?
Yes. Email us (using the contact the organiser buttons) the name of the person attending on your ticket.

Do I have to bring my printed ticket to the event?
No. We will have your name & registration details. Good idea to have the confirmation email saved on your phone or the e-ticket on Eventbrite app, just in case.

What is the refund policy?
This event is now a FREE event, thanks to our sponsors Razor Sharp Show and Blockchain Centre. Anyone who bought a ticket - we thank you. You are awesome. But we have refunded your ticket. Expect to see the money back in your account within 7 days. If not, please contact us.

-----------
Some things you should know
This event is organised by Silicon School, a project of Melbourne Silicon Beach (MSB) in partnership with The Razor Sharp Show and Blockchain Centre. Melbourne Silicon Beach with 8,000+ members is the largest community in Australia wide network of Silicon Beach communities. By attending you give consent to be added to the mailing lists of these communities.

Segments of this event may be videoed by Silicon Beach TV. By attending you give consent to be filmed and photographed by the organisers and shared on their social media.
-----------