About this Event
Many people want to experience creating something beautiful, to feel confident that they can complete a lovely piece of art and feel happy with the outcome.
Fear of the blank canvas and what to do next can stop them. Or maybe they have tried and been upset with the results, diminishing their self-confidence
Guess what? It's allowed to be E A S Y !
In a few short hours you will know the truth of this too!
Are you ready to learn a new, fun and simple way to paint that gives you great results?
If you love beauty, femininity, dressing up, fantasy or want to embrace a Diva State of Mind and escape real life for a day or two…….
Then you will love my Learn To Paint Diva's Mixed Media Painting Workshops.
TAP into your innate inspiration and intuition to create your own unique Diva!
I will share with you my creative process and favourite mixed media techniques in a simple, non- academic way.
HERE'S WHAT YOU WILL LEARN;
Learn how to get your Composition onto the Canvas – EVEN IF you have never drawn before
Learn how to put together gorgeous colour combinations
Discover how BUILD colour that SMOLDERS!
Experiment with a range of painting tools that make painting fun and easy
Reveal and create the feminine in your artwork
Explore figure painting without super strict rules to create atmosphere and emotion in your artwork
Colour mixing and blending exercises to perfect your technique before going to canvas
Learn how to put the finishing touches on your painting, making it exquisite
Complete your mixed media Diva painting on a genersous size canvas 60cm x 30cm panel or 45cm x 45cm square
It's an absolute FACT that anyone can paint (yes, even you!)
Learning fun, new art techniques in a nurturing space is a great way to gain confidence. My workshops promise lots of guidance and stages that are supported so you get great results that can be easily recreated yourself at home. Even experienced artists will pick up some tips and tricks!
WHAT DO THE WORKSHOPS INCLUDE?
All the quality art materials you will need to create your masterpiece
Morning and afternoon tea to suit your dietary requirements
Absolute hands on support if you want it
BONUS 2 hour session Tuesday 14th July - 6pm-8pm
The opportunity to get creative in my beautiful studio space and FEEL the artist in you FIRE UP!
No experience required!
Break through the procrastination, embrace your artistic self and start by making a beautiful feminine Diva or Goddess painting effortlessly!
My process not only makes sense, it shows you how to make beautiful art.
Imagine, results you can see within one day
HERE'S HOW YOU CAN WORK WITH ME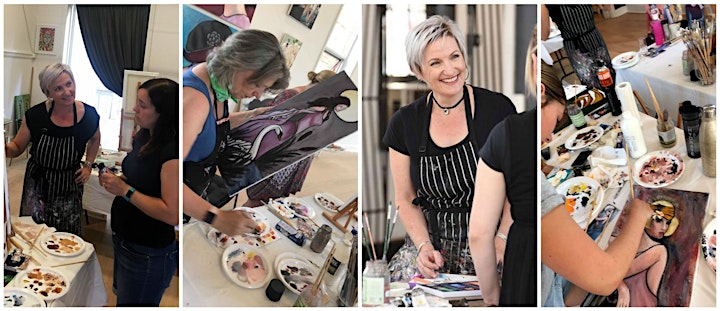 Small groups ensure loads of hands on support

Participants enjoy a fun day out of "ME time"
Satisfy the creative call while meeting lovely new people!