[FREE ONLINE WORKSHOP via Zoom]
About this Event
This online workshop "Learn to Design on Canva" is being delivered as part of the ASBAS Digital Solutions program.
**If you have any questions please call MIC on (03) 94901402 or email asbas@melbourneinnovation.com.au**
To successfully register for this online workshop, you must fit the eligibility criteria below:
Active ABN
Victorian For-Profit Business
Under 20 employees
Due to limited spots available, only one person may register per ABN
Please note: Participants of the ASBAS Digital Solutions program can access up to 30 contact hours. This include workshops, webinars, and mentoring.
Learn to Design on Canva
Canva is a free, easy-to-master content creator for visual marketing.
To stand out in a visual online marketplace, you must use relevant images and high-quality design—making Canva well-suited to small businesses. You can catch a customer's attention using a single graphic to market a promotion, tell a story, build brand awareness, or prompt an action.
If you want to set up a Canva account and create your first design, this activity-based workshop is for you! Within this session, our presenter will take you through several activities so you can walk away with tangible outcomes.
In this workshop, you will complete the following activities:
Create a Canva account
Create a branded style guide (including colours, logos, and fonts)
Upload your logo and/or product images
Create a graphic using a Canva template
Register for this online workshop to actively set up your free Canva account, navigate the dashboard, and create your first graphic.
Please Note: Delivered via Zoom. Activity-based workshops will not be recorded, therefore replays will not be available. Recording will not be applicable due to the nature of the workshop being interactive.
** LIMITED SPOTS AVAILABLE - only 1 attendee per business - BOOKINGS ARE ESSENTIAL **
Online Workshop schedule:
https://www.melbourneinnovation.com.au/replacement-online-workshops
ABOUT THE ASBAS DIGITAL SOLUTIONS PROGRAM
The Australian Small Business Advisory Services (ASBAS) program provides low-cost, high-quality digital advisory services to small businesses across Victoria.
The program is being delivered by Melbourne Innovation Centre.
The program supports your online business needs by offering the following:
Group Workshops
One-on-one mentoring (2 hours)
ASBAS Digital Solutions portal
Interactive Webinars
How much will the program cost? - The ASBAS Digital Solutions program requires a single $55 payment, which grants you full access to the above outlined components of the program.
Am I eligible? - If your business has an ABN and less than 20 employees, you are eligible for the ASBAS Digital Solutions program.
How do I sign up?
Purchase your $55 ticket to this event via this page
You will automatically be added to the ASBAS Digital Solutions portal
You will receive a "Welcome to the ASBAS Digital Solutions program" email
Follow the prompts to confirm your registration for the program
Once you are fully registered, you will be able to access a code on the ASBAS Digital Solutions portal that will enable you to sign up to the other events in the series.
We're here to help.
For more information about ASBAS Digital Solution program, visit https://asbas.melbourneinnovation.com.au, email us at asbas@melbourneinnovation.com.au or call us on (03) 9490 1402.
This program is delivered by: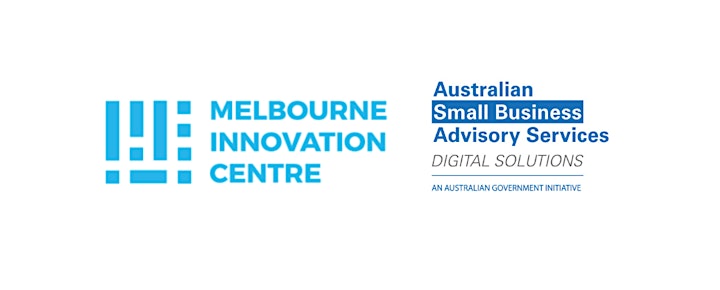 This program is proudly supported by: