Description
Learn to channel Archangels, Angels, Guides & Crystal Deva's

This course will teach you to unlock the innate ability to channel beings of light through spoken word. You will learn to deepen your connection, raise your vibration and connect directly to receive inspirational guidance.

This course will teach you to link your consciousness with another light being to share the physical and mental energies with this being and bring through powerful messages.

Channelling is a wonderful way to help people to connect with their angels and receive the guidance they need.

================
You will learn:
-Introduction to channeling, what it is, why we do it, who we can channel
-Different types of channeling
-Working with your energies and vibration
-How does it work
-Exercise to prepare for channeling
-How to channel safely
-Channeling your higher self
-Channeling your angel
-Channeling a crystal deva
-Channeling an archangel
-Perform a channeling session for another person.

Extensive manual included.

For more info about Athina's classes please visit:
www.authenticenergy.org

================
Cost:$120
Location: The Temple Surry Hills (7 Clisdell Street)
Teacher: Athina Bailey
Light refreshments provided but plenty of food shops in area.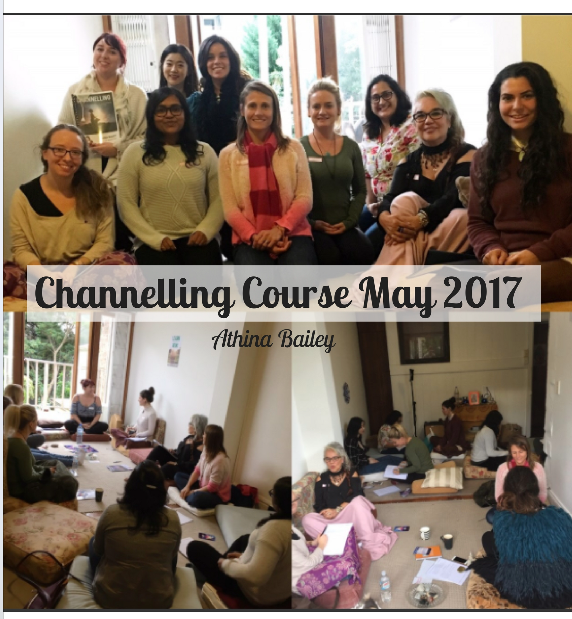 What is channelling?
Channelling is a natural form of communication with any form of consciousness that expresses itself through the channel.
You can channel almost anything and any beings however in the course we will be focused on angels, archangels, spirit guides, higher self and crystal devas.
​
You can either be a deep trance channel or light trance channel and we focus on both in this course! Throughout the channelling you remain full autonomy and control of what is happening.
​
​
What to expect?
Expect to get some intensive work on your vibrations. This course is also a vibratory workout, by the end you will probably be exhausted from using a muscle you are not used to. Expect to talk with your angels, guides ascended masters and gain deep insights to questions and divine guidance.
​
Why channel?
There are so many reasons people choose to channel, I think for most people we are drawn to it on an unconscious level. Starseeds, psychics, energy workers often want to use channelling as something to add to their repertoire whilst others simply want to use it to connect to their spiritual team.
Some more reasons;
Gain Guidance
Gain Spiritual Growth and development,
to live life with their purpose
to receive wisdom
to access healing energies
to receive divine guidance
to learn about topics that we cannot be taught by humans
to give readings to others
to raise your own vibrations
​
Is this course for me?
Are you wanting to grow spiritually? Talk directly to your guides and angels? Then this course is for you. This course is for anyone of all backgrounds and all ages. All you need to have is a desire and will to learn and practise!
​
Can anyone channel?
Honestly.. yes! I truly beleive anyone chan channel. For some people it will come so easily, so quickly and for others it will take some work, and at every course we see those who despite no experience have a natural knack and end up having 20 minute conversations with archangels, we also see those who need to train a little bit harder to get that connection and channel on the day.
"Athina is an amazing channeller. I have worked with may psychics and have found her ability to connect to spirit for people amazing, extremely powerful and one of the best. I would highly recommend her as a healer, teacher and portal for spirit to anyone."
​